Kansas quarterbacks Peyton Bender and Carter Stanley began competing for the program's starting job the day Bender set foot on campus a few months back, so Saturday's spring game didn't feel too different for the two players on the field with the most eyes on them.
Like they have throughout the past several weeks of practices, the two worked together behind the scenes preparing for the scrimmage, in the QB room, going over video clips and trying to find ways to improve.
Bender, a junior transfer, said other than his family being in town and watching him play at Memorial Stadium in a 14-7 victory for his Team Jayhawks, the fashion in which he and Stanley challenged each other didn't feel too different.
"Really it's just been like any other week. I just viewed today like another practice, another scrimmage day," Bender said. "We just had some fans there."
Those who came out to watch the glorified practice on a sun-drenched field saw Bender complete 11 of his 15 throws, with two touchdowns and no interceptions, while surrendering two sacks.
Photo Gallery
2017 Kansas Football Spring Game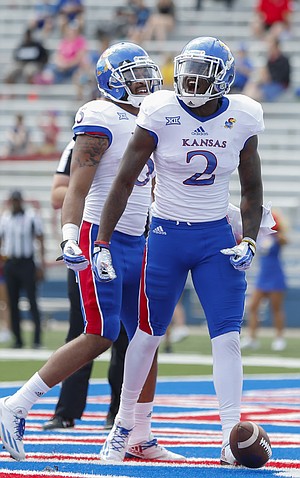 View a gallery of images from Saturday's Spring Game at Memorial Stadium.
Stanley, the redshirt sophomore who started the final three games of KU's 2016 season, went 13-for-24, with no interceptions, no touchdowns and was sacked four times.
While Bender (thanks to a game of rock-paper-scissors and a name being drawn out of a cap earlier in the week) teamed with a roster loaded with first-string level receivers Steven Sims Jr., Daylon Charlot, Ryan Schadler and LaQuvionte Gonzalez, Stanley threw the ball to less renowned offensive threats.
Senior tight end Ben Johnson, sophomore receiver Chase Harrell, and junior receivers Kerr Johnson, Jeremiah Booker and Tyler Patrick caught passes from Stanley for Team KU.
"I didn't think of it like that at all," Stanley said of Bender having more Big 12 experience or depth in his group of receivers. "That they had maybe more of the ones or whatnot, because really every position is in a position battle right now. I think some guys made some plays today that can make some moves."
The quarterbacks' head coach, David Beaty, thought there was "no doubt" both Stanley and Bender had looked forward to the opportunity to compete in front of fans at the scrimmage.
"They both want to win that job. You could tell," Beaty said. "Their leadership I thought was a lot better this week than it had been previously and I thought it was because the teams were dialed in with what direction to go. I think the intangibles are getting better with both those guys."
Stanley, the 6-foot-2 incumbent from Vero Beach, Fla., said he understood fans would want to watch he and Bender, the 6-1 former Washington State QB, duel. However, that wasn't a concern for him.
"I think it was fun," Stanley said. "I just liked how we did it this week, with the draft and everything."
Bender, too, enjoyed the stage and opportunity.
"Any time you can compete in a scrimmage you're gonna be looking forward to it," he said. "But we really didn't talk about it much. We just went out there and I tried to control what I could control. Just do what I'm supposed to do."
Jayhawks in the NFL
Six former Kansas football players who went on to earn spots on NFL rosters returned to Lawrence this weekend for the spring game and other activities.
Headlined by Denver's Chris Harris, Jr., the list included Seattle's Bradley McDougald, Los Angeles Rams' Kevin Short, Pittsburgh's Steven Johnson, San Francisco's JaCorey Shepherd and the Los Angeles Chargers' Darrell Stuckey.
"They were terrific," Beaty said of the professionals who got to interact with his players and coaches. "We spent a lot of time together (Friday) night. I probably spent too much time with them (Friday) night, but they were fun. We had a great time, and we're going to be together again (Saturday night). And just all of these great Jayhawks that came before us were here, and it was one of those deals for me that, man, it's just humbling to be around all those great people that came before us. I mean, they are studs. We had a captain's breakfast (Saturday) morning that was unbelievable with all the former captains that was really, really beneficial to us."
Hull beats Perry
Associate head coach and running backs coach Tony Hull's Team Jayhawks prevailed over co-defensive coordinator and cornerbacks coach Kenny Perry's Team KU in the spring game, after Hull jokingly talked some trash ahead of their matchup.
Did he get the reaction he hoped for when the game ended and the two shook hands after the scrimmage?
"Yeah, when I walked across the field, he bit his lip and he had that frown-like, little scrunched-up thing he does," Hull said, with a grin, while again giving Perry a hard time, "like the little mean look he tries to give you. He's really upset, but he's really going to feel sorry in about two more hours when we're going to celebrate."
https://www.youtube.com/watch?v=7PA-fQcma-0
https://www.youtube.com/watch?v=4y098xnIurY