Wednesday, April 12, 2017
University of Kansas basketball star Josh Jackson plans to file for a diversion in a case in which he allegedly vandalized a woman's car outside a Lawrence bar and threatened to beat her.
Jackson faces a single misdemeanor count of criminal damage to property. He appeared Wednesday afternoon in Douglas County District Court and was formally charged. He pleaded not guilty through his attorney, Hatem Chahine. Jackson was also accompanied in court by several other people, including another attorney, Scott Boatman.
Chahine said he planned to file paperwork for the diversion by the end of the day Wednesday.
Judge James George accepted Jackson's plea and ordered him to surrender himself to the jail by April 14. There, his photograph and fingerprints will be taken.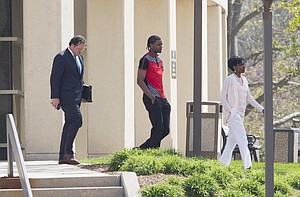 George also set Jackson's bond at $500.
Jackson is accused of damaging a car belonging to KU women's basketball player McKenzie Calvert on Dec. 9 outside Lawrence's Yacht Club, 530 Wisconsin St.
The incident reportedly began after Calvert argued in the bar with her ex-boyfriend and Jackson's teammate, Lagerald Vick, according to an affidavit filed in District Court. At one point, Calvert admitted to throwing a drink on Vick, the affidavit said.
After the argument, Jackson followed Calvert outside to her car and allegedly hit and kicked the vehicle while "yelling for her to get out of the car and that he would beat" her, the affidavit says.
Police were called to the scene around 2 a.m. and began investigating.
The front right bumper, grille, fender, windshield, left tail lamp assembly and driver's side front door were all damaged in the incident, the affidavit says. The cost to repair all the damage was estimated to be $3,150.45.
However, witnesses only reported Jackson damaging the driver's door and left tail light. The estimated cost to fix those two items was $1,127.45.
Despite the damage estimates, a single, misdemeanor charge of criminal damage to property of less than $1,000 was filed against Jackson.
Douglas County District Attorney Charles Branson said in a news release that a felony charge — defined as damage exceeding $1,000 — was not filed against Jackson because "the state can't prove beyond a reasonable doubt that all the damage to the door and tail light were caused by Jackson due to other unidentifiable individual(s) damaging the vehicle."
During an interview with police the morning of the incident — KU men's basketball coach Bill Self by his side — Jackson reportedly said other people were throwing rocks at Calvert's car.
However, the affidavit does not mention Calvert or any additional witnesses noting anybody other than Jackson damaging the vehicle. It was not clear whether they were asked about additional suspects.
A spokesperson in Branson's office previously declined to answer additional questions about the incident, including whether Jackson's reported threat of violence against Calvert or Calvert's throwing a drink were reviewed for possible prosecution.
In Kansas, assault charges can be filed based on verbal threats.
Jackson was disciplined "in-house," Self previously said, declining to disclose what that discipline entailed. He was not suspended from any games.
Calvert has said she was suspended from the women's team after the incident, but that suspension was lifted before the team's next game. She and her father, Tim Calvert, claim KU treated Calvert unfairly, especially when compared with any discipline Jackson received.
As Jackson's diversion request is being processed, the judge scheduled Jackson to appear in court next on May 24.
Jackson is also scheduled to appear in Lawrence Municipal Court Friday morning regarding an inattentive driving citation he was issued after police say he backed into a car on the KU campus and left the scene without providing contact information.