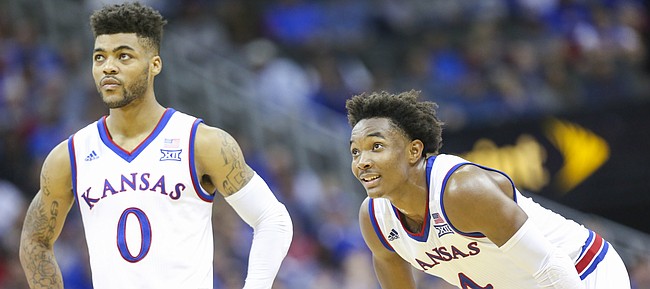 On a night when Kansas basketball coach Bill Self had to fight back tears while honoring KU senior Frank Mason III, who was given this year's Danny Manning "Mr. Jayhawk" Award at the team's annual banquet at the Double Tree Hilton, junior guard Devonte' Graham was his usual smiley self, decked out in a bow tie and his finest formal attire for the celebration of a 31-5 season that delivered the school's 13th consecutive Big 12 championship.
But that was far from the case a couple of weeks ago, when Graham struggled with the sour ending to a spectacular season and wrestled with whether he wanted to come back and try to do it all over again during his senior season.
"To be honest, it was really hard," Graham said of his decision to stay or go. "That first week after we lost (to Oregon in the Elite Eight), it was a real stressful week because I honestly didn't know what I wanted to do. But just talking with my mom, and just having a few conversations with some of the coaches, I just decided that I wanted to come back."
Perhaps it was just a coincidence or maybe the stars aligned. Either way, right about the time that Graham's thoughts became clear, outgoing senior Frank Mason III checked in with his backcourt mate to see how the process was going.
"Yeah, I talked to him," said Mason, the 10-time national player of the year who, after winning the Mr. Jayhawk Award on Tuesday night uttered, "Wow. Another award. I really don't know what to say." "I just asked him was he gonna stay or leave and he told me his decision.... Like coach said, he could've done what I did this year, but he's just waiting his turn and it's his turn next year. He'll be a really special player and he can do some of the same things that I did this year."
Graham said the conversation was short and sweet and that he never really leaned on Mason to help him make his decision. He talked to his mother "every day" about it and said he felt in his heart that he wanted to leave Kansas on a better note than the one that ended the 2016-17 season.
"I've got some unfinished business to take care of and I'm just happy to be here for another year," Graham said Tuesday of the reason behind the decision which he first made public Sunday afternoon on Twitter.
Self, the featured speaker at Tuesday's banquet who spent about 30 minutes thanking absolutely every single person he could think of who played a role in another spectacular season of Kansas basketball, said he was "somewhat surprised" that Graham did not want to test himself in front of NBA eyes.
"Even if he had tested, there was a good chance he would've come back," said Self, noting that the recent rule change has made that easier for underclassmen to do. "But he didn't even want to do that. He wanted to get focused for next year."
Asked if he thought Graham could deliver next season what Mason did this season, Self's face turned serious.
"Devonte's capable of getting 18 a game," Self said. "There's no question about that. And if you'd have asked me last year, I'd have said, 'Frank's capable of getting 16 a game' and he (got) 21. So if I say Devonte' can get 18 then he may surprise us and do a little bit better than that.
"I don't know that anybody will do the same stuff with the same stats," he continued. "But I expect him to lead us like Frank did this year."
No news on Jackson
While most of Jayhawk Nation is holding out hope that the delay in freshman Josh Jackson's expected announcement that he's turning pro is a sign that the Big 12 freshman of the year and second-team All-American is considering a return, Self made it clear Tuesday that he was not in that group.
"I'm not gonna hold my breath on that one," Self said. "Josh will decide whenever the time's right for him. He'll make some decision in the near future but I don't know what day or anything like that."
Svi's decision?
Despite social media speculation to the contrary, junior Svi Mykhailiuk did not make any big announcements about his return at Tuesday's banquet.
"I was somewhat surprised that Devonte' didn't at least test, and I would certainly be surprised if Svi doesn't at least test," Self said. "But that doesn't mean they're going. I would think Svi would have an immediate decision (soon) but the long term decision won't happen for five or six weeks probably. That's if he declares."
Bittersweet ending
While Tuesday's banquet was accompanied by a lot of laughs and smiles, it also carried with it a bittersweet tone.
Just before one final team picture, which did not include former KU forward Carlton Bragg, who did not attend the banquet, Self pointed out that the moment was worth capturing because it could be the last time this group was together for who knows how long.
"I'm really glad tonight is here," Self told the crowd of roughly 620 supporters. "Obviously, since the end of the season, we haven't really thought about how great this year was and how special this team was because we're still down and mad about not winning.... I love this team. And I know you guys did, too. You can see the smiles and how they interact with each other and you could see that they truly cared about each other... That's always the plan, but this year you could feel it. Sometimes we get lost in the moment of just how much fun and how special our guys were. So I am very, very happy to recognize these guys and to watch that (highlight) video because, in that video, we only missed two shots and we got both offensive rebounds and made baskets. That's pretty good."