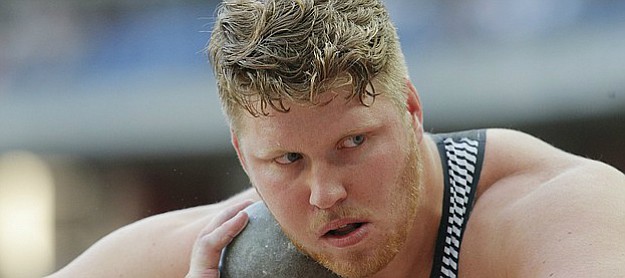 Aging bodies, eligibility limits and countless other factors ensure that nothing in sports lasts forever. The ever-growing Lawrence Downtown Olympic Shot Put has been around long enough now that the two most recognizable competitors in it Reese Hoffa and Christian Cantwell, have retired, creating a void.
Hoffa consistently entertained the crowds by eating turkey legs, posing with fans for pictures and generally playing the gentle giant role to perfection. Cantwell entered the picture embracing the villain's role bestowed upon him for no other reason than having competed for the University of Missouri during his collegiate years. He eventually won over the Lawrence crowds, no small achievement.
Hoffa holds the meet record, set in 2012, with a throw of 71-3.75 and competed in each of the first six events. Cantwell is the only competitor to win twice, in 2014 and 2015. Replacing them both is tantamount to replacing Josh Jackson and Frank Mason III.
The pressure was on Bob Sanner, executive director of Lawrence Sports Corporation, to land a big name to keep interest high in the annual spring event that makes downtown buzz, elevates moods and packs restaurants and bars.
Sanner always aims high in putting together the field and couldn't have aimed any higher than he did for a new marquee name for the evening competition scheduled for Friday, April 21.
Sanner knocked it out of the park, landing reigning Olympic gold medalist Ryan Crouser. After setting an Olympic record with a throw of 73-10.75 in Rio, Crouser turned professional.
Crouser headlines a field that includes last year's winner, Tim Nedow of Canada, and fellow regulars at the Lawrence event Kurt Roberts, ranked fifth in the world, and Ryan Whiting, ranked 15th.
Word of mouth had a big hand in Crouser deciding to come. He said his father, who doubles as his coach, and mother will be in town to watch him.
"Everyone I talked to about it, from spectators to competitors, told me it's the most fun event on American soil for the shot putters," Crouser said by phone. "I've heard that the crowd really gets into it, the venue is cool and there is a lot of energy there. And it's nice timing. It's late enough in the year that we're all starting to throw pretty far. It's a competitive field and a high-energy meet and I always seek those out."
That could be because it's the only downtown shot put in North America. For the friendly giants, the intimacy of the crowd in a downtown setting creates far more adrenaline than in a stadium setting, where not many spectators follow everything that's going on in the infield.
Crouser has competed in similar events in Croatia and New Zealand and said he likes the idea that his first competition as a professional "on American soil" will be at a downtown venue.
"I'm looking forward to putting on a show and going after the meet record," said Crouser, who has an undergraduate degree and masters in finance from the University of Texas.
If Crouser achieves his goal of setting a meet record, he will receive a $4,000 bonus. As veteran spectators of the event know, that doesn't mean he wants quiet in the street for his throws.
"For me, the louder the better," Crouser said. "You have some meets where the people think it's like golf. It's not. The example I always use is Happy Gillmore is set to tee off, everyone is perfectly quiet and it drives him crazy. Well, it drives shot putters crazy, too. The more energy, the better."