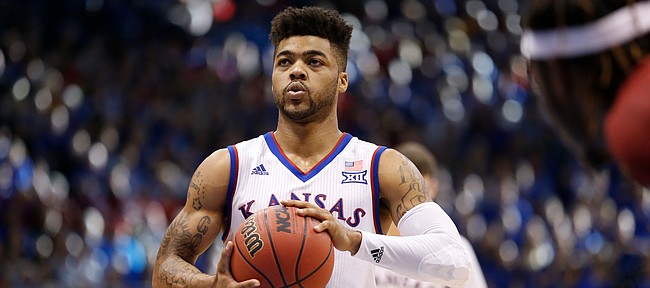 Being honored and praised for one's individual play on a national stage 10 times during a three-week stretch can temporarily alter the focus of even the most die-hard team-first athletes.
But not Kansas senior Frank Mason III.
The Petersburg, Va., native who leaves Kansas as the No. 6 scorer in the history of the tradition-rich basketball program, took home the John R. Wooden Award during a ceremony in Los Angeles on Friday night, making him the second Jayhawk to win the award and the 19th player in the past 21 years to collect college basketball's big three — the Wooden, the Naismith Trophy and The Associated Press player of the year honors.
In doing so Mason became the first Jayhawk to sweep all of the major national player of the year honors, from those three prestigious groups to similar awards handed out by CBS Sports, NBC Sports, USA Today and four other national organizations.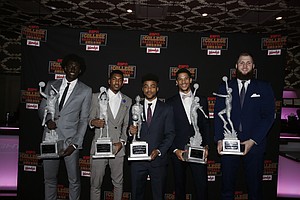 Mason said Friday that he would trade all of them for one national championship for the Jayhawks and added that focusing on himself in these situations had been different.

"Yeah, definitely. It's been really hard," Mason told the Journal-World. "That's not what I do. I'm a team-oriented guy and I put the team over me every time. But all these awards have been about me so I had to say something about myself. But I always made sure to talk about my teammates and coaches and how much of a key they were to my success. I'm just thankful for those guys."
By the time Mason climbed onto the stage to bring home the Wooden trophy, the whole process had become routine.
"That first award ceremony, out in Phoenix, I was a little nervous," Mason admitted. "But after that I just kind of got used to it and kind of settled down and got comfortable."
That was exactly what Kansas coach Bill Self saw from his standout point guard during the recent trophy tour.
"I was only with him for a couple of 'em," Self told the Journal-World. "But he did a good job talking. Short and sweet and he said very thoughtful things. And, once again, he never talked about I. He actually looked comfortable. But he wasn't in the least bit arrogant or cocky. He was humbled by all of it."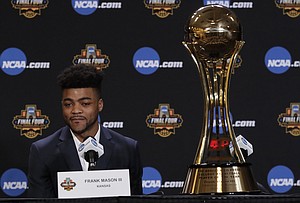 So, too, was Self, who beamed with pride and enjoyed every second that Mason was honored. The reason was simple. Self, who repeatedly celebrated Mason's work ethic, attitude and toughness throughout his four-year Kansas career, was overjoyed by seeing all of Mason's effort pay off.
"I think it's a great example of putting in time and certainly leaving a legacy behind that you want to leave behind," Self said of Mason's monster senior season. "And the only way you can do it is by working and leading your team and things like that."
As for what impact both Mason's strong season and sweep of the player of the year awards might have on the program in the immediate future, Self said he thought other Jayhawks, especially those who knew and played with Mason, might now aspire to follow in his footsteps.
"I do think that's a positive," Self said. "(Juniors) Devonte' (Graham) and Svi (Mykhailiuk) will have decisions to make and I'll support any decision that they do make. But I also bet that both of 'em will probably say, 'Man, Frank did stay four years and look how he improved. I wonder if I could do something similar.'"
Season Summary
• Mason became the only player in KU and Big 12 history to average more than 20 points and five assists in the same season.
• Showed a knack for taking over games, which directed Kansas to a 31-5 record and its 13th consecutive Big 12 regular-season title with a 16-2 league mark.
• Led the Big 12 in scoring overall (20.9 ppg) and during conference play (21.0 ppg).
• Averaged 5.2 assists per game.
• Two-time national player of the week.
• Three-time Big 12 Player of the Week.
• Posted 23 games of 20 or more points, including his final seven contests and 10 of KU's last 11 outings.
• KU's leading scorer in 26 games.
• In the Big 12, Mason ranked first in 3-point field goal percentage (47.1), fourth in assists (5.2), fifth in 3-pointers made per game (2.3), fifth in assist-to-turnover ratio (2.2), seventh in free throw percentage (79.4), ninth in field goal percentage (49.0) and 14th in steals (1.3).
• Made 50.0 percent (43-for-86) from 3-point range and 2.4 treys per game in Big 12 play.
• Shot 103-for-119 (86.6 percent) from the free throw line in his final 15 games, making 6.9 charity shots per contest in that span.
• Concluded his career No. 6 on the Kansas scoring list (1,885 points), No. 6 in assists (576), No. 8 in 3-point field goals (185), No. 13 in steals (165) and tied for third in consecutive starts (110). No Jayhawk in KU history ranked sixth or higher in both points and assists.
National Player of the Year Count
• Associated Press Player of the Year
• Sporting News Player of the Year
• CBS Sports Player of the Year
• USA TODAY Player of the Year
• Bleacher Report Player of the Year
• NBC Sports Player of the Year
• USBWA Oscar Robertson Trophy Player of the Year
• Naismith Trophy Player of the Year
• NABC Player of the Year
• Bob Cousy Award (Point Guard of the Year)
• Wooden Award