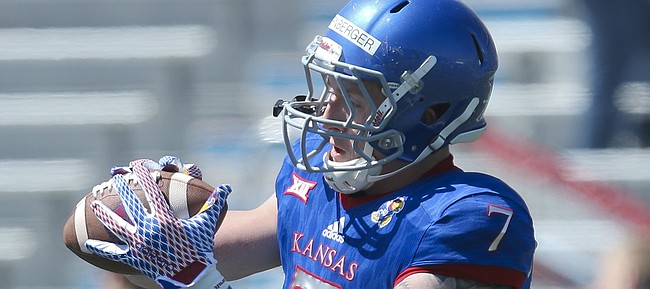 After two seasons in the Kansas football program, tight end Jace Sternberger announced Friday he will transfer.
A 6-foot-4, 236-pound redshirt sophomore from Kingfisher, Okla., Sternberger was part of David Beaty's first recruiting class at KU, committing to the team shortly after Beaty was hired in December of 2014.
Sternberger, who played both defensive end and tight end in high school, took a redshirt in 2015, then played a small role for the Jayhawks in 2016. In what proved to be his final year with Kansas, the young tight end caught one pass for five yards in a season-opening victory over Rhode Island. From there, Sternberger played in nine more games, often appearing in various special teams capacities.
The third-year tight end had participated in spring football practices the past several weeks before announcing his decision to move on via Twitter on Friday. A KU official confirmed his transfer shortly after.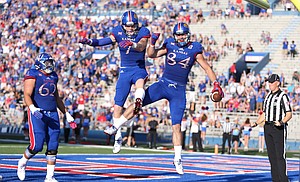 "First off I would like to thank Coach Beaty and the University of Kansas for the opportunity to play football," Sternberger wrote. "These past two years have been amazing and a true learning experience. I will be forever grateful for all of the friendships that I have made over this time period. That being said, I am transferring from the University of Kansas."
This past season, the Jayhawks' offense didn't feature a lot of opportunities for tight ends, who totaled 11 catches. Ahead of Sternberger on the depth chart, Ben Johnson caught 10 passes for 112 yards and a touchdown in 2016. The rest of the team's 267 receptions went to receivers and backs.
"Overall, KU is a great place to be and I know they are going to be very successful in the future," Sternberger told the Journal-World. "Those guys work way too hard. In the end the overall scheme wasn't the best fit for me."
The Oklahoma native plans to finish the spring semester at KU, where he is majoring in communications. Sternberger said he doesn't yet have a specific destination in mind for his next stop, after deciding Monday to transfer.
Since arriving in Lawrence in 2015, Sternberger said he built strong friendships with many of his fellow Jayhawks, including Keaton Perry, Jayson Rhodes, Carter Stanley, LaQuvionte Gonzalez, Montell Cozart (who also is transferring), Joe Dineen, Keith Loneker Jr. and Steven Sims Jr.
"That's what I'll miss the most," Sternberger said of the time he spent with friends and teammates.
With his departure, only Johnson and redshirt freshman Ryan Renick, from Iola, Texas, remain as tight ends on the roster this spring.