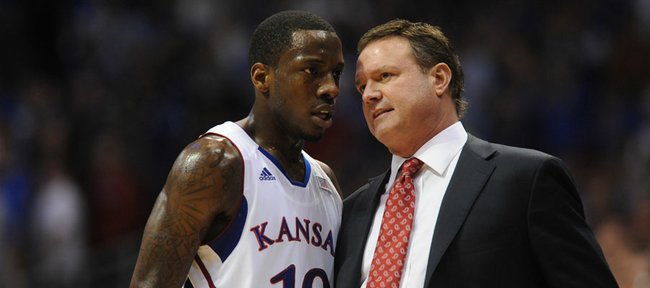 Just eight days after undergoing arthroscopic surgery to repair a torn meniscus in his right knee, Tyshawn Taylor played 33 minutes for Kansas in a loss to Davidson in December of his senior season. That requires exceptional toughness, so nobody can question the degree of that trait in tungsten-tough Taylor.
The ultra-quick guard from New Jersey didn't feel so tough though when he did something that landed him in the equivalent of the principal's office, a one-on-one chat with coach Bill Self.
Taylor recalls wanting to put it off, even slowing his walk on the way to the meeting.
A four-year starter at Kansas, Taylor broke his finger in a fight with the football team his sophomore year, was suspended late in his junior season and again for the exhibition season of his senior year.
Each time, Taylor said he would talk first with assistant coach Kurtis Townsend to try to gauge, "Am I really in trouble? Is he really, really mad?"
Then he would take a deep breath and go face the music.
"I'd be super uncomfortable," Taylor said by phone from Turkey, where he plays professional basketball. "I'd be sweating a lot, super nervous, not really sure how he was going to give it to me. Was he going to be really mad and yell at me? Or was it going to be one of those where it's almost like you're talking to your parents and you feel so bad because they're disappointed in you."
The lower the volume, Taylor said, the deeper it cut.
"He could be screaming at me in his office: 'What the hell were you thinking?' Then, OK, it's over. I could deal with that," Taylor said. "Sometimes you had to sit there with him for 30 minutes and take it. He didn't yell at you then, and it made you super uncomfortable. You felt really bad about disappointing him. But he never made me feel super bad about myself. I haven't been with him for four or five years, but he's still with me. I'm about to be 27 (April 12) and he's the most influential male in my life, just because of the things he said to me that stuck with me."
Taylor credits Self with preparing to start as a freshman at Kansas by "making me feel super relaxed, didn't make me feel like there was any pressure on me."
Taylor said he appreciates Self even more now.
"I don't know if you realize it as much when you're playing for him, but looking back, we had a style of play, but we had freedom within that style of play," Taylor said. "Playing for him, you're not going to feel like you can't be who you are. He's not going to take away your individuality: 'Go be the athletic kid you are. Play fast. Play defense.' He made us look our best and he made me feel good about the player I am."
Taylor averages 19.1 points and 6.4 assists for Mamak Belediye Ankarda D.S.I. He appeared in 61 games for the Brooklyn Nets in his first two seasons after Kansas.
Our Series on Bill Self's Journey to the Hall of Fame
• Hall of Fame Material Part I: Larry Brown 'in awe' of Bill Self's stellar run at Kansas
• Hall of Fame Material Part II: Daughter Lauren most impressed by Bill Self's ability to mentor
• Hall of Fame Material Part III: Frank Mason III knew right away that Bill Self was the coach for him
• Hall of Fame Material Part IV: Doc Sadler says Bill Self same (sarcastic) guy as the day he met him
• Hall of Fame Material Part V: Bill Self's style, passion make Danny Manning a proud alum
• Hall of Fame Material Part VI: Bob Davis cites Bill Self's personal touch as key to success