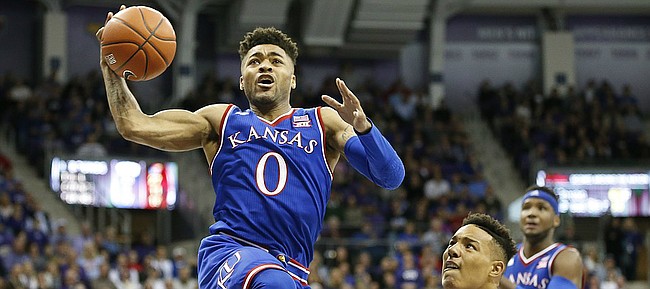 Make it two for two for Kansas senior Frank Mason III, both in big time player of the year awards and on a sunny Sunday in the desert.
The KU point guard, who led the Jayhawks to a 31-5 record and 13th consecutive Big 12 title this season, on Sunday morning was named the 2017 recipient of The Naismith Trophy, one of the most prestigious honors given annually to college basketball's best player.
Sunday night, Mason capped off his wild weekend by bringing home the National Association of Basketball Coaches' player of the year honor at a banquet in Phoenix. The NABC hardware marked the third trophy hoisted by Mason in a four-day span and Sunday's two honors were the eighth and ninth such awards scooped up by Mason this postseason.
He became the first Jayhawk since Danny Manning in 1988 to win the Naismith award — Manning also won the NABC award that year — and the first KU player since Drew Gooden (2002) and Nick Collison (2003) to win the NABC award.
"I would like to thank the NABC for selecting me for this award," Mason said on stage after winning the honor. "I would like to thank my amazing parents and my family for supporting me throughout my years, my coaches and my teammates and all of the competition for pushing me to be the best I could be."
Kansas coach Bill Self, who on Saturday was elected to the Naismith Memorial Basketball Hall of Fame, accompanied Mason at all of his big moments this weekend, and, on Sunday night, picked up another one of his own, when he was given the NABC's Coaches vs. Cancer Champion Award for his strong commitment to the fight against cancer.
"On behalf of our athletic department, who does the majority of the work behind the scenes, we humbly accept this," Self said at the banquet. "To all of the coaches out there and athletic programs that do so much to join the cause to fight this dreadful disease, we certainly appreciate that very, very much.... Keep up the good work and keep fighting."
Last week, Mason became the first Jayhawk ever to win The Associated Press player of the year award, and, on Friday, he will find out if he can complete the trifecta when the Wooden Award is handed out in Los Angeles.
Those two, along with the Naismith Trophy, are widely regarded as the top individual honors a college basketball player can receive.
Mason was named the winner from group of finalists that included Lonzo Ball, of UCLA, Josh Hart, of Villanova, and Caleb Swanigan, of Purdue.
"Wow. I'm really nervous right now," Mason said as he took the stage to collect the Naismith Trophy. "What an incredible honor for me and my family. I just want to thank my amazing coaches, my mom and dad for being here. I want to thank my teammates. Without them guys, I wouldn't be here today. Thanks, everyone who voted for me."
In leading Kansas to another 30-win season and No. 1 seed in the NCAA Tournament for the second season in a row and seventh time in the past 11 years, Mason averaged nearly 21 points per game and became the first player in Big 12 history to finish a season averaging 20 points and five assists during a single season.
The Naismith Trophy, first handed out to Lew Alcindor in 1969, was selected by the Atlanta Tipoff Club's national voting academy, which includes journalists, current and former head coaches, former award winners and conference commissioners.
This year, college basketball fans also were asked to participate in the vote, with 5 percent of the total tally coming from the fan voting.
Mason's 2016-17 Season Summary
• Became the only player in KU and Big 12 history to average more than 20 points and five assists in the same season.
• Showed a knack for taking over games, which directed Kansas to a 31-5 record and its 13th consecutive Big 12 regular-season title with a 16-2 league mark.
• Led the Big 12 in scoring overall (20.9 ppg) and during conference play (21.0 ppg).
• Averaged 5.2 assists per game.
• Two-time national player of the week.
• Three-time Big 12 Player of the Week.
• Posted 23 games of 20 or more points, including his final seven contests and 10 of KU's last 11 outings.
• KU's leading scorer in 26 games.
• In the Big 12, Mason ranked first in 3-point field goal percentage (47.1), fourth in assists (5.2), fifth in 3-pointers made per game (2.3), fifth in assist-to-turnover ratio (2.2), seventh in free throw percentage (79.4), ninth in field goal percentage (49.0) and 14th in steals (1.3).
• Made 50.0 percent (43-for-86) from 3-point range and 2.4 treys per game in Big 12 play.
• Shot 103-for-119 (86.6 percent) from the free throw line in his final 15 games, making 6.9 charity shots per contest in that span.
• Concluded his career No. 6 on the Kansas scoring list (1,885 points), No. 6 in assists (576), No. 8 in 3-point field goals (185), No. 13 in steals (165) and tied for third in consecutive starts (110). No Jayhawk in KU history ranked sixth or higher in both points and assists.
National Player of the Year Count
Frank Mason III's National Player of the Year honors and the remaining awards for which he is a candidate.
• Associated Press Player of the Year
• Sporting News Player of the Year
• CBS Sports Player of the Year
• USA TODAY Player of the Year
• Bleacher Report Player of the Year
• NBC Sports Player of the Year
• USBWA Oscar Robertson Trophy Player of the Year
• Naismith Trophy Player of the Year
• NABC Player of the Year
• Bob Cousy Award (PG of the Year) - Winner revealed April 7
• Wooden Award - Winner revealed April 7