Lubbock, Texas — As many likely expected, the University of Kansas football team couldn't put together nearly enough stops on defense or scores on offense to keep pace with Texas Tech in a 55-19 defeat Thursday night at Jones AT & T Stadium.
Even though the Jayhawks' defensive unit forced the underdogs into having some second-half hope in their Big 12 opener, the typical result assured KU of its 40th-consecutive loss away from Lawrence.
Kansas, believe it or not, even cut the Red Raiders' lead to nine in the third quarter, before an unexpected Tech gunslinger stepped in relief to finish off the visitors.
"I was disappointed that it did and it turned so quickly," KU head coach David Beaty said after the loss. "Those dudes can score quick."
A great start to the third quarter, gave KU an unexpected opportunity to make the game interesting, a scenario that hardly seemed plausible in the opening minutes, when junior Tech quarterback Patrick Mahomes II had his team up 14 points with 9:55 to play in the first quarter.
Photo Gallery
Kansas football v. Texas Tech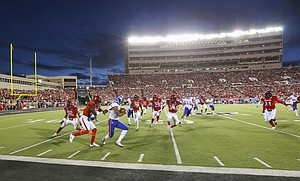 View a gallery of images from Thursday night's game between the Jayhawks and Red Raiders.
Down 28-9 at the break, a Jayhawks rally even seemed unlikely early in the third quarter, which opened with three consecutive incomplete passes by sophomore quarterback Ryan Willis, followed by a punt. However, Texas Tech junior Cameron Batson muffed Cole Moos' 36-yard punt and KU's Michael Zunica emerged from a pile of players on the turf with the loose ball.
The play seemed to reignite the Jayhawks, even though Willis, who actually had outplayed starting quarterback Montell Cozart in the first half, suffered a minor injury setback and had to sit out the drive. Cozart, who completed only four of his 13 throws in the first two quarters, for 36 yards, stepped in and orchestrated a timely scoring drive. He connected with LaQuvionte Gonzalez for a key 15-yard third-down conversion and followed it up by leading Steven Sims Jr. to the end zone sideline for an 11-yard touchdown. Quite suddenly KU only trailed 28-16.
Next, KU's defense delivered a rare three-and-out. Derrick Neal and Bazie Bates IV broke up a Mahomes pass, Marcquis Roberts and Fish Smithson brought down Devin Lauderdale for a loss on a pass and then Cameron Rosser chased Mahomes 21 yards into the backfield for a massive sack.
Willis returned for the ensuing Kansas drive, and with the help of a 20-yard reception by tight end Ben Johnson, got KU close enough for Matt Wyman to kick a 35-yard field goal and get the Jayhawks as close as 28-19.
Normalcy soon returned for the beleaguered program, though, even as Mahomes left the game early. After the versatile QB took off for a 32-yard rushing gain, Smithson and Isaiah Bean hit Mahomes (27-for-34, 277 yards, four touchdowns, one interception) and the quarterback nailed the turf hard enough to injure him.
Backup junior quarterback Nic Shimonek replaced Mahomes late in the third quarter, and proceeded to close out the third quarter with back-to-back touchdown drives.
By the end of the night, the second-stringer's numbers looked as good as those of the ballyhooed starter. The Red Raiders ran away from the typically overmatched Jayhawks as Shimonek went 15-for-21 through the air for 275 yards and four touchdowns.
"He did a good job," Beaty said of the fill-in QB, adding it didn't surprise him. "I will say this, when you're a backup you've got to be ready to go."
Mahomes and the Red Raiders wasted no time affirming their position as the superior Air Raid offense and appeared to immediately diminish the chances for any drama in the nationally televised game. Tech (3-1 overall, 1-0 Big 12) won the coin toss before kickoff, elected to receive and went 75 yards for a touchdown, in five plays. A minute and 42 seconds into the game, KU already trailed, once Jonathan Giles caught a pass from Mahomes and easily beat KU safety Bazie Bates IV in a foot race to the end zone.
Fourth-year junior Cozart got the start at quarterback for the Jayhawks (1-3, 0-1) and opened the night with the first of seven three-and-outs for the Kansas offense. Eight Texas Tech plays later, Kansas trailed by two touchdowns, when Mahomes found Baston for the second of his four first-half touchdown throws.
"Early in the game," senior KU safety Smithson said, "we just gave up some quick passes and kind of lost focus."
Still, the KU defense proved temporarily capable of recovering from a dreadful start, keeping Tech out of the end zone on four straight possessions. Smithson came away with an interception on a deep jump ball to end one series. Then, in the opening minute of the second quarter, Red Raiders punter Erik Baughman mishandled a snap in the end zone and Keith Loneker Jr. made sure to take him to the turf for a safety, giving Kansas its first score of the game.
Said Beaty: "I thought our defense really settled in and did some really good things."
Tech's offense got back on track in the second quarter with the aid of a KU penalty. Anthony Olobia was flagged for targeting Mahomes. The defensive end hit the QB in the head as Armstrong brought him to the turf for what would've been a sack and a loss of eight yards on second-and-seven. Instead, Texas Tech picked up a first down via penalty and went on to score its first touchdown since the opening minutes of the first quarter. Mahomes finished the first half 24 of 31 through the air, for 272 yards, four touchdowns and an interception.
KU's offense finally reached the end zone with 5:12 left in the first half, as Willis found freshman receiver Chase Harrell for an 18-yard touchdown that capped a 75-yard drive.
Ultimately, though, Kansas ended far too many possessions with punts (10) and simply couldn't manufacture as many explosive plays as Texas Tech.
"They are probably one of the best offenses in college football, I think," Beaty said. "We've got to work our way there."
— See what people were saying about KU's matchup against Texas Tech during KUsports.com's live coverage.
---
More news and notes from the loss against Texas Tech
---