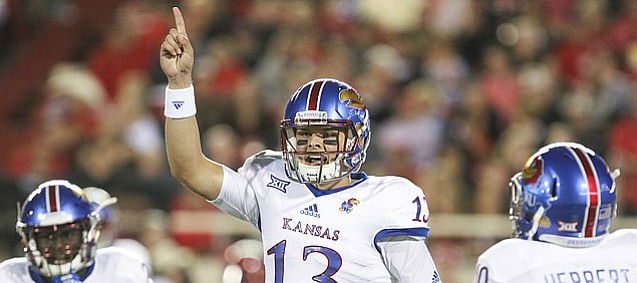 Lubbock, Texas — The road losing streak reached 37 games. The perplexing quarterback rotation continued. The hurry-up offense still has a round-peg, square-hole feel to it for a perpetual underdog. And the offensive line, even at full strength, is too weak for the Big 12.
Still, even with no shortage of imperfections, Kansas' 55-19 loss to Texas Tech played in front of a Jones AT & T Stadium crowd and national, Fox Sports 1 TV audience, didn't breed hoplessness the way the previous two games had.
Moral victory, no. Embarrassment? Not that either. Consider it progress, baby-step style with a qualifer here and there.
Kansas didn't beat itself this time with sloppy play and didn't turn it over until Montell Cozart threw an interception with 6:34 left in the game. The special teams stood out and the defense had a long stretch of respectability.
OK, so the bar for progress is set low for a football program that has lost its last 40 games outside its home stadium, including three at neutral Arrowhead Stadium.
But really, it didn't feel as bad as the final score.
Photo Gallery
Kansas football v. Texas Tech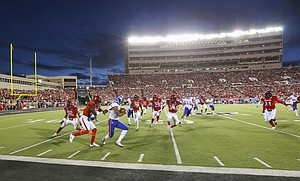 View a gallery of images from Thursday night's game between the Jayhawks and Red Raiders.
Kansas made a game of it, pulling within 28-19 on Matthew Wyman's 35-yard field goal with 7:22 left in the third quarter and could have come closer but for a false-start penalty on guard Jacob Bragg on first-and-goal from the 4-yard line, followed by an intentional grounding penalty on Ryan Willis, who split time with starter Montell Cozart.
First-and-goal from the 4-yard line is no time to hurry, but the Jayhawks always look to be in a hurry, an approach worth questioning given that the more possessions there are in any sport, the more it favors the favorite. Kansas hasn't been the favorite in a road game since Mark Mangino was coach.
For a quick moment, the possibility of an upset drifted through the air.
After the initial shock of facing Kliff Kingsbury's Air Raid offense executed by big, accurate quarterback Patrick Mahomes II and a fleet of receivers, the Kansas defense executed its game plan well. Tech put 14 points on the board in the first 5:05, but after that made it tougher on Mahomes than a lot of defenses do.
Strangely, once Mahomes suffered an injury, backup Nic Shimonek shredded the Kansas secondary.
But again, the failure of the Kansas offense to go on a roll when the defense had its strong stretch of productivity.
Playing two quarterbacks, Cozart as starter and a lot of back and forth from there, doesn't lend itself to a QB getting on a roll, but head coach/offensive coordinator/quarterbacks coach David Beaty doesn't see it that way.
"Everybody thinks they know who should be our quarterback, but I'm with them every day in practice," Beaty said. "We evaluate them every day. We make our decision based on what we see every day ... If it were crystal clear who is first, we would make that decision. We would."
Cozart has kept the starting assignment based on being the team's best quarterback in practice, Beaty said, but emerging tight end Ben Johnson wanted to make sure nobody was labeling him just a "practice player."
"Everybody has his day," Johnson said. "Telly has days when he's on fire. He's had games when he's on fire. There are other factors that go into it. It's not just the quarterback."
Other factors such as a young offensive line.
"That's one of them," Johnson said. "We also have young wide receivers."
Playing two quarterbacks every game creates the potential to divide a team, but no evidence exists of that happening yet. But it still would be interesting to see what Willis could do given an entire game, even behind a line that plays at a disadvantage every week.
— See what people were saying about KU's matchup against Texas Tech during KUsports.com's live coverage.
---
More news and notes from the loss against Texas Tech
---