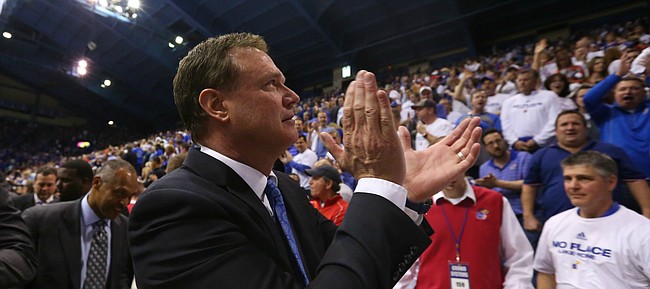 In addition to running his team through Boot Camp and spending the bulk of the past couple of weeks on the road tracking targets in the Class of 2017 and beyond, Kansas basketball coach Bill Self found time to offer up a state of the union regarding KU's current recruiting.
While the Jayhawks only are slated to lose seniors Frank Mason III and Landen Lucas to graduation following the upcoming 2016-17 season, Self and his staff are bracing for the departure of more.
"This situation, it's not anything that new," Self recently told the Journal-World. "On paper, you have two guys (who definitely will leave), but you know that you're gonna have other underclassmen that probably will leave. It's pretty much common knowledge that at least a couple of others probably will, or at least that's the percentage play."
Included on that list of "a couple of others," of course, are freshman Josh Jackson, sophomore Carlton Bragg Jr. and juniors Devonte' Graham and Sviatoslav Mykhailiuk. While it will take a perfect storm of sorts for the Jayhawks to lose all six, it certainly is possible. And Self and his staff are going after prospects in the current recruiting class with that in mind.
As if landing the top talent in any given class is not already hard enough, Self said the uncertainty surrounding the future of several current Jayhawks can add to the headache.
"It's difficult sometimes," Self said. "Because even though we know what will more than likely transpire, sometimes other programs that we're recruiting against spin it in a different way."
That doesn't keep Self from targeting the best and, so far at least, hasn't kept the top-ranked prospects from considering Kansas.
The visitor list for Late Night in the Phog — 6:30 p.m. Saturday at Allen Fieldhouse — features five of the top 36 players in the 2017 class, according to Rivals.com, and also includes nearly 10 more unofficial visitors from the 2018 and 2019 classes.
Asked after Friday morning's Boot Camp session if the Jayhawks would be able to handle such a large group of prospects for what has become the signature recruiting event of the year at Kansas, Self made no promises.
"I hope so," he said. "You know, we do it every year. We probably have too many coming, but that's kind of how it worked out. More importantly than the five or so we've got coming officially, we're gonna have many unofficial visits, too. So it'll be a busy weekend."
As of Sunday night, the five 2017 prospects expected to attend Late Night on official visits are: 6-foot-1, Georgia point guard Collin Sexton (No. 7 ranked player by Rivals.com); 6-9 Oak Hill Academy forward Billy Preston (No. 8); 6-6 Las Vegas shooting guard Troy Brown (No. 12); 6-7 California forward Cody Riley (No. 34) and 5-11, Connecticut point guard Tremont Waters (No. 36).
Unable to comment on any specific players until they sign letters of intent, Self said he was pleased with the way he and his staff had attacked the current class thus far.
"We think we're in on the right guys," Self told the Journal-World. "We've gotta close on a couple of 'em soon."
The early signing period for 2017 prospects runs Nov. 9-16.