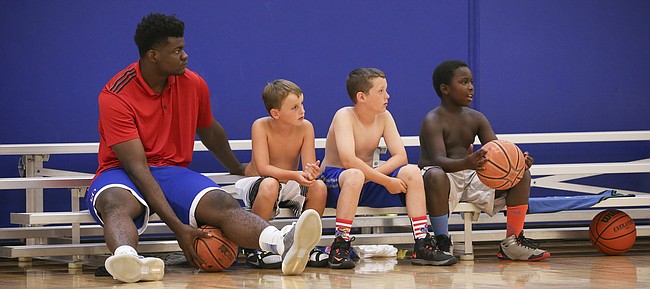 Identifying an X-factor on any given roster makes for a fun exercise. Many seem to believe Carlton Bragg qualifies as the X-factor for a Kansas basketball team that spent an intense week working its way into shape.
Bragg showed an extremely soft shooting touch, an ability to feed the low post from the high post, and a knack for offensive rebounding. Considering how limited his playing time was he showed a lot of confidence for a freshman in an elite program.
But I don't see him as the X-factor because it's pretty easy to approximate what sort of production the Jayhawks will get from the 6-foot-10, 240-pound power forward from Cleveland: Better rebounding and shot-blocking than Perry Ellis, every bit as a good a jump shot that he'll be able to get off more easily, but not armed with many ways to score because he has neither Ellis' blow-by dribble nor his polished post footwork.
It will come as a surprise if Bragg veers far from an average of 12 points and 7.5 rebounds per game. And it doesn't take much imagination to project a standout freshman season from Josh Jackson, a terrific talent who plays with an aggressive confidence.
Freshman center Udoka Azubuike, on the other hand, doesn't fit quite so easily into any projection window. His ceiling is even higher than Bragg's, but it's not as easy to guess how close to Big 12 competition. He turned 17 just eight days ago. On the other hand, he's so physically advanced for his age.
So far, the 7-foot native of Nigeria blessed with a 7-foot-5 wingspan is showing encouraging signs. In the past, his weight had been listed as high as 300 pounds. He has trimmed to 280 pounds and received praise from coach Bill Self for his Boot Camp effort until a groin injury sidelined him.
Azubuike appears fully invested in improving and never gives off the vibe that he views college as an unfortunate detour on the way to the NBA.
His 26-point camp game in June included eight dunks and 13-for-15 shooting from the field. Those pickup games don't always translate to more structured, intense Big 12 battles, but the fact that he relished playing inside and hammered the rim with so much power means he's not likely to try to audition perimeter skills for NBA scouts, as Cheick Diallo sometimes did last season.
Nothing from a 12-minutes-per-game backup to a first-team All-Big 12 center would qualify as shocking, which makes him the X-factor for a deep Kansas team with a nice blend of youth and experience, size and skill.