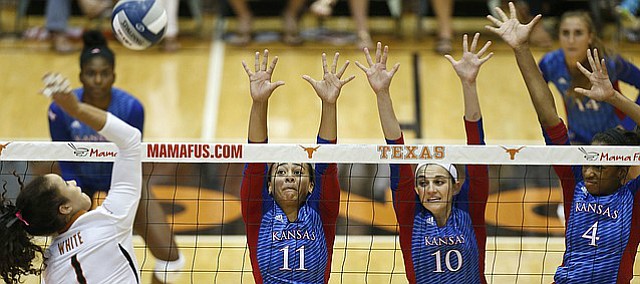 Austin — The eighth-ranked Kansas volleyball team dropped its second match of the season in a competitive four-set match (27-25, 25-16, 18-25, 25-19) on the road to fifth-ranked Texas at Gregory Gymnasium on Saturday.
KU junior outside hitter Madison Rigdon had her fifth double-double of the season with 20 kills and 13 digs while junior right side hitter Kelsie Payne added 18 kills. Junior setter Ainise Havili had 46 of the Jayhawks' 57 assists in the match.
But the Longhorns — who own a 25-match winning streak against KU — hit .351, with junior outside hitter Ebony Nwanebu recording a .514 hitting percentage and 20 kills. She also made one of the biggest plays of the match in the first set.
The Jayhawks led for almost all of the first set and even had two set points at 24-22. But a timely kill from Nwanebu and a service error from the Jayhawks sparked a 5-1 run for the Longhorns to steal the set and momentum.
"It showed we have a lot of fight, we weren't going to give up that set," said Texas freshman Micaya White, who had a match-high 22 kills. "We said before the game that we weren't going lose on our home court anymore and so when we were down by that much, (senior) Chloe (Collins) kind of like pulled us all in a huddle and was like, 'We're not losing this first set, we're going to win.'"
The Longhorns carried that over to the second set, jumping out to a 10-2 lead and the Jayhawks couldn't recover from the early deficit.
Kansas bounced back in the third set with 18 kills on a .405 hitting percentage on its way to winning the set. Then, the Longhorns sprinted out to another early lead in the fourth set and were able to hold off a late 7-2 run by the Jayhawks to close out the match.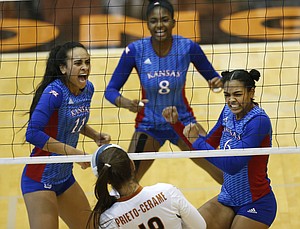 "We missed out on an opportunity tonight," Kansas coach Ray Bechard said. "We played well enough at times, but the first-set loss really stings. Not only did we not finish that set, there was carry-over into the second set. The response in the third set was pretty good, but when you are playing a high-level team on their floor and you get an opportunity to jump out to a one-set lead, you have to take advantage of that."
Saturday's match in Austin, marked the third consecutive top-10 clash between the two schools. KU was ranked seventh and 10th in last year's two losses to UT, including the thrilling, five-set, home loss last November. The Longhorns were ranked second and fifth in those meetings.
KU, which climbed as high as No. 4 — a school record — in the AVCA Coaches Poll earlier this season, fell to No. 8 in this week's poll after a loss to Purdue last weekend. The Jayhawks opened the season with 10 consecutive victories for just the third time in school history, matching the 2001 team's 10-0 start and trailing only the 2015 Final Four team's 19-0 start.
The loss dropped the Jayhawks to a 12-2 record and 1-1 in Big 12 play. Meanwhile, the Longhorns improved to 10-2 and 2-0 in Big 12 play.
Texas now leads the all-time series with Kansas, 40-4, with all but three victories in the 1980s coming in Big 12 Conference showdowns.
Kansas will play host to Baylor at 1 p.m. Saturday at Horejsi Family Athletics Center.