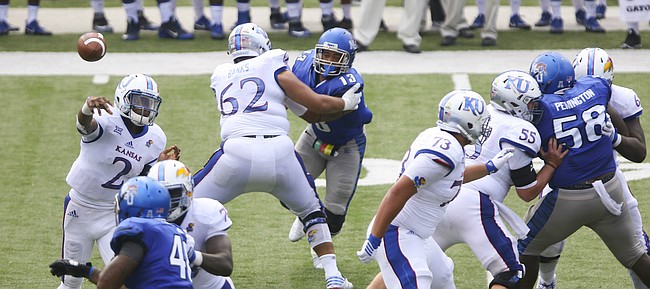 The Kansas football team's 2016 schedule ordered Saturday as a day off for the Jayhawks (1-2), but second-year head coach David Beaty, his staff and players obviously had plenty of work to do this week.
Coming off a 36-point road loss at Memphis in KU's non-conference finale, Beaty detailed how self-scouting became an important part of the team's bye week, before opening Big 12 play on Thursday, at Texas Tech (2-1).
When Beaty and his assistants put aside some extra time for evaluating the Jayhawks, it could be as simple as addressing whether or how an individual had improved through three games, and finding the best ways to make sure individuals keep making progress and fostering competition at each position. Coaches reviewed practice habits, too, in an attempt to find any signs of preparation doing more harm than good.
But part of the off-week training included reminding the players now is the time of the season when things become more difficult — not just for them, but for every team in the country.
"We understand the psychology of our guys, so what we'll do is we'll work really hard on them understanding what's coming this way," Beaty said earlier this week, "and then how they handle the tests and all the things that are coming up on them."
As Kansas embarks on the remainder of its season — nine straight weeks of Big 12 challenges — Beaty knows KU's offense better improve drastically in order to stay competitive. And it's simple to see how improved ball security would be a great place to start.
Quarterbacks Montell Cozart (three interceptions) and Ryan Willis (one interception) have had their issues, and the Jayhawks already have seven fumbles — remarkably losing possession on each occasion.
"Quarterback wise we were responsible for a number of those turnovers this week (four of the team's six at Memphis)," Beaty said, "and that falls squarely on me. And I've got to do a better job of coaching them after the ball goes past the line of scrimmage, and really when you're in distress situations, because those turnovers can and will be prevented."
Still, the head coach said upon reviewing video the reasons for turnovers aren't always cut and dry.
"Ball security is an everybody deal," Beaty said "It's the offensive line doing a great job protecting. It's the wide receivers running their routes precise, full speed, because, if not, you're dying on the vine back there. And those guys are going to be getting hit, and they've got to let it go early. And the timing is off, and next thing you know, it's a bad deal for all of us."
Beaty made a point to praise KU's running backs, who have held on to the ball entering Big 12 play. On 54 combined carries, neither Ke'aun Kinner, Khalil Herbert, Denzell Evans nor Taylor Martin has fumbled.
According to Beaty recent practices have included an intensified emphasis on protecting the football at every position, as well as in more unique situations, such as special teams and interception returns.
"All those things are coached, and we've just got to coach them harder," Beaty said, "because when we do, the results will be a lot different. They'll fall in suit."
As far as Beaty is concerned, his Jayhawks' nine turnovers in their past two losses is the story of the season a quarter of the way through it.
"You don't get to remove them, but you get to go to school on it," Beaty said of the numerous costly mistakes, adding the players are willing listeners and eager to fix the issue.
As hard a truth as it may be to swallow for the Jayhawks, Beaty admitted simply working hard to address problems doesn't guarantee rewards in the form of victories.
"But for us," the coach added of his staff, "our challenge is to try to give those guys the best chance to win."