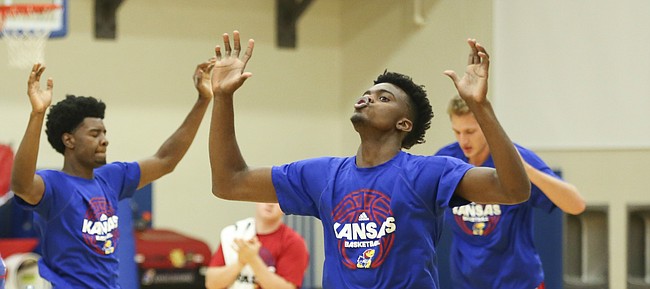 With one week of Boot Camp now in the books, Kansas men's basketball coach Bill Self went into the weekend feeling pretty good about his team's effort and performance during the first five days of the annual conditioning camp that tests every ounce of his players' minds, bodies and souls.
"Oh, they did great," Self said following a 50-minute session open to media members on Friday morning. "They're trying hard, getting in pretty good shape."
As is the case with any team, that means different things for different players, but Self had no problem singling out a handful of Jayhawks who excelled during the opening week of Boot Camp 2016.
"To me, it'd be hard to beat Lagerald," Self said of sophomore guard Lagerald Vick. "And Svi's in great shape, too. I don't know if I have an MVP. I think they've all done pretty well."
The praise for the 6-foot-5, 175-pound second-year player from Memphis continues a strong offseason for Vick, who played in 19 games and averaged just 4.8 minutes per outting as a freshman in 2015-16.
In addition to working with director of player performance Andrea Hudy to sculpt his body and fine-tune his athleticism, Vick flashed better scoring skills throughout the summer months, most notably in a pair of pick-up games during Self's summer camps, when Vick showed off his much-improved outside jumper.
Asked what made Vick's name the first that came to mind when searching for a Week 1 Boot Camp MVP, Self rattled off a laundry list of positives.
"Quickness, staying in his stance, being able to recover quickly," he began. "Not worrying about where the finish line is, just going as hard as you can and know you're gonna eventually get there, where some guys worry about the finish line so they pace themselves."
Self said Friday's 50-minute session included as much running as the Jayhawks have done during a single day so far this season. A big part of the reason the team was able to get through it was the leadership of players like Frank Mason, Devonte' Graham, Landen Lucas and others who have been through multiple Boot Camps in the past.
But while those Jayhawks might have helped pull everyone through mentally, Self said they were far from the only ones who stood out from a physical standpoint.

"We've got some vets, without question," he said. "But if you look out there, some of our young guys are leading, too. Josh (Jackson) and Mitch (Lightfoot) are in unbelievable condition and Lagerald's been great. He's probably been as good as anybody we have. But it's nice to have Devonte' and Frank out there, without question."
Graham, Vick and Jackson seemed to be permanently stationed at the front of the pack during most of Friday's action. Mason and Lucas often led their respective groups — guards and bigs — through each drill and routinely finished near the front, as well.
"You know, Frank and Josh and Lagerald and those guys can pretty much go all day," Self said. "The ones it helps the most are the (Carlton Braggs) and the big guys as much as anybody."
Mississippi State transfer Malik Newman and 7-foot freshman Udoka Azubuike were held out of Friday's action because of injuries. Self said that was the only negative thing surrounding the first week of Boot Camp and also added that neither injury was serious.
"Malik's back tightened up on him and he can't go and 'Dok got a groin strain that we've been told to be (cautious) with," Self siad. "Those guys were doing really well also, especially 'Dok until he got nicked up. Hopefully we'll get through next week without any further injuries and hopefully get those guys back on the court."
The Jayhawks will be off Saturday and Sunday before returning to work on Monday. Self's squad will then run through four more days of Boot Camp — Monday through Thursday — before taking a day off to prep for Late Night in the Phog on Oct. 1.
---
More news and notes from Friday morning's Boot Camp
---