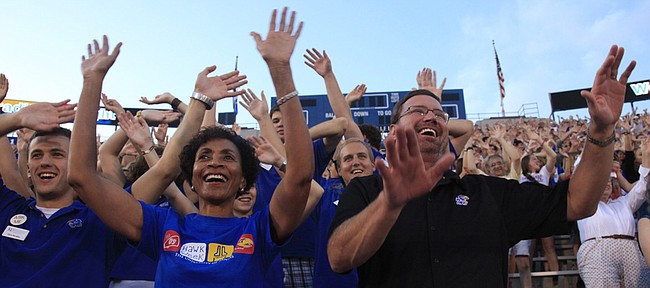 On Thursday, University of Kansas Chancellor Bernadette Gray-Little announced that she would be stepping down from the role she has held since 2009 during the summer of 2017.
Friday, after a 50-minute Boot Camp session that capped the first week of the Jayhawks' intense, offseason training regimen, Kansas basketball coach Bill Self expressed his appreciation and admiration for the job Gray-Little has done.
"That's not that long from now," Self said of Gray-Little's impending retirement. "What is it? Nine months? But congratulations to her. She's earned her time to relax and enjoy life and certainly has been great for our university. She's been great for athletics, but I think she's been fabulous for our university as a whole."
Self said the news did not come as a surprise given that there has been talk surrounding the 71-year-old Gray-Little's longevity for the past couple of years. But he added that announcements of these type have a way of carrying that out-of-nowhere feel with them.
"It doesn't catch me off guard," he said. "I think everybody knows that, at some point, that was going to happen. I just think it kind of surprised everybody that it was so abrupt."
Kansas athletic director Sheahon Zenger, who, in 2011 was hired by Gray-Little, has long been a fan of the KU chancellor and said he appreciated her support, leadership and approach to handling athletics.
"Chancellor Gray-Little has been an incredible partner for our athletic department," Zenger told the Journal-World. "Her values and standards were clear and easy to follow and I would hope that our next chancellor would have many of the same traits."
Zenger also said Gray-Little was well respected and admired throughout the Big 12 Conference and college athletics.

"(Big 12 commissioner) Bob Bowlsby and the conference office often spoke highly about her leadership and quality of thought in conference matters," Zenger said.
Regardless of where the university turns to find her successor, Self said he believed Gray-Little made a strong and lasting impact at KU during her time in charge.
"I'm happy for her," he added. "And I'll be excited to see who accepts the challenge moving forward. But I really believe she'll leave this place on really, really solid footing."
---
More news and notes from Friday morning's Boot Camp
---