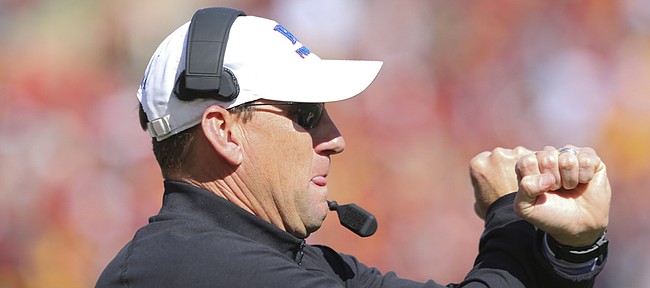 Whether you're the top dog at Alabama or running the show at Kansas, the job of a college football coach is not easy.
But it tends to get harder when a head coach packs on his back a bunch of extra tasks he's paying other people to handle.
That has been the path traveled by second-year Kansas coach David Beaty during the first 15 games of his college coaching career. And it appears to be changing.
Podcast episode
After a 43-7 loss against Memphis last week, Kansas football coach David Beaty met with the media to talk about what changes are needed, how the team needs to develop, locker room renovations and a look ahead to Texas Tech.
"I've got a terrific staff," Beaty said Tuesday, three days after his team fell to 1-2 with a lopsided loss at Memphis. "I've gotta let those guys do their job better, like get out of their way a little bit."
Whether it came in the form of taking over the play-calling, coaching the quarterbacks, instructing the punt returners or any other number of smaller tasks that often go unnoticed, Beaty, in recent months, added a lot to his unending role as the head coach at Kansas. Tuesday, he vowed to change that in the coming weeks by falling back on a core philosophy he leaned on when putting together his staff in the first place.
"We have a bunch of smart guys here," Beaty said. "We really do. So maybe just taking more input from those guys when it comes to general things that we're doing and not micromanaging as much. That's always been a goal of mine, not to be a micromanager, to hire good guys and let 'em do their job. I did something a little bit different here the last couple weeks and I think it cost us."
Such an admission is not one you hear often from the head coach of a college football program. But the thing about it that caught his staff off guard was not that Beaty had the humility to say it, rather that he felt he needed to in the first place.
"He's the head coach. He can do whatever he wants. It's his watch and his program," said receivers coach Jason Phillips. "We need to get on board with his plan and his goals and make his vision a reality. For him to say that, obviously he's done some self-reflection, it speaks to him as a man, someone that is willing to say, 'Hey, look, maybe I feel I'm doing something and I need to change what I'm doing and maybe we'll get better results.'"
How and if those results come remains to be seen and certainly will depend upon a lot more than the specific duties carried out by the Kansas coaching staff. Players still have to block, protect the football, stop the opponent and catch a break or two. But defensive coordinator Clint Bowen said it was nice to hear Beaty confirm what he already believed — that the head coach has faith in his staff.
"He's always been good about allowing us to have and do what we need to do," Bowen said. "I think he's just reaffirming that he has confidence in the assistant coaches to get their jobs done.
"Coach Beaty is working extremely hard to get this program turned around, to get everything right that you can get right and to can get it done as fast as we can. He's just always continuing to try to find a better way to do things and I think that's where he is coming from. He's always just keeping his eyes open on the best ways to get the job done."
Defensive backs coach Kenny Perry doubles as one of Beaty's nearest and dearest friends. Perry said Beaty's latest move would not have been made if he did not care as much as he did.
"Boy, I tell you what, he bears a heavy heart for this program," Perry said. "He really does. He wants, like no other, for this thing to go the right way. At the end of the day, he wants to win for the state of Kansas, not just for David Beaty."
If there's one thing Perry hopes people will learn from Beaty's most recent move, it's that Beaty has no agenda other than to do everything in his power to make Kansas football a winner.
"He ain't an 'I' guy by any means," Perry said of Beaty. "He's done some things kind of unconventional for a head coach, but that's the way it is. I've been coaching 25 years and whatever the guy does, right, wrong or indifferent, I'm gonna follow him and we're gonna go down together. Hopefully we go up together. That's our plan. That's why everybody's here."
Added Beaty: "I'm going back to the way that I was. ... I can make changes. If I'm gonna ask any of these guys to look inside, I'm gonna be the first one to pick up the paint brush. If I'm gonna ask them to do something hard, I gotta do it."
Dineen to miss time
Beaty revealed Tuesday that junior linebacker Joe Dineen Jr., who missed most of the Memphis game because of an injury, would miss at least a couple of weeks because of a hamstring injury.
Both Beaty and Dineen, who was seen walking with the help of crutches on Tuesday, were relieved to find out that the news was not as bad as once feared.
Still, taking a co-captain and one of the team's top players out of the lineup was not necessarily good news.
"It's a blow because he's such a leader on our football team, in addition to his production," Beaty said. "Our guys really look to 'The Mayor' for leadership ... Joe will get back as quick as he can."
Long snapper injured
Starting long snapper John Wirtel, a senior from Orland Park, Ill., is expected to miss the rest of the season after tearing his ACL in last week's loss to Memphis.
Wirtel, who has played in 37 games as a Jayhawk, was replaced by freshman Logan Klusman, of Lafayette, La.
"That was unbelievable," Perry said of Klusman's effort in relief. "I've never in 25 years seen a deep snapper that was the only deep snapper go down in a game and then have a kid come in and snap the way that true freshman did. That was frickin' unbelievable."
New-look locker room
The local media received a 30-minute tour of the Jayhawks newly renovated locker room prior to Beaty's news conference on Tuesday.
Jeff Love, KU's director of football technology, opened up the locker room and showed off all of the bells and whistles that included everything from a block of nine 42-inch television screens in the main area and state-of-the-art sound system to an extensive and varied lighting display.
The project, which cost right around $2 million, was completed just before the start of the 2016 season. Additional features include an homage to past KU greats, a more modern gaming area and ventilated lockers that feature pictures, hometowns and Twitter handles of each player on the Kansas roster.
"This is a recruiting tool, no doubt," said Love, noting that each visit made by a recruit is tracked so that the next time that athlete sets foot in the locker room, it will look different than it did the time before. "No detail was left unturned when the thought process went into this, and the idea is that this is home away from home."