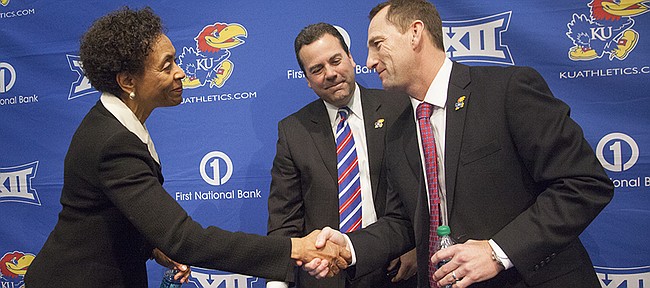 As a rule, college football coaches need five years to establish a culture and have a roster completely made up of their recruits before they can be judged by their records.
Yet, it's not unusual for athletic directors to reach a verdict sooner than that if they don't see signs of improvement in the areas of recruiting, development and/or game-day coaching.
Kansas head coach David Beaty, two years into a five-year contract that pays him $800,000 annually and has a $1.6 million buyout that shrinks to $800,000 after four years, is 25 percent of the way into that five-year standard and has a 1-14 record. Thus far, the only evidence of improvement has come in recruiting, especially by upgrading team speed.
Athletic director Sheahon Zenger, on the other hand, is in his fifth season as boss of football coaches that he hired, or 85 percent of the way into the five-year judgment standard.
Whereas Charlie Weis could blame the shape of the program he inherited on Turner Gill — and to his credit never did — and Beaty can blame Weis — and to his credit never does — the state of the football program falls squarely on the athletic director's desk.
Zenger is the first Kansas athletic director since Dutch Lonborg to fire one of his own hires (Chuck Mather). Lonborg atoned for that mistake by hiring Jack Mitchell.
Zenger's job security is as sound as Kansas football performs under Beaty. If reading that sentence doesn't make the newspaper in Zenger's hands shake, nothing ever will.
In the wake of Saturday's thoroughly embarrassing 43-7 loss to Memphis, Beaty said something that had to make Zenger cringe the way he must have when Weis sat in harsh judgment of his own abilities as a college offensive coordinator in the age of spread offenses.
In both cases, the Kansas head football coach made a stunning admission about his deficiencies. In both cases, the remark was aimed 100 percent at the mirror, but indirectly reflected the judgment of the man who hired them.
Midway through his second season at Kansas, Weis initially turned over the passing game to quarterbacks coach Ron Powlus and the run game to tight ends coach Jeff Blazko, but it still was Weis' offense. Weeks later, Weis acknowledged the need for a new offensive coordinator and said the spread was the way to go and it was outside his area of expertise. Translation: The college game had passed him by when Zenger hired him.
Beaty put KU's second consecutive ugly nonconference loss on himself, saying shortly after the slaughter's merciful conclusion: "I've got to get better. I've got to get a lot better because obviously what we're doing right now is not working."
Translation: Zenger hired an assistant coach not yet ready for all that the head coach position entails at Kansas.
Beaty moved up the timetable on judgment of his performance when he demoted offensive coordinator Rob Likens and took over the duties himself. By doing so, Beaty made the evaluation that if given a new offense played at a faster pace, the Jayhawks could become more difficult to defend.
It hasn't worked out that way. Six of the 72 plays Kansas ran in Memphis ended in a turnover and quarterback Montell Cozart committed three of them with two interceptions and an unforced fumble.
Nothing that happened in KU's season-opening, 55-6 rout of Rhode Island can be taken seriously because the Rams (0-3) also were hammered by Albany, 35-7, and Harvard, 51-21.
Just as Zenger won't get a chance to hire a third football coach, Beaty isn't likely to get a shot at hiring a third offensive coordinator. So he either gets "a lot better," or the next AD hires his replacement well before his five years are up.
Barring a stunning October surprise — Carter Stanley gets his shot and somehow leads a blocking-challenged Kansas offense to unforeseen heights — the Jayhawks appear headed toward a 2-10 or 1-11 record.
If it's 1-11, that would make Zenger's five-year record overseeing football coaches that he hired 8-52, the worst five-year stretch in the history of Kansas football.