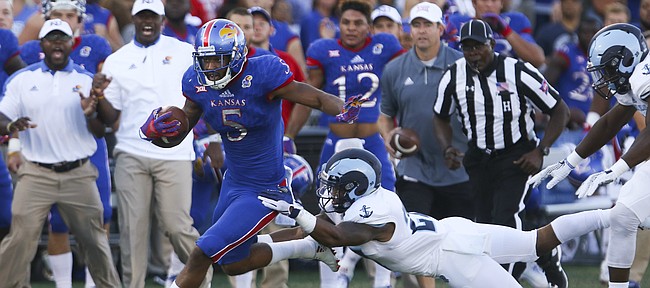 Kansas (1-1) at Memphis (1-0)
11 a.m. Saturday, Liberty Bowl Memorial Stadium • Game-time forecast: 82 degrees, 70% chance of rain • TV: ESPNU
Log on to KUsports.com for our live game blog and follow our coverage team on Twitter: @KUSports, @BentonASmith, @TomKeeganLJW, @mctait and @nightengalejr
Keys for Kansas
1. Establish some rhythm on offense
Whether it's via quick strikes from junior quarterback Montell Cozart (71.4 completion percentage this season) to any number of capable Kansas receivers or by getting back to rushing the ball with senior running back Ke'aun Kinner, the Jayhawks just need to resemble an Air Raid offense, get rid of the three-and-outs and pick up some first downs. Last week against Ohio, KU went kaput with the ball throughout the first half and fell behind 25 points as a result. A first-quarter touchdown would help the Jayhawks get comfortable on the road, but at the very least they need to come out and move the ball down the field with productive drives more regularly. It's probably going to take more than 21 points (KU's total versus Ohio) to snap the program's 38-game losing streak away from Memorial Stadium.
2. Win the red zone
KU didn't even run a play inside Ohio's 20-yard line a week ago, so visiting the red zone a few times against Memphis would be an ideal starting point. The big-play capabilities of junior receiver and returner LaQuvionte Gonzalez and sophomore receiver Steven Sims Jr. are nice to have, but the Jayhawks also need to prove they can produce sustainable drives and finish those off with touchdowns. Defensively, after a rough start a week ago, KU recuperated on Ohio's final five drives to the red zone, limiting the Bobcats to 12 points in that span, with the help of a third-quarter Fish Smithson interception in the end zone. Memphis scored three touchdowns in its four red-zone appearances against Southeast Missouri State in its opener and only came up short when taking a knee in the closing seconds.
3. Don't let a deficit keep you down
Hey, this is a road game, and even if Memphis isn't from a Power 5 conference, KU has obviously had its issues as a visiting team. So chances are the Tigers are going to take a lead, and most likely do so early. Assuming that happens, the Jayhawks can't dwell on the deficit or the mistakes that led to it. Last week that type of mentality compounded KU's issues, costing the team a victory. Second-year Kansas coach David Beaty has confidence in his players to rally, and they should follow his lead.
"I never felt like we were out of it," Beaty said of the Ohio loss, "and I certainly didn't think our kids felt like they were out of it. The explosive nature of our offense, I think is the thing that our kids know and understand, so that was good to see."
Mega Matchup
Memphis passing attack vs. Kansas secondary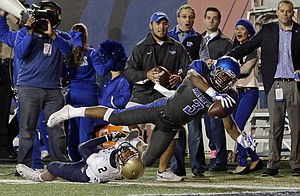 As Kansas takes the field for its non-conference finale, its defensive backs might finally feel like they're up against a Big 12-type of offense. The Jayhawks had few issues in limiting Rhode Island and Ohio to a combined 216 passing yards, as KU enters its first road game with two interceptions and and 16 pass break-ups already on its résumé. Memphis, however, figures to have a more competent passing attack, with junior quarterback Riley Ferguson behind center. The one-time Tennessee QB completed 26 of 40 throws for 295 yards and three touchdowns (two interceptions) in his Memphis debut. Junior receiver Anthony Miller established himself as Ferguson's favorite target in the Tigers' opener, catching nine passes for 103 yards versus SEMO. Freshman tailback Darrell Henderson contributed 39 receiving yards and two touchdowns on three catches.
5 Questions with Bazie Bates IV
1. Does Memphis seem a little more pass-happy than the first couple of KU opponents?
"It is nice to go back to a team that's kind of pass-happy, but, you know, we weren't as sound on the run game last week. We're probably gonna see more running than they intended on. Basically just going out there this week, if we're going against a pass team, everything's gotta be sound from our stances to our back pedals to our breaks, to our man coverage and to our eyes. Just listen to coach (Clint) Bowen and coach (Kenny) Perry, whatever they're telling us."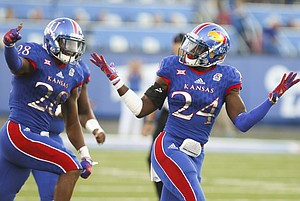 2. You've already had a lot more opportunities to make plays than last year — your first season at KU. What has made you a different player?
"It's just about trust. Everybody has gone through a whole year together. You go through the whole offseason talking about what you guys want to do together as a group and I'd probably just say trusting each other, teaching each other. Outside of coach Perry and coach Bowen teaching us, Fish, if he sees me doing something wrong he's gonna coach me up and likewise. The play's gonna come, 'cause basically just trust and everybody needs to trust the other man, trust in the coaches and just trust in the game plan."
3. Was it difficult for you last year when you weren't able to come in and makes as much of an impact as you probably hoped you could?
"Yeah, it is difficult, but it's a humbling experience. I guess that's really the only thing you can do. If you don't learn from it then you're really just wasting time. And I feel that myself and a lot of the other teammates, we learned a lot from last year. Even though last week didn't go as we hoped, we just have to improve on what the mistakes were and then just go out there and do what we need to do."
4. Individually, where do you feel like you've made the most progress from a year ago?
"Last year coming from juco I kind of just wanted to do my own thing at times, but at the end of the day coaches know best. Like I said, got humbled last year and just need to learn to trust your coaches and everything that they're saying. And just go out there and do it.'
5. What kind of lasting effect did a winless 2015 season have on you all as players?
"Last year, that was some things that no one has gone through, from the head man all the way down to the training staff. No one's been a part of that. It is kind of difficult, because you do put in the same work everyone else does, and then you don't really get the outcome that you wanted. Then to finally get that 'W,' the hard work that we put through all the offseason and the spring finally paid off."
Jayhawk Pulse
Dating back to a Sept. 12, 2009, KU road win at UTEP, when Mark Mangino coached the Jayhawks and captains Todd Reesing, Kerry Meier, Jake Sharp and Darrell Stuckey suited up for Kansas, the program has lost 35 consecutive true road games — and the losing streak away from Lawrence adds up to 38 when including three neutral-site defeats to Missouri. Considering the rest of this year's schedule consists of Big 12 opponents, with trips to Texas Tech, Baylor, Oklahoma, West Virginia and Kansas State on the slate, could this be KU's best chance to end the skid in 2016? Considering the Jayhawks are 20-point underdogs, a more competitive showing than expected could at least provide signs that the streak will end in the foreseeable future.
Tale of the Tape:
KU run game vs. Memphis run D – Memphis
KU pass game vs. Memphis pass D – KU
Memphis run game vs. KU run D – KU
Memphis pass game vs. KU pass D – Push
Special teams – Memphis