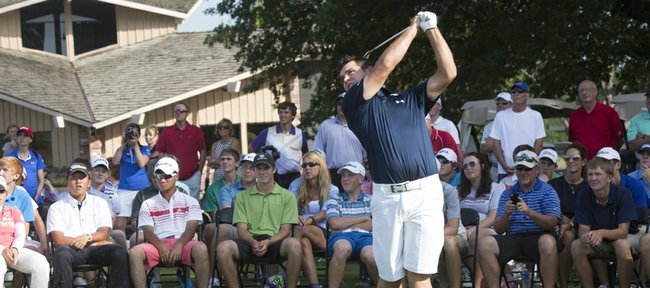 The money's great, the courses are beautiful, the competition outrageously stiff, the pressure relentlessly intense, the courses ridiculously difficult.
That all explains why when I'm watching PGA tour events on Sundays I alternate between thinking the competitors have the greatest and worst jobs in the world.
So which is it, touring pro Gary Woodland?
"It's not as easy as it looks, but I wouldn't change it for anything in the world ... besides maybe playing in the NBA," said Woodland, in Lawrence for the week.
Woodland loves his basketball, especially his Jayhawks, against whom he played for Washburn in a 2002 exhibition game at Allen Fieldhouse.
That game as a freshman was the final straw in crushing his NBA dreams and a factor in his deciding to transfer to Kansas to play golf. He averaged 18 points a game as a senior, earned all-state honors and won two state championships in basketball for Shawnee Heights High.
He is considered the best basketball player on the PGA tour. More important, he's one of the 30 remaining golfers in the FedEx playoffs, ranked 20th in the standings. The 30 golfers compete in the season finale, The Tour Championship next week at East Lake Golf Club in Atlanta. Also, Woodland moved to 48th in the Official World Golf Rankings. Either top 30 in FedEx or top 50 in the world rankings would have guaranteed Woodland a spot in every tournament, majors included, next season.
Woodland made the ultimate cut by finishing the season and tournaments strong.
"Being one of the final 30 is always a goal to start the year," Woodland said. "Playing well at the right time is always rewarding as well. At the start of the year I played pretty dang well for three rounds and struggled on Sundays. I'm finally finishing well."
Woodland enters the final tournament ranked 43rd on the PGA tour money list with $2,173,424.30 in earnings.
Clearly, Woodland's reunion with world-renowned swing coach Butch Harmon has improved his game.
"Butch and I struggled in 2012 because I was hurting," Woodland said. "We tried to make changes and my body couldn't keep up. I made drastic changes too soon. Since I've come back with Butchy my body's been healthy and I've been able to do some things I couldn't in 2012."
Woodland said he looks forward to working during the month-long offseason so that he can "really master what we're doing."
He then explained exactly what Harmon is working with him on.
"Just working the golf ball in both directions," Woodland said. "I haven't had a full arsenal. I've been pretty one-dimensional since coming on tour. I've been a fader of the golf ball. In certain majors, you're going to struggle if you can't work the ball in both directions."
Augusta National, for example, puts players who can't draw the ball on command at a disadvantage on certain holes.
Woodland, whose extraordinary swing speed makes him a higher risk for injuries, encountered wrist troubles during his first stretch working with Harmon. A healthy Woodland under Harmon's tutelage has earned checks larger than $330,000 in three tournaments and also finished 12th in the British Open.
Woodland is one of 30 golfers competing for the The Tour Championship first-place check of $1.53 million.
The best professional golfer in history to come out of KU has earned $13,686,707 for his career in PGA tour events. That puts him in position temporarily to pass Marcus Morris next week. Morris has received $13,713,781 and counting in NBA checks, per basketballreference.com.
Woodland's talent and work ethic are such that it's always easy to forecast improvement. A major championship, even a spot on the Ryder Cup team some year, are not unrealistic goals.