An easy, season-opening victory over Rhode Island might have masked a glaring issue for the Kansas football team's offense.
The Jayhawks ran the ball 35 times for 171 yards and two touchdowns against an overmatched FCS opponent in their debut, but after KU averaged a meager 1.7 yards a carry in a home loss to Ohio, offensive line coach Zach Yenser went as far as referring to the team's run-blocking as the "elephant in the room."
Falling in a massive 25-0, first-half hole against the Bobcats certainly didn't help the Jayhawks' chances of establishing a ground attack. But even when they only trailed by six in the first quarter, the running game backfired. Ke'aun Kinner's first carry of the game went for no gain, and on the very next snap Ohio's Chad Moore brought down Kinner for a one-yard loss and a safety. Kinner finished the game averaging 3.2 yards a carry on five rushes — a significant decrease from his 9.9 average on seven runs the week before.
By the end of the defeat KU attempted just 15 carries for a puny total of 26 yards. Even so, Yenser, whose job duties include run-game coordinator, remains optimistic about the Jayhawks' ability to rush successfully, as well as the offense's run-blocking, as the team prepares for a Saturday road test at Memphis (11 a.m. kickoff, ESPNU).
"Obviously as an offensive line you want to establish the line of scrimmage and be able to run the football," Yenser said. "And we're gonna need to in order to win football games. It doesn't matter what type of offense you run, whether you're pro or whether you're spread or whatever. You've gotta be able to run the football. And that's our job. Our job is to get first downs and touchdowns. I'm proud of our guys for what they've done in the pass protection, but we've gotta be better in the run game, and I think we will be."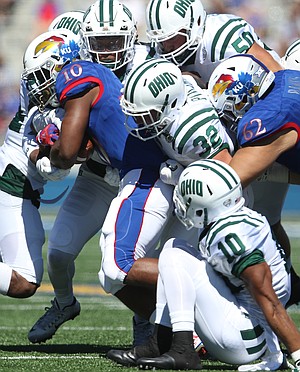 Two weeks into the season, Kansas running backs have combined for 37 carries and 147 yards (3.9 yards a rush). Of KU's 14 plays of 20-or-more yards, only one came on a running play. Kinner broke a 20-yard run during the Week 1 Rhode Island romp.
Between senior Kinner (85 rushing yards), sophomore Taylor Martin (33), junior Denzell Evans (25) and true freshman Khalil Herbert (17), Kansas running backs have accounted for just more than 18 percent of the team's 802 total yards.
However, head coach David Beaty isn't prepared to say he is concerned with the overall lack of production.
"Well, I mean, first week we were pretty daggum good running the football. Second week, we weren't very good," Beaty admitted. "So I'm trying to figure out who we are right now, because I know we're a lot better than what we showed Saturday in the run game. We're probably somewhere in the middle, and we need to continue to work on improving that to be honest with you."
In the first two games, KU started left tackle D'Andre Banks (6-foot-3, 305 pounds), left guard Jayson Rhodes (6-4, 285), center Joe Gibson (6-3, 305), right guard Mesa Ribordy (6-4, 290) and right tackle Hakeem Adeniji (6-5, 265) on the offensive line. Yenser said he was proud of the unit's response following the Ohio loss.
"They were embarrassed in the run game," Yenser said. "And if they weren't then you have a problem."
The O-line coach told the players the deficiencies were his fault and planned to get back to some fundamentals this week during practice sessions as a result.
While KU's offensive linemen aren't all massive blockers, Yenser said his run-blocking philosophy is all about speed out of their stances.
"I don't care if you're 310 pounds or 285 pounds," the assistant coach said. "Technique and quickness out of your stance — how fast can you get to Point A. And then it just turns into leverage. There's a bunch of dudes playing in the NFL at 295 pounds that are moving guys."
Junior quarterback Montell Cozart said KU has to improve its rushing attack, but like Yenser he remained confident in the linemen up front.
"I feel like the running backs, those guys are getting a little more physical, as well, but I feel like we'll be able to be successful just doing a little bit of different things, taking advantage of what we're seeing on film from Memphis," Cozart said. "So I feel like the running backs will be fine."
Last season against the Tigers, Kinner ran for 113 yards and a touchdown on 16 carries. This year, Memphis has a new defensive coordinator, Chris Ball, formerly co-defensive coordinator at Arizona State. Eight of the 11 first-string Memphis defenders started at least one game in 2015, and six of them started in five or more games.
Asked if, following KU's unimpressive 15-carry, 26-yard rushing outing versus Ohio, Yenser would get in Beaty's ear in the hope of more run calls at Memphis, the O-line coach said the Jayhawks are happy to follow any game plan.
"If we need to run the ball 32 times to win a game we're gonna do it," Yenser said. "If we need to throw the football, we're gonna do whatever we need to do. And, heck, I'm gonna encourage coach to run the football and take shots down the field. You know, put it on us. My guys want that and we're good enough outside. We know that if we can do our job people are gonna have trouble stopping us."