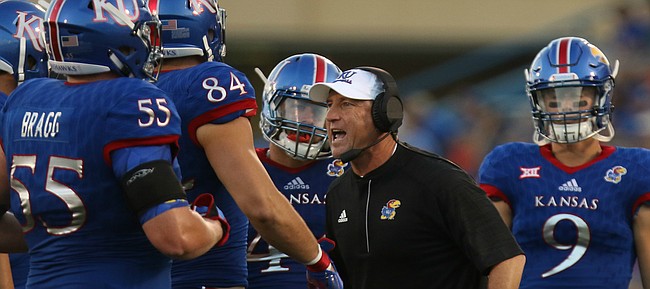 As David Beaty and his staff prepare for the Jayhawks' first road game of the season, the second-year Kansas football coach knows the Memphis Tigers waiting for them Saturday at Liberty Bowl Memorial Stadium will look significantly different from the team that came to Lawrence a year ago and trounced KU by 32 points.
Among many other changes, former Memphis head coach Justin Fuente moved on to Virginia Tech and last season's starting quarterback, Paxton Lynch, became the first-round draft pick of the NFL's Denver Broncos.
Still, Beaty said Monday on the Big 12 coaches media teleconference he's familiar enough with new Tigers head coach Mike Norvell to enter KU's non-conference finale with nothing but respect for what Memphis is capable of offensively.
When Beaty first broke into the college coaching ranks at Rice in 2006 as a passing game coordinator and receivers coach, he worked for head coach Todd Graham, now the man in charge at Arizona State. Norvell worked on Graham's staffs at both Tulsa and ASU, where he served as offensive coordinator for a Sun Devils program that appeared in four straight bowl games.
"What they did at Arizona State was really, really remarkable and I know that he's gonna bring that same stuff to Memphis, and they already have shown the things, the traits, that you really associate with Mike," Beaty said. "They're difficult, because they do do a great job of running the football and their play-action off of that stuff is very difficult to deal with. And on top of that he's a very cutting-edge guy, so there's gonna be some things Saturday that we haven't seen that we're just gonna have to do a good job of containing and rallying to and let our rules kind of handle that."
Indeed, KU only has so much video to reference in preparation. Memphis, coming off an idle week, opened the season with a 35-17 home victory over Southeast Missouri State. Tigers junior quarterback Riley Ferguson completed 26 of 40 passes for 295 yards and three touchdowns, with two interceptions. Freshman running back Patrick Taylor Jr. led with 86 rushing yards on seven carries, while junior running back Doroland Dorceus had a team-high 14 carries that netted 34 yards and a TD.
Beaty said he knows Memphis defensive coordinator Chris Bell and defensive line coach Paul Randolph "very, very well," and he expects the Tigers to come out with an aggressive game plan against KU's offense.
"Talented team," Beaty said of Memphis. "It's gonna be a great challenge for us on the road. We're looking forward to getting out there and playing in a great environment there in Memphis."
KU has lost 38 consecutive games away from home, dating back to the 2009 season. As of Monday afternoon, the Tigers (1-0) were listed as a 20 1/2-point favorite versus Kansas (1-1).
Big 12 expanding within Texas?
Questions on the weekly teleconference weren't limited to on-field results and game preparation. Big 12 expansion also came up, as Beaty was asked whether potential expansion within the state of Texas (with Houston, Rice and SMU as reported candidates) would affect KU's ability to recruit in the Lone Star State.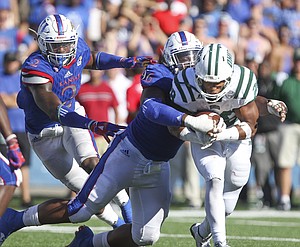 "If you know that, then you know more than I do, when it comes to where they're at and who they're adding," Beaty responded with a laugh.
The Jayhawks' 108-man roster currently includes 46 players with a Texas hometown: LaQuvionte Gonzalez, Dorance Armstrong Jr., Chase Harrell, Maciah Long, Tyler Patrick, Shaquille Richmond, Bobby Hartzog Jr., Derrick Neal, Keaton Perry, Brandon Stewart, Steven Sims Jr., Shola Ayinde, Deondre Ford, Keegan Brewer, Josh Ehambe, Denzel Feaster, Isaiah Bean, Evan Fairs, Emmanuel Moore, Greg Allen, Ke'aun Kinner, Denzell Evans, Ian Peterson, Bazie Bates IV, Taylor Martin, Julian Chandler, Colin Spencer, DeAnte Ford, Courtney Arnick, Dru Prox, Hudson Hall, Jacob Bragg, D'Andre Banks, Jayson Rhodes, Cam Durley, Larry Hughes, Clyde McCauley III, Antione Frazier, Chris Hughes, Hakeem Adeniji, Jordan Shelley-Smith, Ryan Renick, Jeremiah Booker, D.J. Williams, Lay'Trion Jones and Daniel Wise.
As a Texas native in need of mining the talent-rich state as much as any coach in the conference, one might think Beaty wouldn't favor even more recruiting competition. However, Beaty chose not to comment on the specifics of how such expansion would impact Kansas.
"I do know this, that right now we have the membership that we have, and that's the reality we're dealing with," Beaty said. "As coaches, we are all so wrapped up in our seasons and trying to get better there that I really haven't given (expansion within the state of Texas) a whole lot of thought. I know that there's a lot of schools out there that would love to have membership in this great conference, and I know that the people that are making those decisions are gonna make sure that they're great fits for us. And when they do, I won't have any choice anyway, so we will do what everyone else does, which is react and make sure that we put things in place to make sure we benefit from the membership."
Controversial ending at Oklahoma State
Oklahoma State's last-second loss on Saturday to Central Michigan remained a popular topic in the college football world Monday. Even Beaty was asked about possible ramifications of the Chippewas' upset road victory, given that an officiating crew from CMU's Mid-American Conference incorrectly awarded the visitors an un-timed down after the Cowboys were flagged for intentional grounding on fourth down, with no time remaining. Central Michigan went on to pull off an improbable Hail Mary-and-lateral TD to win the game.
Asked whether Big 12 teams should give pause before scheduling future home matchups with programs outside of the SEC, Big Ten, ACC and Pac 12 conferences, Beaty said he hadn't given the matter any thought and only knew some of the details of what transpired in Stillwater, Okla., due to texting with a friend, Joe Bob Clements, who coaches OSU's defensive line.
"Our conference is willing to learn from every single Saturday," Beaty offered, "and there's lots of different crazy things that are happening every week. And we've all gotta learn from 'em."
Questioned later about whether the outcome of the game should be overturned due to the incorrect ruling — which led to the suspensions of on-field MAC officials and Big 12 replay officials — Beaty sidestepped joining the debate.
"I'm not touching any of that," Beaty said, as he laughed. "I have no comment on that, nor am I really looking at it. I'm looking at trying to get our football team better."