Searching for its first winning streak since the start of the 2011 season, too many mistakes cost the Kansas football team in a 37-21 loss against Ohio on Saturday at Memorial Stadium.
It was a dismal first half for the Jayhawks, who only had 21 yards of offense in the first two quarters, struggling to find any rhythm with their run or pass game.
Then there was up-and-down day from LaQuvionte Gonzalez, who recorded a 99-yard kickoff return touchdown in the second quarter but lost two fumbles on punt returns.
Eventually, the Jayhawks (1-1) displayed some of the promise they showed in last week's victory against Rhode Island. On the second play from scrimmage in the third quarter, Montell Cozart found Steven Sims Jr. streaking past the secondary for a 74-yard touchdown pass.
Photo Gallery
KU football vs. Ohio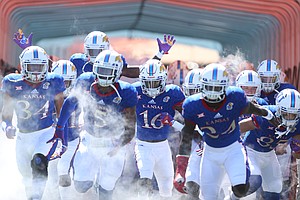 Images from Saturday's game between the Kansas Jayhawks and Ohio Bobcats at Memorial Stadium.
Podcast episode
After a 37-21 loss against Ohio, Kansas coach David Beaty discusses what troubled the offense, the difficulties of the defense staying on the field and why he stuck with Montell Cozart in his post-game press conference.
Following a field goal from Ohio kicker Louie Zervos — after Gonzalez's second muffed punt — Cozart marched down the field on a five-play, 76-yard drive that ended with a 22-yard touchdown pass to Sims, who caught the ball with a cornerback draped around him.
The Jayhawks appeared to have momentum near the end of the third quarter, trailing 31-21, when senior safety Fish Smithson intercepted a pass in the end zone. But KU's offense stalled and punter Cole Moos dropped the snap on his punt and barely made contact as he was hit by multiple defenders.
With a short field following the misplayed punt, the Bobcats (1-1) added another field goal from Zervos for a 34-21 advantage.
In the fourth quarter, the Jayhawks punted from midfield and Ohio drained more than 10 minutes off of the clock with a 18-play, 81-yard drive, ending with a 22-yard field goal by Zervos.
Ohio had a 25-0 lead midway through the second quarter with strong runs against KU's defense and smart plays by dual-threat quarterback Greg Windham, who finished with 146 rushing yards (9.1 yards per attempt), 167 passing yards and two touchdowns.
The Jayhawks only had 26 rushing yards on 15 attempts. Cozart was 17-of-24 with 198 passing yards and two touchdowns, but left the game in the fourth quarter when he was hit near his team's sideling trying to run for a first down. Cozart, who split time at QB with Ryan Willis last week, played every series but one before he exited.
Sims had four catches for 114 yards and Gonzalez had five catches for 45 yards.
On defense, Bazie Bates led with 11 tackles while Marcquis Roberts and Joe Dineen both had 10.
Scoring summary
1st Quarter
12:23 — Papi White 11 run, Kick failed. 6-0, Ohio.
8:22 – Safety. 8-0, Ohio.
3:50 – Mason Morgan 4 pass from Greg Windham, Louie Zervos kick. 15-0, Ohio.
2nd Quarter
14:48 – Windham 23 run, Zervos kick. 22-0, Ohio
6:32 – Louie Zervos 26 field goal. 25-0, Ohio.
6:17 – LaQuvionte Gonzalez 99 kickoff return, Matthew Wyman kick. 25-7, Ohio.
2:52 – Zervos 22 field goal. 28-7, Ohio.
3rd Quarter
14:40 – Steven Sims Jr. 74 pass from Montell Cozart, Wyman kick. 28-14, Ohio.
12:52 – Zervos 25 field goal. 31-14, Ohio.
10:59 – Sims Jr. 22 pass from Cozart, Wyman kick. 31-21, Ohio.
:02 – Zervos 46 field goal. 34-21, Ohio.
4th Quarter
3:24 – Zervos 22 field goal. 37-21, Ohio.
The Jayhawks only posted 20 rushing yards on 12 attempts.
—Check back on KUsports.com for more coverage of KU football's loss against Ohio