Kansas Jayhawks (1-0) vs. Ohio Bobcats (0-1)
1:30 p.m., Memorial Stadium – Game-time forecast: 72 degrees, sunny, 0 percent chance for rain, winds 12 mph from the north – TV: FOX Sports Net
Log on to KUsports.com for our new-look live game blog coverage and follow the KUsports.com staff on Twitter: @KUSports @mctait @TomKeeganLJW and @nightengalejr
Keys for Kansas
1. Discipline wins
KU coach David Beaty marveled at Ohio coach Frank Solich's method, both during his days with Ohio and his run as the leader of the Nebraska Cornhuskers. The centerpiece of Solich's system always has been and likely always will be discipline. Beaty said for his team to have a shot against the man whom Beaty called one of his "coaching heroes," the Jayhawks would have to be prepared to match Ohio's performance both during live action and when the ball is not in play. "He's just one of the guys that have done it the right way everywhere he's been," Beaty said of Solich. "He's a class guy.... and his teams are always sound. They line up right. You're going to have to beat them. They're not going to beat themselves."
2. It's on the defense
Both offenses scored in the 50s during their season openers a week ago, giving KU and Ohio confidence that they can put points on the board. That's just fine with a Kansas defense that nearly recorded a shutout in its first game of the season and brings a bunch of experienced veterans into the Week 2 showdown with the Bobcats. "Every game you go into, you want to shut 'em out," said junior linebacker Joe Dineen. "If they don't score, it's gonna be hard for them to win. But we know both of these offenses can score and I think it's gonna be on us. Obviously we have a lot of returners and we know what it takes. So I think that takes a lot of the pressure off and helps a lot because we know what to expect."
3. Special teams success
For the better part of the 21 months that he's been the head coach at Kansas, Beaty has emphasized the importance of special teams to his squad's chances of winning. After falling short most of the time, the 2016 Jayhawks delivered in a big way, picking up a tone-changing special teams takeaway on the first opportunity of the season. Success breeds success and the Jayhawks now seem to sense that special teams actually can make a difference. If Kansas can find a way to turn in another similar moment against Ohio, it could go a long way toward helping the Jayhawks improve to 2-0 for the first time since 2011.
Mega Matchup
KU passing game vs. Ohio secondary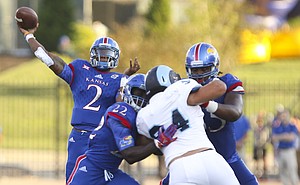 In sizing up this week's match-up with Ohio, second-year KU coach David Beaty noted that the strength of the Bobcats' defense was up front. In the defensive backfield, Ohio relies on five players in their first or second year with the program to slow down opposing quarterbacks and receivers. Last week, Texas State quarterback Tyler Jones torched the Bobcats' secondary for 418 yards and 4 TDs while completing 73 percent of his passes. "Their front and their linebackers have a lot of experience. Their front is nasty," Beaty said. "They don't have as much experience in the back end. I know they gave up quite a few passes last week and a few explosives and I know (Ohio) coach (Frank Solich) wasn't very happy about that. But there are young players back there and I know they're going to get better." Whether they get better in time to slow down a suddenly confident KU passing attack that accounted for 400 yards and 6 touchdowns in last week's win could go a long way toward deciding this one.
5 Questions with senior FB Michael Zunica
1. What was the most satisfying part about last week's victory over Rhode Island?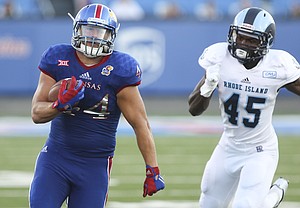 "Just getting the first one out of the way was great. The best part for me is that it gives us a chance to go 2-0. The win was nice, but it was short-lived, at least for me. I'm ready to go in this next one. I was ready to go on Saturday night."
2. What would going 2-0 mean for this team and this program?
"That's kind of something you think of the whole offseason, just the thought in your head that if we can get that first one, we have a chance to build and go 2-0, maybe 3-0. I think that would get it live around here. I thought it was a great crowd on Saturday and the hype around the stadium and gameday experience was really there, more than some games last year. And I think it's gonna be even better this Saturday."
3. There's been so much emphasis on special teams these past couple of seasons and the special teams showed up big time last week. What gives?
"I think that what's happened is so many more people have bought in to special teams and now realize that that's a real part of the game and a place you can really make a name for yourself and make some plays. There are starters and second-string guys who are now looking to get on special teams and I think that's because Coach (Joe) DeForest has simplified it and made it so guys can just play fast and not think too much. Sometimes, it's easier than being on offense and defense. It's a good place to end up in the stat column."
4. What's it like to be a part of helping rebuild this program, with these young players and this coaching staff, when you've only got one year left to play?
"It's definitely bittersweet. I was pretty emotional during camp. Every time something came up, like our last conditioning test or something, I was like, 'Damn. That's the last one. That's sad.' But it's also pushed me to treat it more business-like. I'm taking advantage of every opportunity. In the past, I was always kind of like, 'Eh, I've got a couple seasons left.' But now I come to work every day like this is my job."
5. You're on your way out, but there are some talented young players who are just getting started. What do you think of this year's freshman class?
"More than ever, I thought this freshman class really looked the part. It's got some big, athletic guys and they came in and have played the part, too. They're the most ready-to-play freshman class I've seen since I've been here. This year, there's not as much of a need for those guys, so the ones that are playing, they're worthy and they can just be play-makers and role players instead of having to carry things."
Jayhawk pulse
After a rough and winless season in 2015, the Jayhawks got things started on a good note in 2016 and, in doing so, delivered Beaty his first victory as a college head coach. The feel-good vibe that came with that spread throughout the campus and town last weekend and bled into this week. Players who have experienced little more than lopsided losses at Kansas suddenly had huge smiles and a little pep in their step. Beyond that, the outside world started to believe in the Jayhawks a little as well. When the line opened in Las Vegas last Sunday, Ohio was a nine-point favorite in this one. A little more than 24 hours later, KU was favored by three points. It's been a long time since the Jayhawks were favored in back-to-back games and the energy that comes with that should be enough to make for another electric atmosphere at Memorial Stadium today. Although they were overjoyed by last week's win, the Jayhawks realize they'll have to be better to pull off the same this week against a tough team from the MAC.
Tale of the Tape:
KU run game vs. Ohio run D – Ohio
KU pass game vs. Ohio pass D – KU
Ohio run game vs. KU run D – KU
Ohio pass game vs. KU pass D – Ohio
Special teams – KU