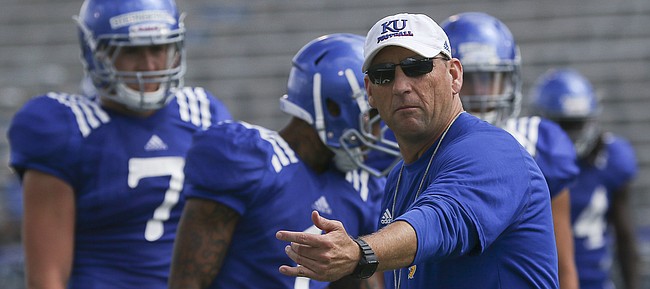 Typically, a college football team is pretty much as good as its players who were high school juniors and seniors four years ago.
Successful programs stock recruiting classes with high school athletes and red-shirt freshmen who both are not needed right away and have enough potential to want to keep in the program for five years.
And on game day, at least a third of the snaps at most positions are filled by players in their fourth or fifth seasons in the program. Talented underclassmen and junior-college or four-year transfers blend in.
At least that's how it works in stable football schools. Kansas is in the beginning stages of an attempt to become one of those again under second-year head coach David Beaty.
Give Beaty and predecessor Charlie Weis credit for not poor-mouthing the coach they replaced for leaving so little talent behind. Both, especially Beaty, had plenty of material had they chosen to go down that road. Instead, I'll travel it without looking back at Turner Gill's recruiting classes, other than to say they had more high school talent and speed than Weis', but were equally abysmal at offensive line.
Four players remain from Weis' first recruiting yield, the Class of 2012. Linebacker Courtney Arnick and safety Greg Allen appear on the second team on the depth chart. Tevin Shaw starts at nickel back and injured offensive tackle Jordan Shelley-Smith was competing for a starting spot.
Four players remain on the roster from Weis' second batch of recruits, the Class of 2013. Two of them, quarterback Montell Cozart and tight end Ben Johnson, hooked up on KU's first touchdown of 2016. Linebacker Kellen Ash and defensive back Colin Spencer are not on the depth chart.
So that's eight players remaining from Weis' first two recruiting classes, six of whom appear on the two-deep when healthy. Compare that to 20 from the same two recruiting classes on Saturday opponent Ohio's roster, with as many as 18 appearing on the two-deep.
(Interestingly, 25 of the 51 players signed in Weis' first two classes left the program before using up their eligibility.)
Scoring a victory Saturday against a far more stable program that will put so much more experience on the field would qualify as a significant sign that Beaty's rebuilding effort is on schedule and he has the program headed in a more competitive direction.
Nobody will want to hear that if Kansas loses a close one, but the numbers that speak to the Jayhawks' inexperience don't lie.