Thursday, September 8, 2016
If the Kansas football team is to move to 2-0 on the season with a victory over MAC program Ohio this weekend, it's the "dirty work" that's going to get it done.
That was the key phrase used by second-year KU coach David Beaty when sizing up the match-up with the 0-1 Bobcats earlier this week, and it had as much to do with his Jayhawks handling the little details and battles within the big picture of the four-quarter game as it did preparing and planning for Ohio.
Podcast episode
A couple of days after the Kansas football team won its first game of the season against Rhode Island, coach David Beaty met with the media to talk about what caught his eye on film, the upcoming matchup against Ohio and much more.
"We talk a lot around here about doing dirty work," Beaty said. "And dirty work is the non-glorifying stuff that doesn't stand out throughout the week."
Be it a wide receiver making a block downfield, an offensive lineman putting his hands in the proper spot in pass protection, executing fundamentals that are drilled every day in practice or even a word, thought or read from the sideline, opportunities for dirty work to make the difference pop up often throughout the course of each game.
And Beaty said any one of them could be vital to the outcome of any given game.
"Dirty work allows you to knock a guy out in the fourth quarter," Beaty said. "If you're not doing it in the first quarter, it's not going to show up."
While discussing the finer points of the phrase, Beaty consistently highlighted the play of his wide receivers and offensive linemen. Asked if those two positions had the best opportunities to do dirty work, Beaty pointed to another group that gets just as dirty.
"One of the big places we're talking about dirty work with our football team right now is our defensive line," Beaty said. "Allowing our linebackers to run and make plays. Man, that's not the most glorifying thing. (Tackles for loss are) glorifying for a defensive lineman. But there are going to be times where we need (our D-Linemen) to play a great role and do some dirty work and make sure that that guard and that center can't come off because they can't handle (them)."
KU's players heard so much about dirty work this offseason — both from Beaty and his assistants — that they've reached the point where it hardly seems like anything special any more.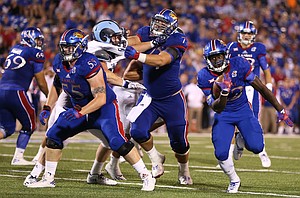 "It's just the stuff that everybody wouldn't want to do," sophomore receiver Bobby Hartzog Jr. said. "With receivers, you get the stereotype that receivers don't like to block. But it's just something we have to do. I personally believe I have to do a little bit more dirty work in the games and that's one of my main focuses."
That's music to the ears of receivers coach Jason Phillips, who said, although there's still plenty of room for improvement in all areas, including dirty work, he enjoyed the looks in the eyes of his players after an opening victory that featured six touchdown receptions.
Asked if he saw his receivers starting to understand more that small details can lead to big gains, Phillips did not hesitate to answer and added that the reward was made the grind worth it.
"Absolutely," he said. "Because the point totals go up, so everybody gets a spark at that point because when the point totals go up, you tend to win more than you lose and that's gotta be exciting for the players."
Added Beaty: "This game is such a game of inches. If you can create six inches, it might be the difference in a touchdown or first down."
---
https://www.youtube.com/watch?v=5hCxLK2S1go