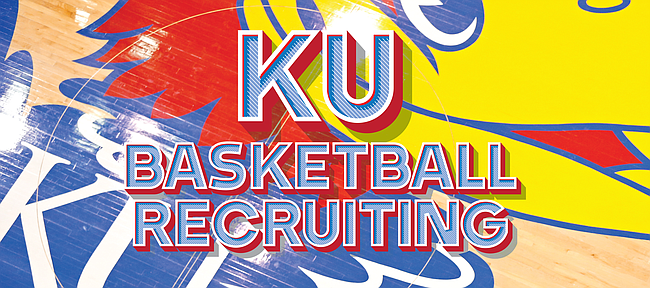 Kansas commitment Marcus Garrett took his official visit to Lawrence over the weekend and in addition to playing a little 21 and two-on-two with a few current members of the KU squad at the basketball court inside McCarthy Hall, the Dallas native played a small role in helping the KU coaches recruit more talent.
Joined for one day of his visit by four-star Orlando prospect Chaundee Brown, an undecided 6-foot-5 shooting guard who also was on his official visit, Garrett and Brown got to experience life in the shoes of a Jayhawk at the same time.
"He liked it a lot," Garrett said of Brown in a phone interview with the Journal-World. "He was surprised that a lot of people on campus knew his name and wanted pictures with him and that kind of stuff. I just told him, 'You were only here a couple days but if you come here it'll probably be like that every day.'"
Garrett, who said he liked being in the position to help sell his future school to Brown, said he answered whatever questions Brown asked but left most of that to the Jayhawks who already have played for Bill Self.
"He was asking me why I committed here, what I liked about the coaches and the program," Garrett said of Brown. "I just told him it's a great basketball program and it really doesn't get any better."
Asked if he and Brown talked about what was next in Brown's recruitment, Garrett said he thought Brown still would take his other official visits to Maryland, Florida and possibly Wake Forest. But he also said he got the feel that KU was in good shape.
"I'm thinking he's coming," Garrett boasted.
As for Garrett, the 6-4 combo guard from Skyline High who committed to Kansas in early August spent most of his time hanging out with Devonte' Graham, Malik Newman and Lagerald Vick. He, himself, had a few questions about what it was like to play ball at KU, but reserved most of his inquiries for his extensive one-on-one time with the KU coaches.
"It was great just being around those guys," Garrett said of the current Jayhawks. "They said coach Self cares a lot about his players but also gets on them at the same time."
The chance to spend quality time with the coaching staff played a big role in why Garrett chose to visit last weekend instead of taking his official visit the weekend of Late Night (Oct. 1) when KU already has nearly a dozen prospects from three different classes scheduled to visit. Garrett will be back for Late Night, but only as an unofficial visitor eager to soak up the scene.
"I just knew there were gonna be a lot of people at Late Night and I wanted a little more interaction with the coaches," Garrett said.
Garrett was joined on his visit by his uncle and AAU coach, Matthew Watts. The two stayed at The Oread, which Garrett dubbed, "real nice," and also attended the KU football victory over Rhode Island.