David Beaty's disdain for depth charts — or at least his lack of interest in making them public knowledge — emerged once again in his Kansas football team's season opener Saturday.
Days after admitting he didn't even want to release a two-deep before the Jayhawks faced Rhode Island, KU's starting lineup against the Rams featured eight starters not listed on the first team on the week's depth chart.
The offensive line in particular looked completely different than the five published in the days leading up to what turned out to be a 55-6, blowout victory for Kansas. Projected starters senior Jordan Shelley-Smith and sophomore Clyde McCauley III didn't play at all, and sophomore Jacob Bragg came in off the bench.
Instead, the O-line's first five much more resembled the group that played together on the first unit late in preseason camp: senior D'Andre Banks at left tackle, junior Jayson Rhodes at left guard, junior Joe Gibson at center, redshirt freshman Mesa Ribordy at right guard and true freshman Hakeem Adeniji manning the right tackle spot.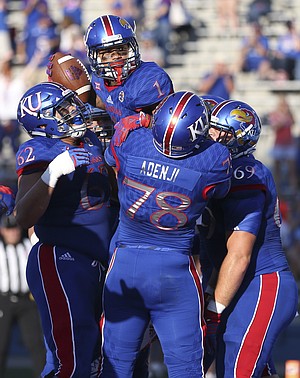 This past week Rhodes wasn't listed on the two-deep, which claimed Ribordy and Adeniji would be second-teamers.
The biggest surprise of all, though, in KU's starting lineup came when true freshman running back Khalil Herbert ran onto the Memorial Stadium turf on the opening drive, joining redshirt quarterback Montell Cozart in the backfield.
The supposed depth chart listed three possible starters at running back — senior Ke'aun Kinner, sophomore Taylor Martin and junior Denzell Evans. Herbert's name didn't appear at all.
In the end, KU really implemented a running back committee. Herbert carried the ball only four times for 15 yards. Kinner led Kansas with 69 yards and a touchdown on just seven carries. Martin ran six times for 33 yards and a score. Evans had a team-high nine runs for 24 yards.
Listed as a starting receiver for the game, sophomore Jeremiah Booker didn't play. Sophomore Tyler Patrick started in his place and caught five passes for 51 yards and a TD.
KU's starting 11 on defense featured fewer shocks.
Junior Isi Holani started on the line at tackle, in place of sophomore D.J. Williams, who did not play.
First-string linebacker senior Marcquis Roberts never took the field, either, giving sophomore Osaze Ogbebor the opportunity to start.
In the secondary, while sophomore Tyrone Miller Jr. got on the field plenty, senior Bazie Bates IV started at safety, and finished with four solo tackles, a tackle for loss, an interception and a pass breakup.
Freshmen get chance to shine
Although Beaty listed redshirt freshman quarterback Carter Stanley as one of three starting options for the opener, Stanley didn't make his KU debut until the fourth quarter, when Cozart and sophomore Ryan Willis were through trading off QB responsibilities for the evening.
In limited action, Stanley completed three of his four pass attempts and threw for 56 yards.
Midway through the final quarter, the backup led KU on a four-play, 57-yard TD drive, capped by back-to-back catches by fellow redshirt freshman Chase Harrell. On third-and-four near midfield, Stanley hit Harrell deep for a 38-yard reception. The next play, Harrell brought in a 13-yard touchdown.
It, of course, marked the first college football TD for both Stanley and Harrell.
Goal posts intact
By the time KU completed its win and ended a 15-game losing streak dating back to Nov. 8, 2014, the fans in the student section at Memorial Stadium felt inspired to rush the field in celebration.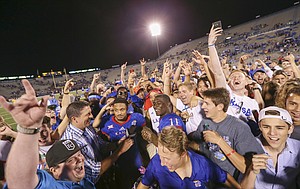 Beaty said the moment made him proud.
"They didn't go over to the goal posts," the coach said. "We gotta have higher standards here. We would never rush that court at Allen Fieldhouse. Other places do that but we don't. And we don't need to do that here. We just need to do exactly what they did. Our students were phenomenal tonight. I mean, we felt 'em. We saw 'em. Our crowd was outstanding."
The Jayhawks, Beaty added, were more than happy to give the fans a reason to go wild.
"As much as I'm happy for our kids, I'm happy for our fans," he said. "They deserve it. They've been through a lot."
---
https://www.youtube.com/watch?v=V1oIc2nD5iU
---
https://www.youtube.com/watch?v=wf1CMLzKH_k