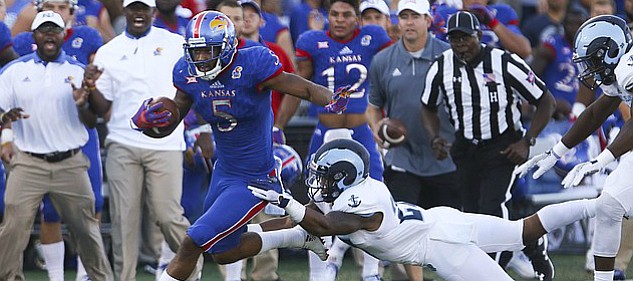 In dominant fashion, the Kansas football team earned its first win since 2014 with a 55-6 victory over Rhode Island in its season-opener Saturday at Memorial Stadium.
It was the first career victory for KU coach David Beaty and the first time the Jayhawks scored more than 50 points in a game since 2010.
Kansas led 13-0 in the first quarter with touchdown passes from Montell Cozart and Ryan Willis, who alternated every two possessions in the first half with Cozart earning the starting nod for the third straight season.
Cozart opened the scoring with a two-yard touchdown pass to tight end Ben Johnson, following a Rhode Island fumble on a punt return.
Photo Gallery
Kansas football v. Rhode Island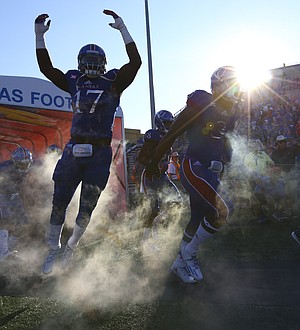 Images from the Jayhawks' season opener against Rhode Island on Saturday, Sept. 3 at Memorial Stadium.
A little more than three minutes later, Willis found junior receiver LaQuivionte Gonzalez with a 18-yard touchdown pass.
From there, the Jayhawks rolled on offense, accumulating 570 yards — 399 in the air. Gonzalez had a game-high seven receptions for 78 yards, while Steven Sims Jr. had five catches for 124 yards and two scores, including a 71-yard catch-and-run touchdown.
Podcast episode
After a 55-6 victory over Rhode Island in the 2016 season opener, Kansas coach David Beaty discusses the win (his first as KU coach), offense and quarterback situation in his post-game press conference.
Cozart went 18-for-25 for 199 yards, three touchdown and one interception in the end zone. Willis was 7-for-9 for 144 yards and two scores.
On the ground, Ke'aun Kinner had seven carries for 69 yards and touchdown, while Taylor Martin had six rushes for 33 yards and a score.
—Check back to KUsports.com for more coverage on KU's victory.
SCORING
FIRST QUARTER
9:51 — Montell Cozart 4-yard pass to Ben Johnson. Matt Wyaman kick. Five-play drive for 13 yards, in 2:02. (Kansas 7, URI 0.)
6:21 — Ryan Willis 18-yard pass to LaQuvionte Gonzalez. Mishandled snap led to no extra point. Three-play drive for 46 yards, in 0:24. (Kansas 13, URI 0.)
SECOND QUARTER
14:45 — Cozart 35-yard pass to Steven Sims Jr. Matt Wyman kick. Six-play drive for 62 yards, in 1:31. (Kansas 20, URI 0.)
10:36 — Wesley McKoy 23-yard pass to Aaron Parker. Justin Rohrwasser kick blocked by Daniel Wise. Eight-play drive for 75 yards, in 4:09. (Kansas 20, URI 6.)
8:08 — Taylor Martin 1 run. Wyman kick. Eight-play drive for 77 yards, in 2:21. (Kansas 27, URI 6.)
THIRD QUARTER
9:18 — Cozart 20-yard pass to Tyler Patrick. Wyman kick. Ten-play drive for 67 yards, in 2:51. (Kansas 34, URI 6.)
2:47 — Willis 71-yard pass to Sims. Wyman kick. Two-play drive for 77 yards, in 0:25. (Kansas 41, URI 6.)
FOURTH QUARTER
14:07 — Ke'aun Kinner 11-yard run. Wyman kick. Four-play drive for 38 yards, in 0:54. (Kansas 48, URI 6.)
5:57 — Carter Stanley 13-yard pass to Chase Harrell. Wyman kick. Four-play drive for 57 yards, in 1:53. (Kansas 55, URI 6.)
— See what people were saying about KU's first win of the season during KUsports.com's live coverage
---
More news and notes from the 2016 season opener
---