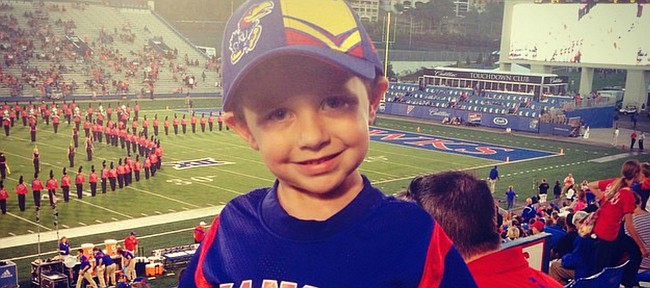 Normally Shanda Hayden wouldn't even consider asking her son Cole whether he would be up for going to a Kansas football game. She would already know his answer was yes.
But the past few months have taken a toll on her 7-year-old Jayhawk enthusiast, who just returned home from his latest five-day chemo regimen. The Haydens learned a few weeks ago Cole is battling undifferentiated sarcoma, a rare form of cancer.
Shanda's son isn't a typical young football fan, she'll tell you. Cole devours the KU media guide before every season, learning all the players' names and numbers and memorizing factoids. That's because he has grown up around the program, thanks to his mother's position as an academic and career advisor for the team.
Back in May, Shanda and her husband Steve began to notice Cole wasn't himself. Their driven, passionate son wasn't running around the house of playing his favorite sports after school. He was just tired all the time.
Before long, they were bouncing between medical offices and hospitals in search of a diagnosis. Initially, anemia or a liver infection were considered before being ruled out through testing.
When Cole had a chest X-ray performed on May 23, the family's worries escalated. He was soon transported to the emergency room at Children's Mercy because his right lung was full of fluid.
The weeks that followed proved frustrating for both the Haydens and medical professionals.
"He was, like you see on TV, that mystery case that no one knows what's going on," Shanda shared. "He was the one they were presenting to the hospital. He was the one that the various specialists were talking about with their division and making calls, because no one could figure out what was going on."
Tumors grew in the boy's lungs at such an aggressive and rapid rate that doctors knew surgery on Cole's enflamed body would be risky, but there was no other choice. They needed a diagnosis.
On July 5, a successful surgical extraction provided the clues to eventually pinpoint his affliction. It also reminded everyone of the boy's determination.
"That's one thing we've heard throughout this entire time," Shanda said, "from all of the physicians, nurses, everyone, was how incredibly strong Cole is, and how much of a fighter he is."
As rounds of chemotherapy and long hospital stays began in July, the same Jayhawks Cole loves cheering on quickly became his biggest fans.
"My football boys have been amazing," said Shanda, who considers herself a bit of a team mom. "They of course immediately reached out. My phone started blowing up with calls or texts or things like that. Some of them asked when they could come see (him), because Cole has grown up with Kansas football. I have worked with this program since he was born, and he knows them."
A small group of players this summer went to visit Cole and the rest of the sick children on his hospital floor. Afterward, Shanda went to lunch with them and was surprised to see nearly the entire team in the restaurant, waiting to visit and show their support.
Earlier this week, cornerbacks coach Kenny Perry told Shanda he and his players came up with a plan for $100 to be donated to the Team Cole fund every time KU intercepts a pass this season.
The Jayhawks' desire to help in any way possible has continued as Cole keeps fighting. On the day of their season opener against Rhode Island, they'll wear the same gold #TeamCole wristbands they've had on their arms for weeks.
"I've gotten to know Cole a little bit," sophomore quarterback Ryan Willis said recently. "I went and saw him at the hospital. It's a really sad deal. He's in our thoughts and prayers."
KU will dedicate this week's game to Cole, and Shanda said the Haydens hope to have him at Memorial Stadium on the sidelines before kickoff, perhaps wearing the No. 2 game jersey the team brought him earlier this summer.
The family, she shared, received some unexpected news on the latest scan of Cole's lungs: a significant decrease in the tumor size on the right as well as some reduction on the left. They don't know how soon or if Cole will get back to playing football and other sports, but Shanda said the Haydens know Cole will fight incredibly hard to try and make that happen.
"We believe in our hearts he will be healed and he'll be back to himself," his mother said, "and things might just be a little different."
— To contribute to the #TeamCole fund or purchase T-shirts or wristbands, email teamcolehayden@gmail.com. Follow Cole's progress online at posthope.org/teamcole.