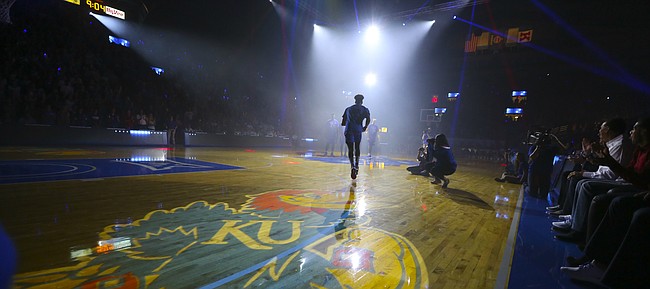 The following is a quick breakdown of some of the key aspects and match-ups of KU's exhibition opener against Washburn.
• No. 3 Kansas Jayhawks (0-0) vs. Washburn Ichabods (0-0)
Time: 7 p.m., Nov. 1, 2016 | Location: Allen Fieldhouse
TV: Jayhawk TV/ESPN3 | Radio: IMG Jayhawk Radio Network
— Log on to KUsports.com for our live game blog coverage and follow the KUsports.com staff on Twitter: @KUSports @mctait @TomKeeganLJW @bentonasmith & @nightengalejr —
Keys for Kansas
1. Set the tone
It may say "exhibition" on the Kansas schedule, but senior guard Frank Mason III is not about to let anyone in a Kansas uniform use that excuse to not play hard in this one. "We take every game serious," Mason said. "We don't care if it's an exhibition or a scrimmage, we want to play every game like it's an official game and I think we will."
With a handful of newcomers and a few familiar faces in bigger roles, it will be up to the veterans on the team to establish that mentality early on and that's exactly what sophomore guard Lagerald Vick is eager to see during tonight's contest.
"This time last year, I was so nervous," Vick said. "I'm not as nervous as I was last year. I've been practicing over the summer and I just feel more comfortable.... I just want to see the leadership from the older guys and see everybody take on their role as the coaches give them."
2. Find out what fits
As much as KU's four-guard lineup has dominated talk this preseason, the Jayhawks still have several other aspects of their rotation that need to be worked out. The starting five seems set, but the rotation from there is still a bit of a mystery.
Will Sviatoslav Mykhailiuk or Lagerald Vick be the first perimeter player off the bench? Are mammoth freshman Udoka Azubuike or ever-improving athletic freshman Mitch Lightfoot ready for real minutes? Is Dwight Coleby mentally and physically recovered enough from his ACL injury for a meaningful role?
Those elements won't all be decided in this one, but the first steps toward finding answers should emerge.
3. Freshmen debut
There's been a lot of talk among the upperclassmen and KU coaches about the job of watching the freshmen experience game night at Allen Fieldhouse for the first time. It's something that all of these players and coaches remember from their own debuts. And it's something people also like to see others experience long after they first did it.
This freshman class — Azubuike, Lightfoot and one-and-done phenom Josh Jackson — has been hyped for months and it's their turn to make their first impression on the Allen Fieldhouse crowd. You know the fans will be fired up for Jackson, but will Azubuike or Lightfoot steal the show?
"I'm real excited to see them run out of the tunnel," Mason said. "And I just told 'em be ready to have some fun, enjoy the great crowd that we'll have, take every game serious and compete."
Mega Matchup
KU guards vs. Washburn guards
A couple of days ahead of tonight's opener, Washburn coach Bob Chipman explained that his game plan was to take it at the Jayhawks.
"I don't know if Frank and Devonte' will even notice," Chipman said. "But we're gonna try and play 'em. We're gonna try and guard 'em, extend the defense some, really go man-to-man and try and attack.... Really, we just want to learn from this game. We want to play at that pace that those guards do from KU. And we want to rebound and be tough like Landen (Lucas). You would like to take it to that level, and we have a chance, first-hand, to watch it and watch ourselves against it. So even if we come up short, it's a pretty good learning experience."
Three of top five returning players for Washburn are guards, including 2016 MIAA Freshman of the Year Javion Blake (13.4 points per game) and junior Cameron Wiggins (12.2).
Jayhawk Pulse
Although tonight's game will not count in the record books, the beginning of one of the most highly anticipated seasons in recent history has arrived and that figures to add an extra dose of excitement to the air tonight.
KU coach Bill Self has not be shy about expressing his feelings about this year's team and he reiterated them Monday while previewing the match-up.
"I'm as excited about this particular team as any team that we've had since we've been here," Self said. "I can't imagine a scenario in which we could be more challenged and yet have the potential to be pretty good."
Because it's the first game that this particular group has played together, and because Washburn brings to town a veteran group with the ability to score, there will be a few growing pains — "air balls and bad passes," as Self put it — but the bottom line with Kansas basketball won't change. The fans will be jacked, the players will play hard and Self will watch it all with a critical eye.
Probable Starters
Kansas
G – Frank Mason III, 5-11, 190, Sr.
G – Devonte' Graham, 6-2, 185, Jr.
G – Josh Jackson, 6-8, 207, Fr.
F – Carlton Bragg Jr., 6-10, 240, Soph.
F – Landen Lucas, 6-10, 250, Sr.
Washburn
G – Javion Blake, 6-3, 185, Soph.
G – Randall Smith, 6-0, 170, Jr.
G – Emeka Ogbonna, 6-2, 180, Soph.
F – Brady Skeens, 6-7, 211, Jr.
F – David Salach, 6-7, 210, Soph.
---