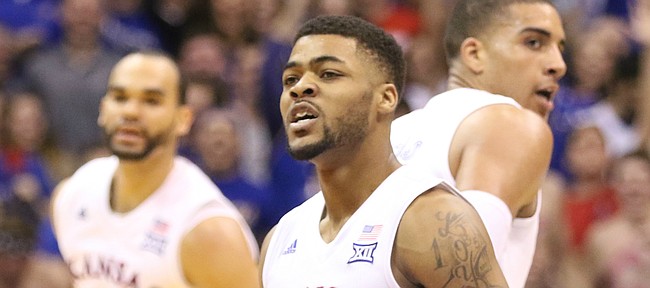 Stoic as ever, Kansas senior Frank Mason cracked the slightest smile Monday afternoon inside the Allen Fieldhouse media room when asked if today, after all those years and games as a Jayhawk, he still gets butterflies before the start of a season.
"That's old news," Mason declared. "I don't get nervous."
The rest of Mason's interview provided plenty of support for exactly where the senior point guard's mind was entering Tuesday's exhibition opener at 7 p.m. against Washburn in Allen Fieldhouse.
Instead of worrying about the crowd, the lights, yet-to-be-recorded statistics or even his new hairdo, Mason projected the persona of a man with much bigger things on his mind.
Maybe it's the fact that beginning in 10 days, third-ranked Kansas will open the season for real against No. 11 Indiana (Armed Forces Classic in Honolulu) and No. 1 Duke (Champions Classic in New York) just four days apart. There will be no regular season tune-up before those monster showdowns.

Or maybe it's the fact that now that he's a veteran and one of the unquestioned leaders of this Kansas team, Mason knows that it's important for him to set the proper example for his teammates, new and old, so that the Jayhawks can capitalize on all of the potential they have during the upcoming season.
"In the past years, we've taken every exhibition game serious, but with those two (Indiana and Duke) being the first two games, we want to play (our exhibitions) like we would play against them," Mason said. "And I think the younger guys and the older guys know that and they've figured out everything coach wants us to do. We just have to attack the game plan now."
At least part of tonight's game plan figures to incorporate Self's new desire to run with a four-guard lineup. The reason for Self's plan to install such a system is the depth and strength of KU's perimeter players. However, just because the Jayhawks have designs on playing four guards more than ever this season does not mean that's the way it will play out against the Ichabods.
"We won't be too good at it (Tuesday)," Self said of the small lineup. "We've worked on a few things, but for two or three days is all. We've primarily been practicing with two bigs in there the majority of the time."
Asked if they were ready to see the smaller lineup in action, KU guards Frank Mason and Lagerald Vick both sounded eager to see how it worked.
"We practiced that a few times," Mason said. "I really like it. We have good guards that can get in the lane and drive the ball downhill and create good shots for each other."
Added Vick: "We (practiced it) this past week. Looked pretty good. It should be a huge factor."
Even though the Jayhawks' starting lineup of Mason, Devonte' Graham, Josh Jackson, Carlton Bragg and Landen Lucas has been set for months, Self said he still wanted to see how those five perform together when it counts and added that a big emphasis of KU's two exhibition contests — Tuesday and 7 p.m. Sunday vs. Emporia State — would be identifying which Jayhawks operate well together and what units can be counted on in various situations.
"We basically have five guys that we think will start," Self said. "But we don't know what our best lineup will be yet because I still think playing small might be our best lineup."
Whether the Jayhawks need the smaller lineup, use it or even have it perfected against the Ichabods is irrelevant. The coaches and players are merely looking for one thing from the exhibition opener.
"Just to see how we react." Self said. "We don't have everything in and we're gonna be a meat and potato group, but we know we need to come ready to play and our guys will be excited."
Added Mason, when asked what he was looking to learn about this team: "Finding out how tough we are, how good we are on the defensive end, how coachable we are. Those are the main things."
---