Transfer guards Jessica Washington and McKenzie Calvert showed the Jayhawk faithful a glimpse of what the season could have in store for the Kansas women's basketball team.
In their KU debuts, the duo anchored an uptempo style of play on the offensive end. They combined for 33 points in the team's 98-71 victory in Sunday's exhibition game against Fort Hays State.
"Offensively, it's nice to see us get out and run in transition and make some plays," KU coach Brandon Schneider said. "Felt like our tempo was much different than a year ago on that side of the ball."
Schneider admitted he prefers an up-tempo offensive attack. He just hasn't had the personnel to utilize it. Until now, that is.
Washington flirted with a triple double in just 27 minutes of action. The junior scored 15 points on 5-of-13 shooting while also recording eight rebounds and eight assists.
Meanwhile, Calvert tied with junior guard Chayla Cheadle for a team-high 18 points.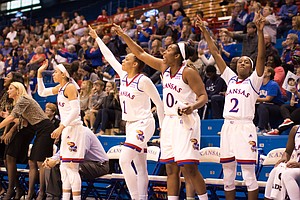 Calvert launched 15 shots, hitting seven. And the sophomore was 3-of-7 from deep.
"I am happy that I finally got to get out there," Calvert said. "I'm not overly excited about some of my shot selection. I'm excited I got to play on a legendary court, but my performance, I'm always hard on myself."
Calvert hit a pair of treys early, as the new-look backcourt imposed its will on the Tigers from the start. With a four-guard lineup, Kansas jumped out to a 21-13 lead in the first period.
Fort Hays was without its leading scorer, senior guard Jill Faxon, who was unable to go. Instead, the Tigers trotted out two freshmen, who struggled to deal with the defensive pressure by the Jayhawks.
Kansas forced 20 turnovers, which led to 26 fast-break points.
"It just makes the offense a lot easier when you can get stops on defense and push the ball and get easy buckets," Washington said.
However, in the second quarter the defense began to lapse. The Tigers trimmed the deficit to two points with a little over three minutes to go in the half.
That's when the Jayhawks focused on interior shots. The team closed the half with three layups, including two by Cheadle, to widen the margin back to 37-31 at intermission.
"We just got the ball in the lane more, which was a big emphasis for us," Schneider said. "We settled for a lot of jump shots in the first half."
The team stayed in the paint to open the second half. Kansas sank five consecutive layups, and then Calvert bottomed a three-pointer to make it 50-31.
From there, the Jayhawks never faltered as they extended their win streak in exhibition play to 23.
But the defensive performance left plenty of room for improvement with one exhibition game left.
"We are a little behind defensively and that's all my fault," Schneider said. "Because I thought we were so bad offensively a year ago that we really focused on that side of the ball."
Kansas will play host to Washburn at 1 p.m. on Nov. 6.