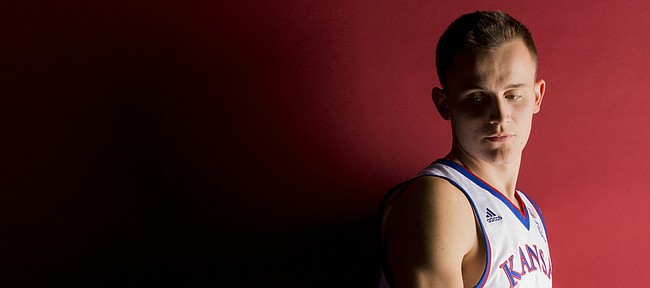 Kansas freshman Mitch Lightfoot moved from Kansas City, Mo. to Gilbert, Ariz. at the age of 5, but his roots stuck with him while growing up in the Southwest.
One thing was his love for KU basketball. At the Kansas basketball team's media day earlier this month, the 6-foot-8 forward listed Cole Aldrich, Nick Collison and Thomas Robinson as post players he enjoyed watching during his youth, as well as guard Mario Chalmers.
Although Lightfoot was unable to see Chalmers' game-tying three-pointer to force overtime in the 2008 national championship game in real time, he remembers the night of KU's 75-68 win over Memphis very well.
"Funny story about the shot is that my parents made me go to bed at halftime because I had to go to school the next day. We were down and they were thinking we were not in the best situation and then we come back and win it, of course," Lightfoot said. "I was an upset little 8-year old at that point in time. That was funny."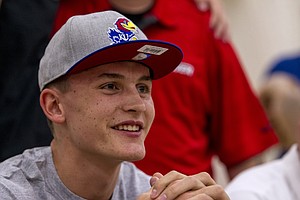 As Lightfoot's own hoops career started to take off, he orally committed to play at New Mexico during his sophomore season at Gilbert Christian, but quickly realized he was just scratching the surface of his potential and re-opened his recruiting after his junior campaign.
"I felt like I kind of committed a little bit too early. I didn't take my time and really see all of the options and look at all of the doors and look at everything I could," he said. "I opened it up and played my butt off, and now I'm at Kansas. I kind of benefited from that a little bit."
Even with the University of Arizona nearby, Lightfoot's decision to commit to KU last October was an easy one.
"It was so hard to say no because they (Arizona) were so close to home," Lightfoot said of rejecting the Wildcats. "But, for me, this is home. This is my home away from home. I have all of my family out here. The people out here are so easy to get along with. I love everything about Kansas, and that's why I'm here."
Lightfoot is a part of a freshman class that includes Josh Jackson and Udoka Azubuike, both of whom were McDonald's All-Americans. While Lightfoot — who was the Gatorade Arizona Player of the Year last season — also comes to KU as a highly-touted prep player, he's found that college hoops is a different beast.
"It's been the biggest competition of my life. Every practice, you go to war," Lightfoot said. "Everyone is fighting for playing time and everyone is fighting to make each other better and make the team better. In the end, it's we, not I. Anything I can do to help my teammates get better — whether that be Carlton (Bragg), Landen (Lucas), Udoka, anyone — (I) just try to help them get better and push them to their limits and beyond."
With Bragg and Lucas projected to be in the starting lineup when KU opens its season with an exhibition match-up with Washburn on Tuesday, Lightfoot has been trying to take in as much knowledge as possible from the two returners.
Along with learning a few post moves from Lucas and Bragg, Lightfoot has embraced the opportunity to challenge himself academically. Lightfoot originally planned to study engineering, but, because of scheduling conflicts, he switched his major to finance.
"I went from one thing that was really tough to another thing that was really tough," Lightfoot said. "All of the engineering classes, the times of the classes really didn't match up for when we had practice and stuff. I'm in finance now and taking a bunch of those courses."
Conner Teahan is the most recent KU basketball player to graduate with a finance degree. Teahan — who played for the Jayhawks from 2007-2012 — is now a financial advisor for Merrill Lynch in Kansas City, and Lightfoot is aspiring to follow a similar career path after his playing days are over.
"They talked to me about how there was an ex-player who was the only other finance major and he's dealing with people who only make seven figures and stuff like that," Lightfoot said. "It's a challenge, but I've always enjoyed a challenge. Otherwise I wouldn't be here at KU."