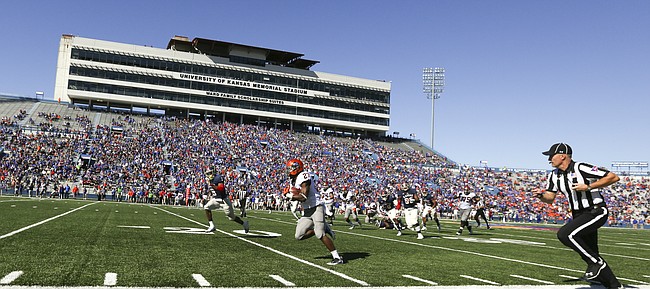 With Montell Cozart back in the starting role at quarterback for Kansas, the Jayhawks got out to a good start, took two first-half leads but, once again, could not escape their own mistakes during Saturday's 44-20 loss to Oklahoma State at Memorial Stadium.
The loss dropped the Jayhawks to 1-6 overall and 0-4 in Big 12 play this season and marked the 16th straight Big 12 loss for Kansas.
Photo Gallery
KU football v. Oklahoma State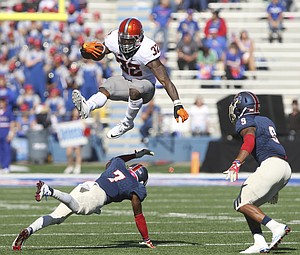 View a gallery of images from Saturday's game between the Jayhawks and Cowboys at Memorial Stadium.
It did not always look like KU's latest loss was inevitable. Kansas scored first on a 68-yard TD pass from Cozart to LaQuvionte Gonzalez and also led 10-7 and 13-10 before trailing 17-13 at the half.
A fumble by Ke'aun Kinner and interception by Cozart set the table for 14 third-quarter points for the Cowboys (5-2, 3-1) and put Kansas in catch-up mode the rest of the way.
Despite continuing to move the ball throughout the final two quarters, KU could not overcome its mistakes or finish drives and was outscored 27-7 in the second half.
Podcast episode
Kansas football coach David Beaty meets with the media following KU's 44-20 loss to Oklahoma State on Saturday, Oct. 22, 2016 at Memorial Stadium.
Outside of the interception, which came on third down and in the face of heavy OSU pressure, Cozart had a fairly strong day. After hitting 9 of his first 10 passes and starting the game 18-of-24, Cozart finished 24-for-40 for 250 yards, 1 touchdown and 2 interceptions. The second interception came when a deep ball floated by Cozart to an open Gonzalez bounced off of the receiver's helmet and into the hands of an Oklahoma State defensive back.
After two laterals and 64 yards on the return, the Cowboys' offense added a field goal to go up 34-20 and take control of the game late in the third quarter.
In a sense, that one play summed up KU's afternoon and season thus far.
Next up, the Jayhawks will head back out on the road for a 6 p.m. kickoff at Oklahoma next Saturday.
SCORING BREAKDOWN
FIRST QUARTER
6:12 — Montell Cozart 68-yard pass to LaQuvionte Gonzalez. Matt Wyman kick. One-play drive for 68 yards in 0:05. (KU 7, OSU 0.)
3:09 — Chris Carson one-yard run. Ben Grogan kick. Six-play drive for 75 yards in 3:03. (KU 7, OSU 7.)
SECOND QUARTER
13:13 — Matt Wyman 29-yard field goal. Ten-play drive for 63 yards in 4:45. (KU 10, OSU 7.)
6:56 — Grogan 32-yard field goal. Six-play drive for 19 yards in 3:20. (KU 10, OSU 10.)
4:27 — Wyman 40-yard field goal. Eight-play drive for 52 yards in 2:29. (KU 13, OSU 10.)
2:47 — Justice Hill one-yard run. Five-play drive for 74 yards in 1:34. (OSU 17, KU 13.)
THIRD QUARTER
10:57 — Mason Rudolph 15-yard pass to Carson. Grogan kick good. Six-play drive for 26 yards in 2:44. (OSU 24, KU 13.)
6:24 — Taylor Martin six-yard run. Wyman kick. Ten-play drive for 75 yards in 4:33. (OSU 24, KU 20.)
3:25 — Rennie Childs one-yard run. Grogan kick. One-play drive for one yard in 0:04. (OSU 31, KU 20.)
0:36 — Grogan 25-yard field goal. Four-play drive for eight yards in 1:07. (OSU 34, KU 20.)
FOURTH QUARTER
9:34 — Grogan 25-yard field goal. Twelve-play drive for 89 yards in 4:00. (OSU 37, KU 20.)
5:04 — Carson 16-yard run. Grogan kick. Seven-play drive for 85 yards in 3:05. (OSU 44, KU 20.)