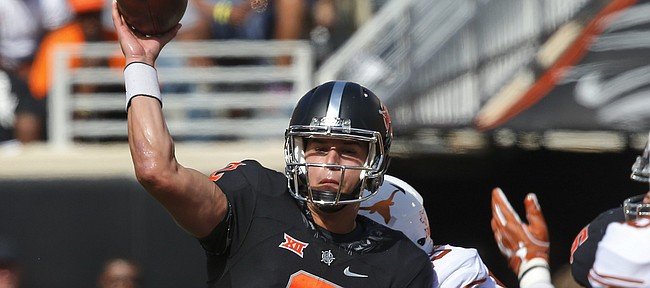 When Kansas football coach David Beaty watches his defense play Saturday against Oklahoma State, he'll hope they can stop quarterback Mason Rudolph, a 6-foot-5 junior who has specialized in making wise decisions as a passer.
So far this season, Beaty's quarterbacks have combined to throw 12 interceptions on 228 attempts. In stark contrast, Rudolph enters Memorial Stadium (11 a.m. kickoff, FOX Sports 1) having thrown just two picks all season, on 231 passes.
"I think that Mason's one of the better quarterbacks in this league and actually one of the better quarterbacks in the country," Beaty said earlier this week. "He understands that offense really, really well and he manages the game really, really well. His number of interceptions and turnovers that they've had is testament to his leadership of that offense and being able to manage the game. I think the key for any offense in the country is making sure that you manage a football game. And that quarterback doesn't always have to win it, but he certainly can't lose it. And that's something that we have to do a better job of is being better managers of the game, and we certainly can run and take a page out of his book, because he's done a nice job of that."
Thanks in large part to Rudolph, OSU (4-2 overall, 2-1 Big 12) has lost just eight turnovers this season. Kansas (1-5, 0-3) has the worst mark in the nation in that category, with 22.
In the past two weeks, Kansas starting QB Ryan Willis threw three interceptions in a 24-23 home loss to TCU and three more in a 49-7 blowout at Baylor.
Though OSU ranks eighth in the Big 12 with 129.7 rushing yards a game, Beaty thinks head coach Mike Gundy's team might start focusing on rushing the ball more down the stretch, despite all of Rudolph's success in the passing game (2,039 yards, 13 touchdowns). KU's second-year head coach said Clint Bowen's defense will commit to stopping OSU running backs Justice Hill and Rennie Childs, too.
"This is a high-flyin' ball goes around type of conference," Beaty said of the Big 12's offenses, "and you've gotta be able to manage both."
Armstrong's streak
KU sophomore defensive end Dorance Armstrong Jr. has made a habit of harassing opposing quarterbacks this season. The 6-foot-4 Houston native leads the Jayhawks with 6.0 sacks and has produced at least one QB takedown in each of the past four games.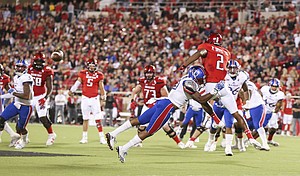 The defensive play-maker's streak gives him the longest such stretch by a KU player since linebacker James Holt had at least one sack in six straight outings in 2008.
Armstrong currently ranks ninth nationally with 1.0 sacks per game — a category led by Pittsburgh's Ejuan Price (1.29).
The young Kansas lineman also has contributed 18 total tackles, a team-leading 8.0 tackles for loss, four quarterback hurries, forced one fumble and recovered a fumble.
Big 12 chatter
The Big 12 made national sports news this week — and received some ridicule — for passing on expansion and instead standing pat with 10 teams. Beaty said he hadn't given the topic much thought until he left Monday's practice and heard KU wouldn't be getting any new conference opponents any time soon.
"But our leadership is phenomenal in our conference. Our chancellors and our presidents, I know that they have done their due diligence and they have worked really hard at making sure they do the right thing by this great conference," Beaty said. "We are one of the greatest conferences on the planet, and we need to remain that way by making sure we make the right decisions for our conference. That's not to say that there's not a lot of great teams out there that deserve membership in a Power 5. I believe things will work out the way for everybody they way they're supposed to work out. But right now, I just know that our leadership, we're in good hands when it comes to making the right decisions. I got enough to say grace over right here."