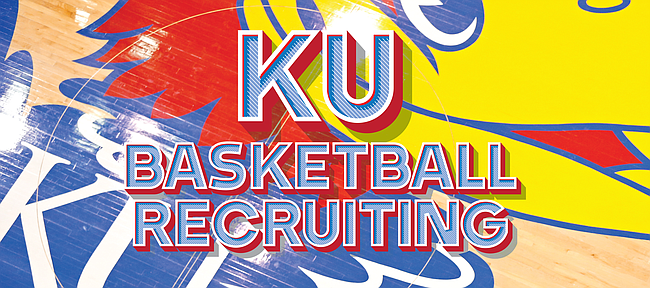 The Kansas men's basketball team's pursuit of some of the top talent in the 2017 class picks up some serious steam this weekend, when Trae Young, of Norman, Oklahoma, makes his official visit to Lawrence.
Young, a 6-foot-2, 170-pound, five-star point guard who is ranked No. 14 in the class by Rivals.com will visit Kansas this weekend fresh off a recent visit to Kentucky for Big Blue Madness.
Young's trip to Kansas is the final official visit on his list of Kansas, Kentucky, Texas Tech (where his father Rayford Young played) and Oklahoma.
This summer, Matt Scott of TheShiver.com, traveled to Atlanta to get a behind-the-scenes look at Young helping lead his AAU squad, MOKAN Elite to the Peach Jam title.
Young, the unquestioned leader of that team, which also featured No. 2 overall prospect Michael Porter, who is Washington bound, averaged 27 points, 4 rebounds and 7 assists in eight games — all victories — at the Peach Jam.
As with most of these events, all kinds of big time Division I coaches were in attendance, including Kansas coach Bill Self. That fact was not lost on Young, who shared with Scott his thoughts about the KU leader being in the gym.
"I definitely notice coach Self don't miss a minute," Young said. "Coach Self, that's my man. I like how he's not missing (any of my games). I definitely notice that and that's cool that he's not."
MOKAN Elite coach Rodney Perry told Scott that Young improved at each tournament throughouth is AAU career and added, "He gets it. He understands it. He knows what his goals are and how to achieve those goals. And he knows how to lead our team. That's always what drove him — he wants to be the best."
MOKAN assistant Dave Milliren called Young's ability to shoot the ball "elite" and also referred to Young as "a true competitor."
Added Porter in the video: "Trae is a great player, a great teammate. I love playing with him."
Watching the Scott's behind-the-scenes video provides a good feel for both Young's playing style — he can create off the dribble for himself and others and also can shoot from just about any situation on the floor — and also his demeanor, both on the court and in the locker room. Cool, calm and collected, it's clear that this is a player who has a great deal of confidence in his ability and also grew up around the game.
Young is expected to arrive in town Friday and, given the importance of landing at least one elite guard in the class to go along with already-committed four-star prospect Marcus Garrett, the coaching staff and current KU players figure to roll out the red carpet for Young and his family.
In a Thursday text message exchange with Shay Wildeboor of JayhawkSlant.com, Young left nothing to the imagination about what he's looking for from his visit.
"I'm really looking forward to seeing the campus and practice," Young said. "I'm also really looking forward to spending time with the players and coaches."
Young is not expected to make a decision until sometime in the spring, so even as big as this weekend is for Kansas, it merely marks the next milestone in what figures to be a marathon recruiting effort for the Norman, Oklahoma, point guard.
Although a handful of KU targets have begun to pick other schools, Self provided the following quick update on the status of KU's Class of 2017 recruiting earlier this week.
"I don't think we're worried," he said. "But we hope we'll be getting good news here before too long on some guys. The majority of guys we're recruiting the hardest haven't made decisions yet. We're just kind of hanging in there."
In addition to Young, 6-9, 210-pound power forward Deng Gak, of Blairstown, New Jersey, also will be making an official visit to KU this weekend.
Some recruiting analysts have called the four-star Gak, who is ranked No. 91 in the 2017 class by Rivals.com, a big time sleeper in this class. In mid-September Gak narrowed his list of finalists to KU, Duke, Indiana, Miami and Florida.