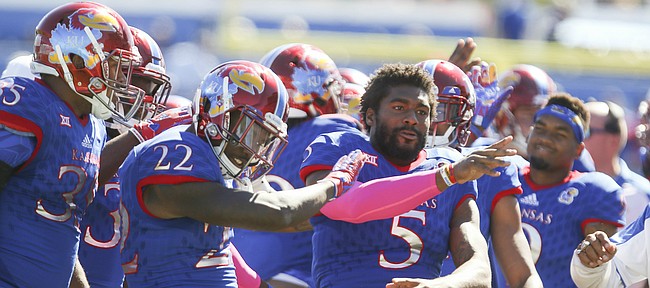 — Oklahoma State (4-2 overall, 2-1 Big 12) at Kansas (1-5 overall, 0-3 Big 12) 11 a.m. Saturday, Memorial Stadium • Game-time forecast: 58 degrees, sunny, 0% chance of rain • TV: FOX Sports 1
— Log on to KUsports.com for our live game blog and follow our coverage team on Twitter: @KUSports, @BentonASmith, @TomKeeganLJW, @mctait and @nightengalejr
Keys for Kansas
1. Stop turning the ball over
It sounds like a fairly basic concept and, really, it is. The trouble for the offense this season, though, is the Jayhawks can't stop derailing their own drives with giveaways (see: their nation-worst total of 22). That's not to say going an entire game without throwing an interception or losing a fumble would guarantee KU more wins — this is the Big 12, after all, and the program has a long way to go under second-year head coach David Beaty before it can consider itself competitive with every program in the conference.
But a few less giveaways and a few more first downs would certainly help morale. Even if Kansas can't match the Baylors and Oklahomas touchdown for touchdown, playing the field position game and trotting out punter Cole Moos when you have to isn't necessarily a bad thing for massive underdogs like the Jayhawks — Oklahoma State is considered a four-touchdown favorite for KU's homecoming game. Kansas ranks 127th among FBS teams in turnover margin (-1.83 a game). OSU (0.83 turnover margin, tied for 22nd) has seven fumble recoveries and six interceptions this season.
2. Let the defense rest
Assuming Beaty sticks with Ryan Willis at quarterback following back-to-back three-interception outings, the sophomore QB needs to help keep the offense on the field. The more breathers KU's defense can get, the better chance the home team has of sticking around and making the game interesting. Oklahoma State ranks eighth in the Big 12 in total defense (447.8 yards allowed per game), so Kansas should find opportunities to extend drives and avoid those dreaded three-and-outs. OSU's opponents have averaged 21.3 first downs a game this season (seventh in Big 12).
Of course, KU's offensive line needs to prove it can run-block well enough to get the team in manageable third-down scenarios, so the Jayhawks can improve upon their league-worst third-down conversion rate of 32.2 percent. More chances for running backs Ke'aun Kinner, Khalil Herbert and Taylor Martin to shine would mean longer drives, more first downs and a well-rested KU defense.
3. Annoy Mason Rudolph
A poised junior quarterback, Mason Rudolph can't be allowed to stand safely in the pocket and survey the field if KU wants to have any chance at an upset. Throughout the season, the defense has proven to be the strength of this Kansas team, and much of that has to do with the pressure Clint Bowen's squad routinely puts on opposing quarterbacks. Sophomore defensive end Dorance Armstrong Jr. is tied for the Big 12 lead in sacks (6.0) with Kansas State's Jordan Willis and Oklahoma's Ogbonnia Okoronkwo. Senior KU defensive end/linebacker Cameron Rosser is tied for fifth with 4.0 sacks.
Bowen hopes his defense can disrupt OSU's efficient offense, led by Rudolph, who knows the system well and tends to make proper adjustments. Rudolph averages 339.8 passing yards a game, has completed 61.9 percent of his attempts and has thrown 13 touchdowns, with just two interceptions.
Mega Matchup
KU secondary vs. standout OSU wideouts
A 6-foot target for Rudolph, junior receiver James Washington isn't the biggest receiver in the Big 12, but he's one of the most difficult to stop. When the Cowboys make big plays, Washington tends to be the one to thank. He averages 20.3 yards per reception and his 121.8 yards a game rank him second in the conference to Jonathan Giles of Texas Tech (125.0). A few weeks ago, Pittsburgh didn't come close to solving the speedy problem that is Washington, as he racked up 296 receiving yards, nine catches and two touchdowns.
Beaty called him one of the more dynamic players in the Big 12: "You just flip on the Texas game alone, he makes a couple of plays in that game that are just ridiculous," Beaty said of an OSU win in which Washington's three grabs netted 91 yards and a TD. "He should have been tackled two or three times in a couple of those plays and somehow he stays on his feet and goes the distance against some really good players."
As if Washington wasn't enough for KU defensive backs Brandon Stewart, Marnez Ogletree, Tevin Shaw, Fish Smithson, Mike Lee and others to worry about, Rudolph also has 5-10 sophomore Jalen McCleskey to target when the Jayhawks take away Washington. McCleskey averages 86.7 yards a game in conference play. Against Texas three weeks ago, McCleskey scored two touchdowns and caught four passes for 109 yards.
5 Questions with senior DE Damani Mosby
1. The defensive line has done a terrific job this year of creating pressure and getting tackles for loss, and you've been a part of that (4.0 TFLs, 1.0 sack). How happy are you with how your role has expanded this year?
"This D-line, we're doing really well with the guys that we have and the reserves that we have. It just does my heart good that we're out there actually doing our thing. I think about it in retrospect and how we were last year compared to how we are this year. It's night and day, really. I know we lost some guys, like Ben Goodman, but we did a really nice job in replacing those guys and being able to elevate our level of play. And it's really showed. We have full responsibility as far as how we play this upcoming game, so I'm excited to see how we fulfill it."
2. How much do the defensive linemen up front feel like it is on them to set that disruptive tone that you need for the defense?
"Since I've been playin' this game, I always feel like it starts in the trenches — offensive line and defensive line. It kind of gives me jitters just thinking about it. You have to go out there and set the tone. It's a tough game, it's a rough game, it's a violent game, and you have to go out there and assert your dominance so to speak. That's what we try to do every game, and even in practice."
3. This season you have two forced fumbles and two fumble recoveries — both team-highs. What's the secret to finding ways to be a part of those defensive takeaways?
"There's not much secret to it, really. As far as the fumbles are concerned, as a staff they harped on takeaways — from sacks, to how you tackle, to how you strip the ball. And that's just all it is. If you see, there's a lot of guys that go out there and try to strip the ball and they just don't get it. I've just been lucky enough to pop a few out. And I've just been lucky enough to be around the ball when it comes out and fall on it. I'm just a lucky guy."
4. It's difficult for a defensive lineman to get an interception, and obviously you don't have any picks at KU yet. When was the last time you had an interception, and do you think you can get one here in the final six games?
"I know for a fact in high school — I wasn't always a straight defensive end; I played receiver a little bit and actually played a little linebacker, as well — so there was two that I got my senior year. But other than that it's been a while. With my hand on the ground every day, you don't give me too many opportunities. You don't get too many screens your way, either. But, you know, I have faith still. I have faith I will fill up that column one day. Hopefully. Just give me a shot, man. I'll go up there and get it."
5. You wear No. 13 and that's not a number many would associate with defensive ends. Is there any story behind you picking that for your KU jersey?
"In high school (Desert Ridge High, in Mesa, Ariz.), I wore number three. And when I went to junior college (Mesa CC), they gave number three to some other dude, so I went with 13. I just wanted to keep the same number when I went from juco to here. Thirteen, there really isn't too much behind it. It doesn't mean anything, it just feels like it's my number."
Jayhawk Pulse
Kansas has dropped five straight games since opening the season with an automatic victory over FCS doormat Rhode Island. The positive momentum created by nearly upsetting TCU two weeks ago disintegrated in Waco, Texas, with a 49-7 loss to Baylor in which the first-string offense failed to score a point. However, KU is back at Memorial Stadium, where it traditionally plays much better.
The Jayhawks certainly aren't thinking about the coming two weeks at this point, but now would be a good time to put up a fight against the Cowboys, because back-to-back road games at No. 16 Oklahoma and No. 12 West Virginia could get ugly. The lack of offense (Big 12-worst 16.3 points a game in league play) has limited KU's ability to challenge opponents this season, so a bounce-back game for Willis and the O-line will be essential as the rebuilding program enters the final half of the season.
Tale of the Tape
KU ….. OSU
KU run D vs. OSU run game √
KU pass D vs. OSU pass game √
KU run game vs. OSU run D √
KU pass game vs. OSU pass D √
Special teams √