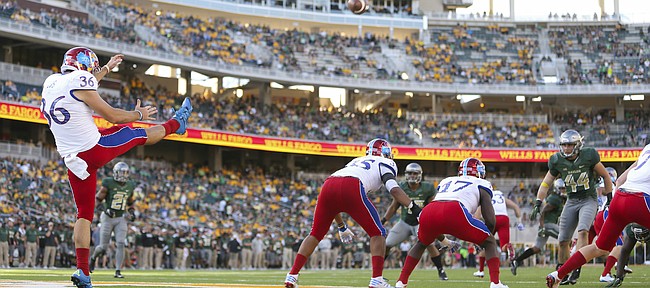 When you punt a football 82 yards in a Big 12 game, odds are people will take notice. Kansas junior punter Cole Moos found out as much Monday, when the conference named him its special teams player of the week.
Moos' monster punt in the Jayhawks' 49-7 loss at Baylor came on his first kick of the day, with the wind at his back. The ball took a massive forward bounce once the Bears didn't field it, and traveled just shy of 40 yards via a fortuitous roll.
Still, Moos added a 52-yard punt in the first quarter, and punts of 73 yards and 52 yards in the fourth, helping his average for the day reach 50.4 yards, on eight attempts .
The Jayhawks hadn't received any Big 12 Player of the Week distinctions in more than two years — since cornerback Dexter McDonald was named the conference's top defensive performer of the weekend in September of 2014.
Moos, from Broken Arrow, Okla., became the first KU special teams player to win the weekly award since punter Trevor Pardula, in September, 2013.
The 82-yard punt put Moos in a tie for the fifth-longest in KU history, with Curtis Ansel (2002) and Dean Royal (1997). John Hadl owns the program record, with a 94-yard punt against Oklahoma in 1959.
On the season, Moos has punted 38 times, averaging 41.8 yards. He has seven boots of 50-plus yards. Nine of his kicks have been downed inside the opponent's 20-yard line, while just one has gone for a touchback.
A transfer from Northeastern Oklahoma A & M, Moos joined Kansas this past offseason.