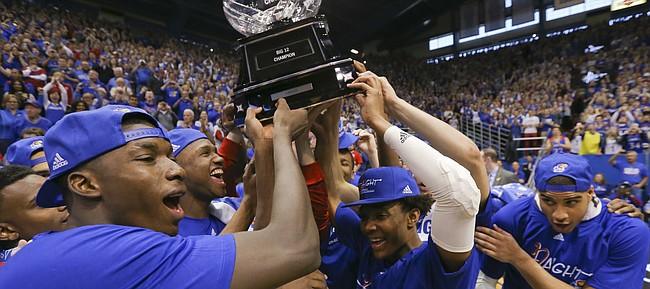 The Kansas men's basketball team was a unanimous choice by the Big 12 Conference coaches to repeat as Big 12 champions for the 13th season in a row.
The Big 12 released the preseason coaches poll on Thursday and KU received all nine available first-place votes. Because coaches cannot vote for their own team, Self voted for another program.
Who that was, however, was not immediately revealed and Self did not give anything away at KU media day Thursday afternoon.
"They didn't show it?" Self asked before joking, "Perfect, so I don't have to say. I gave four teams a quarter vote."
The updated poll later reflected that Self's vote went to Iowa State, which was picked to finish fourth by the league's coaches.
West Virginia and Texas held down the second and third spots, with Baylor, Oklahoma, Oklahoma State, Texas Tech, Kansas State and TCU rounding out the preseason poll.
As for his feelings about being named the Big 12 favorite for the 15th time in school history, Self did not exactly stand up and shout.
"You know, I don't know that it's a huge surprise that they picked the guys first," he said. "But what is said now and what actually happens are totally two different things, and one is important and one is not, and this certainly isn't important."
Undefeated talk
Self was asked Thursday about freshman Josh Jackson's recent claim in USA Today that the Jayhawks were "trying to go undefeated."
He had absolutely no problem with it.
"We don't talk like that, OK," Self said before clarifying that Jackson's comment represented a goal not a prediction. "Also, young kids, not having been through it enough, they don't know how hard it is to win in Ames (Iowa). They don't know how hard it is to win in Morgantown (West Virginia) or Manhattan and the other places, without question. But I will say this: I really think that this team's goal should be, when they play that night, their goal is to win every game. I don't think that's an unrealistic goal to try to win every game. There's nothing wrong with goals. That's good. But I don't think that would be a realistic prediction, no."
Jayhawks improving
Two days into practice for the 2016-17 season, Self proclaimed that the Jayhawks "stunk."
Asked how things had gone since he uttered that comment a week ago at the Coaches vs. Cancer charity event in Kansas City, Self had good news to report.
"We've gotten better," Self said. "Nobody looks good two practices in, but I think that we got — we're pretty athletic when we've got our most athletic team out there. We're pretty athletic, and we've got good guards. It's still going to be a struggle whether or not we can score consistently inside, so we've got to figure out a way to get the ball to the rim, score in tight. But I do think we have potential to be very good defensively. We have depth in the perimeter positions, and I think we can play different. Last year I never felt like we could probably play different because certain guys were kind of locked in their position, and I think this year we'll probably be a little bit more versatile moving guys around."
Follow the leaders
Jackson on Thursday was asked how things had gone in terms of him blending what Self likes to refer to as his "alpha dog" mentality with established veterans and proven scorers like Frank Mason III, Devonte' Graham and others.
Jackson said he had learned a lot from those guys and others already this season and was looking forward to continuing to compete with them every day.
"We spend all day in practice playing against each other and sometimes we all forget that we're on the same team," Jackson laughed. "When we remember that, it gets kind of scary. I'm like, 'Man, these guys are really, really good and we're all gonna be playing together.'
"Frank and Devonte' are definitely the two leaders of this team and they teach me a lot."
BMOC
Plenty has been made about freshman center Udoka Azubuike's mammoth, 7-foot, 280-pound frame.
But few Jayhawks have experienced the depths of that size like Carlton Bragg Jr., who, even at a bigger-than-last-year 6-10, 245, looks and feels like a junior high school student when battling Azubuike down low.
"He's really big," Bragg said. "His weight is crazy.... It's hard to guard bigs like that, especially with his physicality and versatility and the way he plays above the rim. It's crazy. He's scary. When he dunks it's like a little Nerf ball."
---
More news and notes from Kansas Basketball Media Day
---