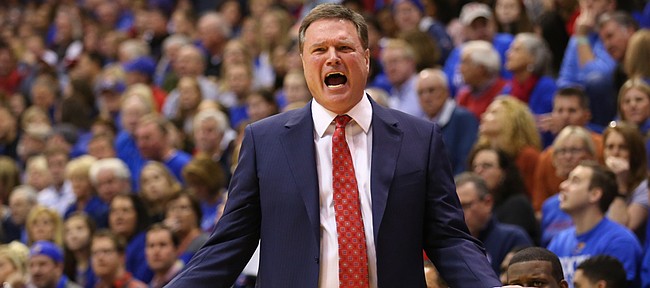 If you're one of those superstitious Kansas basketball fans, you probably enjoyed the recent comments from KU coach Bill Self about how his team was lousy during the first two days of practice.
Or at least you should've.
Last week, after kicking off the first official practice of the 2016-17 season, Self told reporters at a Coaches vs. Cancer event in Kansas City that his team "stunk" during the first two days of practice.
"We were actually pretty good in Boot Camp," he began. "We were average at Late Night. And we've actually stunk the first two practices, so I think we're going backwards right now, but I do like our guys a lot. They're working hard, but two practices in we don't look very good."
Consider that a good sign and the norm for Kansas basketball under Bill Self.
Dating back to 2012, Self has kicked off the past five seasons with similar comments about the Jayhawks in the early going. And all the team has done during that time is average 29 victories per season and keep alive the streak of consecutive Big 12 titles, which sits at 12 heading into the upcoming season.
Given Self's intensity and the demand he puts on his players to not only do things right but also develop and progress, Self's comments were hardly surprising. After all, judged against the expectation which he has for the program — especially with all of those returning players back — it makes sense for Self to expect something better right out of the gate than what he got.
The other thing that's important to remember about Self's comments is that they likely were uttered with motivation in mind. Self knows his players pay attention to what's written and said about them. And he knows that they, too, expect to be great. So by calling them out after a couple of days of what probably were just slightly below average practices, Self's pushing their buttons and asking them to respond. That trick is particularly important for the young players and newcomers, who are learning for the first time what it takes to play for Self and what is expected at Kansas.
Let them slide with average effort on Day 1 and you're setting yourself up for a season-long epidemic. Drop the hammer, though, and the lesson will be learned and the execution will improve.
Here's a quick look back at some of the more notable comments from Self after the first practice of a few recent seasons:
2015: "Not great. Sloppy. We need more energy."
2014: "I thought our attitudes were great, our effort was good. We're just so careless, but it's the first day. They don't know yet, so you really can't be upset with stuff they don't know. I thought they tried hard. I thought they were together for the most part. I thought they paid attention for the most part. I thought the guys got after it pretty good. And the young kids were coachable."
2013: "I am a little disappointed. Because I didn't think our young kids were very amped up today. I thought when things started going south and they were involved with the movement going south, I didn't think they did much to change it. I thought we showed our age today in practice because I didn't really cut them any slack. I think it was probably an eye-opening experience for them to know, 'Hey, we've got a lot to learn before we can actually play and be comfortable.'"
2012: "I'd give it a B. We had a good day, a good, spirited workout. They were alert, tried real hard, were enthusiastic like all first practices should be. We got a few things done, but, really, the real practices will begin after the weekend is over."