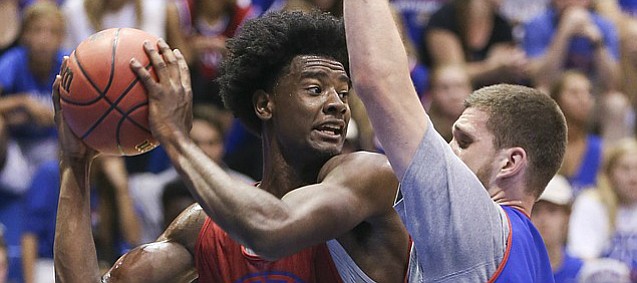 Kansas City, Mo. — Andrew Wiggins showcased many of the reasons he's considered one of the rising stars in the NBA during his first preseason game Saturday at the Sprint Center.
Wiggins, entering his third year with the Minnesota Timberwolves, scored 19 points in his team's 109-100 victory over the Miami Heat.
Kansas men's basketball players were watching from a suite, which included freshman Josh Jackson — the first No. 1-ranked recruit to play for the Jayhawks since Wiggins suited up in the crimson and blue in 2013-14.
A couple of years removed from his time in Lawrence, Wiggins remembers all of the expectations for his one-and-done season. Wiggins said he'd only seen Jackson's highlights, but he was asked if had any advice for the 6-foot-8 freshman from Detroit.
"I would say listen to coach (Bill) Self. He will get you right," Wiggins said. "Keep going at it with (Andrea) Hudy, she will get you right, too. Keep believing in yourself."
When Jackson signed his letter of intent to join the Jayhawks in May, Self didn't shy away from comparisons between the two top-rated recruits, saying Jackson "is very similar to Andrew Wiggins."
Wiggins averaged a team-best 17.1 points per game in his lone season for Kansas, shooting 45 percent from the floor. The No. 1 pick in the 2014 NBA draft added 5.9 rebounds per game and 41 steals in 35 games on his way to first-team All-Big 12 honors.
Mario Chalmers, an eight-year veteran in the NBA, watched Saturday's preseason game courtside with former KU teammate Brady Morningstar.
During halftime, Chalmers went up to the Jayhawks' suite to visit with Self. He said he still keeps in touch with senior guard Frank Mason III and he had a chance to meet Jackson for the first time.
"He's going to be a real good player this year," Chalmers said of Jackson. "I try to keep in touch with those guys all the time."
Chalmers is recovering from a ruptured Achilles tendon in Charlotte. Chalmers said he has at least a month or two of rehab before he looks to sign with an NBA team.
Morningstar, who hopes to sign a deal to play overseas in the next few months, said he plays pick-up games with the Jayhawks during the summer when's living in Lawrence.
"They've got a good team," said Morningstar, a Free State High grad. "It keeps me young, I guess you could say, to keep running up and down with those guys. They are about to really get into it these next couple of weeks of practices."
With three Kansas players on the Timberwolves — Wiggins, Cole Aldrich and Brandon Rush — and several of their former teammates watching Saturday's preseason game in the crowd, they noted it was nice to have such a strong connection to their school.
"KU does a really good job of welcoming back players who used to play and introduce them to the ones who do play now," Morningstar said. "It's what it's about, just meeting the guys before you and the guys that are there now to carry the torch."
Ward update
Kansas associate AD Jim Marchiony on Sunday provided the Journal-World with the following update on the condition of Scott "Scooter" Ward, KU's associate athletic director/academic and career counseling. Ward suffered a tear in his aorta Friday morning and underwent surgery.
"Scooter is sleepy, but when awake he is occasionally opening his eyes and responding to comments," Marchiony said. "Breathing on his own now. Seems to be aware of his surroundings; occasionally following commands and making purposeful responses with his head and eyes. Blood pressure and respiration rates are good. His surgeon is very pleased wth the progress Scooter is making."