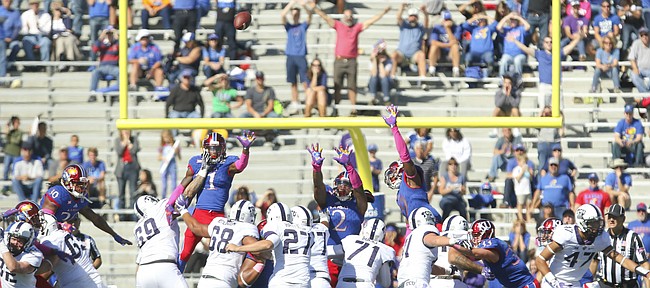 In the final minutes of the Kansas football team's one-point loss to TCU Saturday at Memorial Stadium, visiting junior kicker Brandon Hatfield nailed a 34-yard field goal that proved to be the deciding score.
Just before that kick, though, a bit of chaos may have cost the Jayhawks some precious seconds of game clock.
Facing a third-and-five at KU's 20-yard line, down two points, TCU called a timeout with 1:56 left in the fourth quarter. On the ensuing play, Frogs quarterback Kenny Hill rushed for just three yards, making him short of a first down. But he also fumbled the ball, which TCU ended up recovering.
As officials sorted everything out and players and coaches from both sides waited for a ruling, KU coach David Beaty said afterward the sequence played a part in Kansas not being able to stop the clock with a timeout until the 1:25 mark.
"I thought they were about to review that and see if we actually had possession of the ball," Beaty said following a 24-23 loss to the Horned Frogs (4-2 overall, 2-1 Big 12).
"Yeah, I'd love to have that few seconds back, no doubt about it. But we had to move on with it. We still got in position to — we kept that last pass and we don't bobble it (a Ryan Willis throw to Shakiem Barbel near the east sideline in the final seconds) — I didn't see the ball, but I guess he bobbled it. That ball is up there five yards closer, and that makes a big difference on a (54)-yard field goal," Beaty added, referring to Kansas kicker Matt Wyman's would-be game-winner, which missed right with two seconds to play.
Close to 20 seconds of clock ran off between the end of Hill's run and the Kansas timeout, which was called just before TCU's successful field goal.
The ensuing Jayhawks drive began with 1:21 left, and they went 38 yards in nine plays before attempting a long field goal on third down.
"I mean, you're going to have those and you don't need to talk about those, because those really don't matter," Beaty offered. "The story of the game is what the scoreboard says, and then we've got to go to school on the parts in between to get better for next week, because we're in the Big 12. Our league has a lot of great football teams."
As Kansas (1-4, 0-2) moves forward to a conference road game this week at Baylor (5-0, 2-0), Beaty said he was proud of how his team played in a narrow defeat.
"But there's a lot of things we wish we could have back," the second-year KU coach added, "but we don't get them back."