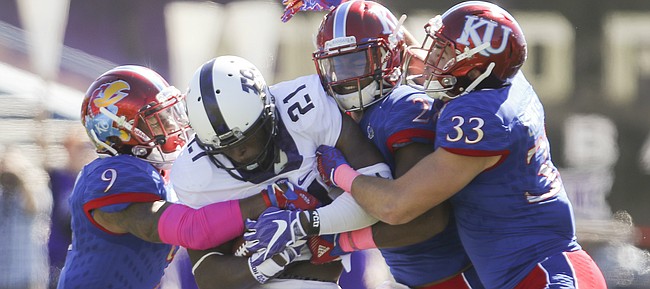 Three missed fourth-quarter field goals. Four first-half turnovers. On the wrong end of a play that started so well, slipped into a bizarre intermission, and ended so badly.
Once the fog clears from those and other disappointments and legitimate nitpicks from Saturday's 24-23 loss to TCU in Memorial Stadium, the reappearance of a long-missing emotion ruled the day: Hope.
For the second week in a row, Kansas took a noticeable step forward and this time the step was twice as long and loud because the Jayhawks went from competing nose-to-nose for two quarters to doing it for four.
In the process, Kansas proved it has a legitimate Big 12 defense that knows how to drag extremely successful quarterbacks out of their comfort zones and onto the turf.
A week after harassing Texas Tech's Patrick Mahomes II and forcing him out of the game with an injury, Kansas intercepted TCU's Kenny Hill three times and limited him to 206 passing yards and one touchdown through the air.
Photo Gallery
Kansas football v. TCU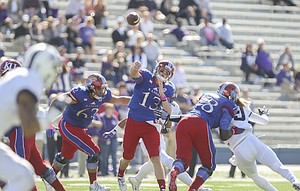 View a gallery of images from Saturday's game between the Jayhawks and Horned Frogs at Memorial Stadium.
Hill was coming off a 449-yard passing day with five TD passes and one interception in a 52-46 loss to Oklahoma.
And the Kansas defense made it happen with four starters unavailable because of injuries.
Daniel Wise, the team's best defensive tackle, linebackers Joe Dineen and Marcquis Roberts and safety Tyrone Miller watched their backups make big plays.
At linebacker, sophomore Keith Loneker made his first career start a memorable one. Senior Courtney Arnick, whose mother Carla, a breast-cancer survivor who represented the team at the coin flip on breast-cancer awareness day, honored her with a big day.
Former walk-on Cameron Rosser, playing the hybrid defensive end/linebacker spot and spying Hill, made four tackles behind the line of scrimmage.
The defensive game plan worked so well that the Horned Frogs didn't score until five minutes into the second quarter.
"You hope young guys by the time you get to the fifth or sixth game, you're going to make some progress, and they did," Kansas second-year head coach David Beaty said.
KU made the Horned Frogs turn it over four times and held them to 366 total yards, nearly 200 yards under their season average. TCU converted just 4 of 13 third-down plays.
Speedy defensive end Dorance Armstrong had another strong performance, spending a lot of time with Rosser in the backfield.
"Rosser is a guy we don't talk about a lot, but man, we couldn't block him in fall camp," Beaty said. "I figured it might be just a matter of time before he gets to the backfield and makes some TFL's and sacks."
Cornerback Brandon Stewart contributed two interceptions and safety Greg Allen returned his pick 20 yards, patiently weaving through heavy traffic.
"He's starting to get healthy," head coach David Beaty said of Stewart. "He looked like a real guy out there today."
The defense, coordinated by Clint Bowen with Michael Slater instructing the defensive linemen, Todd Bradford the linebackers and Kenny Perry the cornerbacks, looked well-coached, smart and hungry.
"I thought we were going to win it," defensive end Josh Ehambe said. "We went into the game coming off a great week of practice. I had no doubt in my mind we were going to win it. For the past two years we've always matched up well with TCU. Always."
The trick now becomes bringing that same competitiveness and playing close games against other Big 12 foes.
And, of course, learning to win the close ones would be the next step.
All in due time. Saturday's steps were the first loud ones in the right direction, the loudest one coming in TCU's backfield by a defense that believes in itself and is justified in doing so.
---
More news and notes from Kansas-TCU football
---