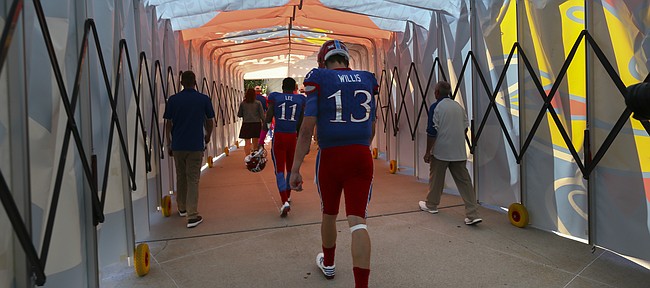 A 54-yard field goal hung in the air Saturday afternoon at Memorial Stadium as the Kansas football team's head coach said a prayer and its starting quarterback looked away, too nervous to watch.
The collective gasp from the 23,946 in attendance signaled the result before the officials positioned in the south end zone waved their arms, making the miss and the Jayhawks' fourth consecutive loss all but official, with just two ticks left on the game clock.
In the minutes following a 24-23 defeat at the hands of TCU, second-year KU head coach David Beaty, who just watched his team's defense spearhead a would-be upset that nearly ended the program's 14-game Big 12 losing streak, had to dial down his patented positivity to make it clear moral victories shouldn't be the endgame.
Photo Gallery
Kansas football v. TCU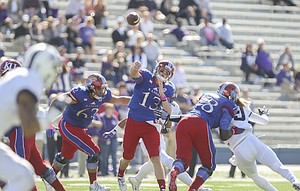 View a gallery of images from Saturday's game between the Jayhawks and Horned Frogs at Memorial Stadium.
"Fighting tooth and nail is not the goal. The goal is to go win the game," Beaty said after senior kicker Matt Wyman's would-be winner missed to the right. "Fighting tooth and nail, that's the minimum expectation — that's the price of admission. That team (TCU) fought tooth and nail, as well. You're gonna get that week in and week out in the Big 12."
It took a wild final series from KU's offense just to get in position for the kick, attempted on third-and-two from the left hash with six seconds left in the fourth quarter. Horned Frogs senior defensive end Josh Carraway sacked the Jayhawks' new starting quarterback, Ryan Willis, on back-to-back plays in the final minute, eventually leading to a fourth-and-22 from KU's 31-yard line. Incredibly, Willis hit sophomore receiver Steven Sims Jr., who lateraled to junior Bobby Hartzog Jr. In total, a 24-yard completion kept hope alive.
Podcast episode
Kansas football coach David Beaty answers questions following his team's 24-23 loss against TCU, which moved the Jayhawks to 1-4.
And even though Sims next got flagged for offensive pass interference, pushing KU backward, Willis found one of his most talented targets again on first-and-25 near the Frogs' sideline, and Sims' ninth reception of the game got Kansas to TCU's 37-yard line, the spot of Wyman's final kick.
"My heart was racing. I didn't even watch that last kick," said Willis, adding Wyman, who made a 50-yarder in the second quarter and three of six tries overall, kept KU (1-4 overall, 0-2 Big 12) in the game.
Beaty said he took some pride in seeing his offense somewhat successfully navigate the field against TCU (4-2, 2-1) with a two-minute drill in crunch time.
"Man, we got down there and we gave ourselves a chance. For that I'm elated," Beaty began. "I'm so fired up that we're starting to grow as a team. We gave ourselves a chance to win. But, man, I am burning inside with the fact that we weren't able to get the win, because I feel like we gave it away in a lot of ways. So we have to go back to the drawing board and not just let some self-inflicted things keep costing you."
Any number of examples existed in the category of "what cost KU this week?" Willis (31-for-45 passing, 348 yards), in his first start of the season, threw three interceptions and lost a fumble. TCU sacked the quarterback five times. KU's five penalties for 61 yards seemed to come at inopportune times. Wyman missed field goals from 37 and 41 yards in the fourth quarter.
But in Beaty's mind one third-quarter sequence proved as costly as anything for Kansas. After quickly advancing the ball up the field with the help of a 67-yard catch-juke-and-sprint sequence from junior receiver LaQuvionte Gonzalez (eight receptions, 131 yards), the Jayhawks had first-and-goal at TCU's two-yard-line and came away with just a field goal.
Neither sophomore running back Taylor Martin (18 carries, 66 yards, one touchdown) nor senior Ke'aun Kinner (seven rushes, 36 yards) could punch the ball across the goal line when Beaty called three straight run plays, and the Jayhawks had to settle for a 21-yard Wyman field goal — giving KU a 16-14 lead late in the third quarter.
"I think the thing that's probably gonna be keeping me up tonight is not putting the ball in the end zone from the one-inch line," Beaty said, adding KU would have gone for it on fourth down had Martin not been tackled for a loss on third down, pushing Kansas back to the four. "That's a big deal. We had the ball down there and that play that knocked us back where we had to kick the field goal, we've just gotta be more disciplined as a group."
Kansas actually extended its lead to nine entering the fourth. After settling for Wyman field goals twice in the third, the KU offense finished the quarter in style, when Willis dropped back to pass, couldn't find an open receiver and decided to take off for a 21-yard touchdown run, completing it at the goal line by spinning off a charging defender.
However, Willis understood his four first-half turnovers made it all the more difficult for his four-TD underdog team. The outcome could have been different with a cleaner game. Kansas out-gained the Frogs, 470-366 in total offense.
"Just execution," Willis said of where things broke down for KU on the turnovers. "We saw what they were doing. We just didn't execute. We made bonehead mistakes. But they're there — the shots are there. We can make plays. This team doesn't know how good we can be. Once we get out of our own way we're gonna be pretty dang good."
Week after week this season, Kansas coaches and players alike have lamented the team's slow starts, but the Jayhawks finally began a game with some positive plays on both sides of the ball against TCU. The offense appeared as ineffective as ever on its first series, when Horned Frogs defensive back Nick Orr picked off Willis on a third-and-13 throw. As it has grown accustom to doing, though, the Kansas defense quickly made the miscue a little less disastrous. Two plays into TCU's first possession, KU senior corner Brandon Stewart intercepted Kenny Hill's first pass of the game.
Though it took the offense a little while to get warmed up and the unit went three-and-out on its second possession, TCU's offense couldn't make the home team pay for it. On a first-down pass play, Dorance Armstrong Jr. sacked Hill and stripped him of the ball. Another KU defensive end, Damani Mosby, recovered the ball.
Nine plays later, Martin rushed for a one-yard score and Kansas took its first lead since the season opener, against Rhode Island.
The rare fast start allowed KU's defense, which held Hill to 17-for-32 passing and 206 yards, with three interceptions and one TD, to keep the game close.
A couple hours later, the vibe on the Kansas bench reached a new height, according to Stewart, who also picked off a pass in the third quarter, and finished with five total tackles.
"It was actually cool this week," Stewart shared of watching the offense try and drive for a last-second victory. "There was a sense of belief on the sideline rather than others in the past, you felt like, 'Ah, we might lose.' But I felt like we came together and it was just a different feel out there, so I feel like we're coming together. I think we are establishing an identity — slowly but surely. It's good to be out there with those guys, man."
Reluctantly, following the narrow defeat, Beaty admitted Kansas actually took a step in the right direction during the loss.
"The pride in me wants to say that it shouldn't be, but you know what, we're developing," Beaty said. "I love our team, like I said before. They're showing improvement in different things. If we continue to do that, I think we'll continue to play competitive football and give our fans something they can be proud of. We're gonna stay the course."
Kansas travels next week to Waco, Texas, to face undefeated Baylor (5-0, 2-0).
---
More news and notes from Kansas-TCU football
---