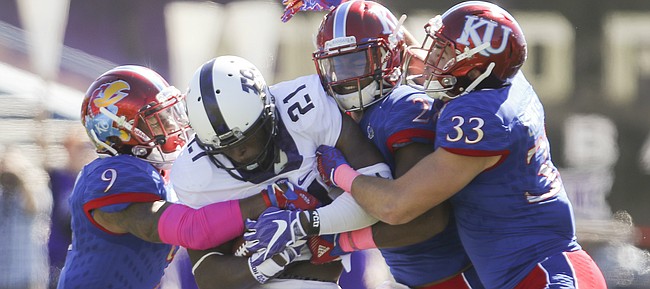 Starting at linebacker for the first time in his Kansas football career, homegrown Keith Loneker Jr. didn't disappoint.
The 6-foot-2 Lawrence native who starred at Free State High during his prep days recorded a career-high seven tackles in the Jayhawks' 24-23 loss to TCU Saturday at Memorial Stadium.
The sophomore linebacker also broke up two passes for a KU defense that held the Horned Frogs (4-2 overall, 2-1 Big 12) to 366 yards of total offense.
"Just watching Loneker run around out there again, man, I love that kid's attitude," KU head coach David Beaty said. "That's something we saw right here when he was a local player. It's great to see a local kid playing that well. He's kind of taken Joe's place while Joe (Dineen) was out and really kind of left us with not much of a void there, so it's been fun to watch him play."
Loneker and Dineen played together at Free State. A junior linebacker, Dineen missed his second straight game due to injury.
Photo Gallery
Kansas football v. TCU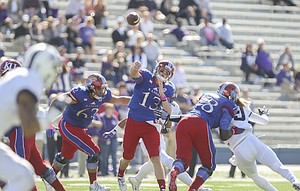 View a gallery of images from Saturday's game between the Jayhawks and Horned Frogs at Memorial Stadium.
Hook-and-ladder
Kansas (1-4, 0-2) gave itself a chance to win in the final seconds against TCU thanks to an unlikely conversion on fourth-and-22 at its own 31-yard line on the final drive.
Beaty, who doubles as KU's offensive coordinator and quarterbacks coach, called for one of the oldest trick plays in the proverbial book, the hook-and-lateral.
With TCU's defenders playing a bit behind the Jayhawks' receivers, sophomore Steven Sims Jr. (nine receptions, 101 yards) was able to haul in a pass from quarterback Ryan Willis, then quickly toss the ball to junior Bobby Hartzog Jr. in stride for a gain of 24 yards and a game-extending first down.
"We've had it here for — I mean, it dates back to my Rice days," Beaty said. "It's been in for a while. We were about to get free on that thing."
Willis, now in his second season with the program, said the offense has practiced the desperation play "every Thursday" since he arrived on campus.
The quarterback said Sims and Hartzog aren't the only receivers capable of making it work.
"It's just making something happen. They know their job," Willis said. "They've gotta execute and they executed today. But we still fell short."
Podcast episode
Kansas football coach David Beaty answers questions following his team's 24-23 loss against TCU, which moved the Jayhawks to 1-4.
Busy day for Wyman
Although senior kicker Matt Wyman missed a potential game-winning field goal from 54 yards in the final seconds, he made three field goals to keep Kansas competitive early in the loss to TCU.
Wyman's first field goal of the game came with 3:48 left in the second quarter, and he drilled it from 50 yards out, giving KU a 10-7 lead. Only 19 FBS kickers have connected from 50 or more yards this season.
The senior kicker from Palos Park, Ill., also made 29- and 21-yard field goals for Kansas versus TCU. Wyman finished the game three-for-six, with fourth-quarter misfires of 37, 41 and 54 yards.
Beaty said afterward the kicker's teammates supported him in a difficult situation.
"I've said a long time, for a long time now, I like this team," Beaty said, "and I like these kids. Just watching how they handled Matt Wyman was pretty cool. Pretty cool. Those guys are united and they believe in one another."
No more rotating QBs
Although Willis threw three interceptions and lost a fumble in the first half, Beaty said he didn't think about taking the sophomore out and replacing him. The loss to TCU marked the first time this season Kansas departed from rotating quarterbacks, utilizing Willis and former starter Montell Cozart, a fourth-year junior.
"There was no point where we talked about changing quarterbacks, because like that run he made for the touchdown," Beaty said, referring to Willis' 21-yard score late in the third quarter, "that cat was going to get to the end zone. He was very determined. I love his spirit. I said it last year, I love his spirit. He's going to continue to improve. He got a lot of experience today."
This and that…
Kansas hadn't led in a Big 12 game since 2014 (also a loss to TCU) before sophomore running back Taylor Martin scored a first-quarter touchdown in his first college start. … KU increased its winless streak in conference play to 14 games, with its last win coming on Nov. 8, 2014 against Iowa State, 34-14. … Senior wide receiver Shakiem Barbel found some rhythm with Willis and set new career highs with nine catches and 94 receiving yards. … Kansas shut TCU out in the first quarter, marking the first time the Frogs failed to put up points in the first 15 minutes since 2013, at Kansas State. … The KU defense's streak of games with at least 10 tackles for loss ended, as the Jayhawks fell one short, with nine. Camreon Rosser led the team, with four tackles for loss.
---
More news and notes from Kansas-TCU football
---