The Kansas volleyball and men's basketball families took to prayer Friday in hopes of helping one of their own.
Scott "Scooter" Ward, KU's associate athletic director for academic and career counseling who oversees academics for the KU men's hoops and women's volleyball team, on Friday morning suffered a tear in his aorta after a cardiac episode and was flown from Lawrence Memorial Hospital to the University of Kansas Hospital for surgery, according to a colleague.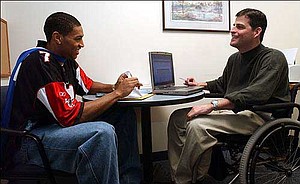 The colleague said surgery "went well" and added that Ward was "not out of the woods yet." As of Friday night, Ward was listed in critical condition.
Current Kansas guards Frank Mason and Sviatoslav Mykhailiuk shared their support for Ward on Twitter Friday evening with short messages of "Pray for Scooter." A few members of the current team Retweeted Mason's message and a handful of former Jayhawks, including Tyrel Reed, Cliff Alexander, Wayne Selden Jr., Christian Garrett and others, posted similar messages later Friday night.
Several Kansas volleyball players Rewteeted various prayer messages and senior Tayler Soucie, whose team will host Texas Tech at 4 p.m. Saturday, wrote the following: "For all my prayer warriors out there: Please pray for my academic advisor Scooter! Hands down one of the best people I know. #KUStrong"
Added KU junior Addie Barry, who posted a recent photo of Ward with several volleyball players: "Biggest stud I know right here guys. Loved by so so many. Keep fighting, Scoot!"
Even Kansas football coach David Beaty, whose team will host TCU at 11 a.m. Saturday morning, got in on the act, sending out the following message: "Prayers for our man "Scooter" Ward" late Friday night.
A veteran teacher and academic advisor at Kansas, Ward, a native of Kingman, owns three degrees from KU, including a doctorate in sports pyschology and counseling.
In the spring of 1986, Ward, then a freshman at Hutchinson Community College who had dreams of playing college basketball, suffered a severe injury to his spinal cord that left him with a broken neck and bound for a wheelchair for life.
It was then that he first began exploring his options outside of playing sports and the path he followed led him to Kansas, where he both studied and taught and ultimately began working with Bill Self and the Kansas basketball program.
In addition to one day hoping to play college basketball, Ward also always dreamed of coaching. His association with the Jayhawks has helped fill that desire and he has long been one of the most popular and well-liked people associated with the program.
He also has a history of awing and inspiring people with his strength and mental toughness.
In a 2004 article in the Journal-World, former Kansas basketball player Bryant Nash summed up Ward's persona perfectly, saying, ""That's a warrior right there. Some people don't have that mentality where they would keep going. Some people just give up."