Wednesday, October 5, 2016
When Fish Smithson woke up Friday morning, one of the first things he saw was a text from fellow Kansas football defensive back Mike Lee.
Hours removed from the Jayhawks' nationally televised game at Texas Tech and a late-night flight back home, Lee didn't want to remind Smithson about a highlight hit, a pass breakup or leading KU with 8.5 total tackles in the loss. Instead, the true freshman safety reached out to one of his team captains to apologize.
For all the positive plays Lee, a 5-foot-11 newcomer from New Orleans, made against the Red Raiders, he couldn't overlook his bevy of mistakes.
Smithson told the freshman not to worry about it, and came away impressed with Lee's character as a result.
"I just know he had that on his mind overnight," Smithson shared, "and that was the first thing he had on his mind when he got up."
Lee didn't start in the secondary with Smithson, Tevin Shaw, Brandon Stewart and Marnez Ogletree in KU's Big 12 opener. Bazie Bates IV opened the game at one of the two safety spots before defensive coordinator Clint Bowen quickly decided to insert Lee, initially a four-star Class of 2017 recruit who graduated high school early in order to join the program a year ahead of schedule.
Bowen knew he was placing Lee in a difficult spot, with the Jayhawks (1-3 overall, 0-1 Big 12) facing one of the nation's top passing offenses on the road.
"Safety, in general in the Big 12, is a tough position to play," the assistant coach said. "You know, you get a lot of things thrown at you in terms of the tempo, the formations, the motions, just the routes you have to defend on the inside."
Bowen, who also serves as the safeties coach, didn't want to be too harsh in assessing Lee's performance with reporters this week, calling him a talented true freshman.
"Obviously, he's making some mistakes out there and you wish that they were on the practice field and not in the game, but he's learning and getting better," Bowen said. "And he's a high-energy, want-to kid and has some toughness about him. He's bringing a lot of energy to our defense and he'll continue to improve."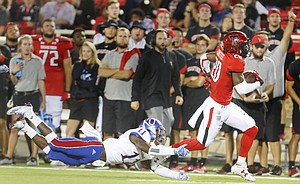 The coach, though, spoke more candidly upon being asked how Lee's showing at Texas Tech graded out when the coaches reviewed the game video.
"Oh, he was terrible," Bowen said. "He's right now making some flash plays here and there. But in the big scheme of things, he understands he gave up quite a few plays in that game that matter. But he's such a good kid, he works so hard and it'll come for him. He's talented."
Smithson, who spoke glowingly of Lee (as a first-year player in the program, team rules don't allow him to do interviews), recalled some examples of promise the freshman safety showed in his first significant action on a college football field this past week. For one, late in the first quarter Lee put a textbook massive hit on the Red Raiders' DeMarcus Felton after the running back slipped into the left flat to catch a pass from Patrick Mahomes II.
https://www.youtube.com/watch?v=GsBZJyIXw4g
"That was great," Smithson said. "I was on the other side of the field and I just ran all the way across just to let him know how big a hit that was."
Outside of encouraging words over texts or face-to-face, Smithson aims to help Lee develop by breaking down video with him, too. For the most part, the senior safety said, his freshman counterpart just needs to improve upon the "little things." Smithson cited instances when Lee played two or three yards too far from the line of scrimmage or didn't maintain sound footwork.
"He got the talent, as you can see, with that big hit," Smithson said. "It's just the little areas that he needs to work on. And he will."
Eventually, Smithson thinks Lee will become more of a shutdown defender for Kansas.
"I definitely think so. I would go out of my way to say that," the senior added. "He's gonna be a really, really big resource for Jayhawk nation."