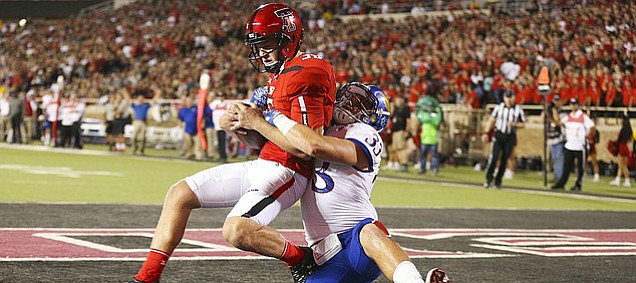 Finding players who love playing football isn't as easy as looking at a roster of players who play football. Some play it because they have the right physical ability and like the adulation they receive for it. Others like the opportunity to turn it into a free education.
It's a brutal sport full of aches, pains and risks. To play isn't necessarily to love it and that's completely understandable.
Watching Keith Loneker Jr. play it for Free State High and now as a valuable member of KU's special teams, it's evident he loves football, period. That's why he always has played it better than the height, weight and stop-watch times next to his name that don't fit prototypes coaches seek on the recruiting trail.
Loneker went to Baker University out of high school, led the team in tackles, earned freshman All-American honors and then transferred to the university where his father played offensive line under Glen Mason.
I called Mason two years ago to pick his brain about how he turned around a losing football program at Kansas and one quote from that interview popped into my head when I saw Loneker Jr. making plays all over the field in his final high school game, a loss to Olathe North.
"I want to recruit the guy that's an inch too short, a step too slow, 10 pounds too light, but is a good football player and we'll develop him," Mason said of his recruiting approach at Kansas. "Good, tough kids who can play the game. Look back at some of the kids we had when we turned the program around. That was the case."
Loneker Jr., who fits that description, scored KU's first points in a 55-19 loss at Texas Tech when he grabbed the punter by the waist and brought him to the turf for a safety.
Football player to the bone, Loneker knows the drill when asked about a big play: Credit your teammates.
"Coach Defo (special teams coach Joe DeForest) told us all week to get in max block when they come out in (the formation) they came out in," Loneker said. "It just happened to be our guys got the right pressure on the front shield, so that set me free."
It's always wisest to judge a linebacker's speed when he sees a play to be made. Loneker looked plenty fast in making the play.
Fast-forward to later in the game after he had replaced at linebacker limping Marcquis Roberts, another man who loves to play football. After dropping an interception that had pick-six potential, Loneker, a sure-handed receiver for Free State, reacted the way all players do. He instinctively hit the pause button, froze up as if trying to find the rewind button, knowing if he had it to do over again there was no way he was going to drop it.
"That one's going to get after me for a little bit," Loneker said. "Just to make the play next time. I would have scored."
Again.
It's been several years since Kansas has fielded competitive offense. This season's O consistently has put a capable defense in tough spots, some weeks with turnovers, other weeks with multiple extremely quick three-and-out possessions.
Special teams play has been the most productive third of KU's 1-3 squad, LaQuvionte Gonzalez's two muffed punts in Week 2 notwithstanding.
"Coach (DeForest) always talks about how special teams need to get momentum," Loneker said. "Every time we go out there we do a great job of really thinking about getting some momentum push. It just happened to be my time at that point."
Loneker enjoyed his time at Baker and left a bigger role and winning program for a smaller role on a bigger stage against tougher competition.
"I don't doubt it one day," he said of his decision. "I love this place. It's great."