An unexpected star of Late Night in the Phog for the second year in a row, Kansas basketball director of operations Brennan Bechard reluctantly sat down in front of a room full of reporters Saturday night.
Shortly after the fan-friendly extravaganza wrapped at Allen Fieldhouse, the KU staffer would've preferred to be working behind the scenes on one of the most important recruiting weekends of the year. But after he hit a half-court shot to win a Kansas student $10,000 out of his boss Bill Self's pocket — repeating his same feat from 2015's festivities — he fielded questions, and admitted his status as a defending champion of sorts brought with it some added pressure.
"I was kind of hoping my name wasn't called to be honest, just for the letdown and that sort of thing," said Bechard, an invited walk-on at Kansas during his playing days, from 2007-09. "I'm glad it worked out. I'm glad that student got the 10 grand."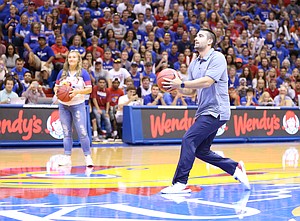 One of two KU students chosen from the packed fieldhouse crowd to participate in the contest, Jordan Stiers wisely chose Bechard, who nailed the same shot a year ago.
The Lawrence native, who joined Self's staff in 2009 as a graduate student manager, said last season after practices he heaved half-court bombs with Tyler Self and Evan Manning.
"It used to be quite a bit," Bechard said of the amount of time he spent preparing for his moments in the spotlight. "This last six months or so, not much at all, so I was a little nervous."
After Bechard made it back-to-back seasons of making a student's night, KU's players, waiting off to the side of the court before their dance routine, rushed him and took him to the floor in a heap as the crowd ate it up.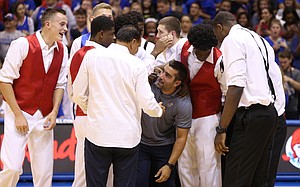 Bechard only had a brief interaction with Stiers after the fact.
"Well, after Udoka about crushed my ribs and I got out of the pile she was kind of surrounded," Bechard described, "so I just gave her a hug and told her congrats."
At the time, Self was busy signing his name to a $10,000 check, holding it against a basketball.
"I was actually happy that we did it," Self said of duplicating last year's results. "It's great for, obviously Jordan, the young lady that won it, and it's bad for Brennan, because whatever his camp check is next year, we're just gonna subtract 10 grand off it. So it's not that big a deal," a grinning Self added. "No, I'm joking."
Photo Gallery
Late Night in the Phog 2016
View a gallery of images from the skits, dances and action during Late Night in the Phog
After Bechard won one student some money, Self was surprised the other student contestant picked former player Jeremy Case.
"You know, I was really surprised," Self said. "I think Case is a good shooter and all. I'm surprised the guy didn't pick Brennan to shoot it again. He's two for two, and then he didn't pick him to shoot it. He's usually all over it, and of course tonight he was again."
Bechard, who only played in 35 games during his KU career, averaging 0.5 points, was asked whether he deserved more minutes in his college days.
"Without a doubt," Bechard responded, with a smile. "And you guys should tell Coach Self that when he comes in here, too."
His former coach thought Bechard may be on to something.
"I should've played him more," Self said, "in like full-court situations with one second left on the clock. Put him in just to shoot that shot."
https://www.youtube.com/watch?v=lLsBqu7rtCI
https://www.youtube.com/watch?v=8_qAUBtakrk
https://www.youtube.com/watch?v=SUhQFTD4m4I